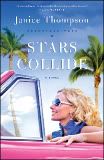 Kat's future is so bright, she's gotta wear shades.
Before we chat with today's author, I want to announce that the winner of today's drawing for
Book of Days
, by James D. Rubart, is:
RedeemedReaders@ . . .
Congratulations! I'll contact you today for your snail mail address, and we'll get your book to you right away.
I encourage readers to keep commenting and/or subscribe at right (below my list of books) in order to participate in future book give-aways!
Now let's revisit novelist
Janice Thompson
, author of
Stars Collide
(Revell, March, 2011).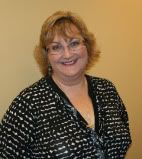 Award-winning author Janice Thompson also writes under the pseudonym Janice Hanna. She got her start in the industry writing screenplays and musical comedies for the stage. Janice has published nearly seventy books for the Christian market, crossing genre lines to write cozy mysteries, historicals, romances, nonfiction books, devotionals, children's books and more. Janice was thrilled to be named the 2010 Barbour/Heartsong Author of the Year, with three books on the top ten list for that house.
She is active in her local writing group, where she regularly teaches on the craft of writing. Her online writing courses have been helpful to many who want to earn a living with their writing. Janice is passionate about her faith and does all she can to share the joy of the Lord with others, which is why she particularly enjoys writing.
Please tell us a few random things we might not know about you.
-- I once lied to a fellow camper at church camp, telling her that my dad (Billy Hanna) was William Hanna of Hanna/Barbara (Flintstones) fame. That lie still haunts me, though, to his credit, my dad did eventually work as a movie producer on our co-authored movie,
Liar's Moon
. (Yes, it's true. I got to meet and work with Matt Dillon. Eat your heart out, girls!)
-- As a child, my dad's idea of a family vacation was a trip to Vegas. I never went camping or slept in a tent, but I did get to see Liberace in person, and even swam with Diane Carroll (at the Sands Hotel).
-- I occasionally bake wedding cakes. In 2009 I baked a lovely four-tiered white cake with strawberry filling and cream cheese frosting that toppled less than an hour before the wedding. I managed to piece together two very messy/ugly layers. Thankfully, the bride did not murder me. It made for a great scene in a later book. (Nothing ever gets wasted.)
How cool about Liar's Moon, Janice! I didn't know you wrote that!
Please tell us a bit more about the plot of Stars Collide.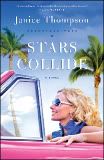 Kat Jennings and Scott Murphy don't just play two people who are secretly in love on a television sitcom–they are also head over heels for each other in real life. When the lines between reality and TV land blur, they hope they can keep their relationship under wraps. But when Kat's grandmother, an aging Hollywood starlet with a penchant for wearing elaborate evening gowns from Golden Age movies, mistakes their on-screen wedding proposal for the real deal, things begin to spiral out of their control.
Will their secret be front-page news in the tabloids tomorrow? And can their budding romance survive the onslaught of paparazzi, wedding preparations, and misinformed in-laws?
From the sound stage to a Beverly Hills mansion to the gleaming Pacific Ocean,
Stars Collide
takes readers on a roller-coaster tour of Tinseltown, packing both comedic punch and tender emotion.
Sounds perfect for the big screen!

What is it about your lead character that will make your readers care about her?
Kat lives with her elderly grandmother, a one-time Hollywood starlet who still dresses in movie costumes from days gone by. Her grandmother (Lenora) has Alzheimer's and is quite a character. Kat loves Grandma Lenora with a deep, abiding love.
Why will readers enjoy your novel?
Stars Collide
is lighthearted, but also packs a punch. Kat's love story is a lot of fun, but deep, hidden issues with her father threaten to hinder the relationship.
If you were the casting director for the film version of your novel, who would play your lead roles?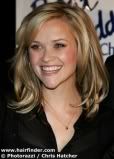 I would love to see Reese Witherspoon tackle the role of Kat. I think she would do a great job.
Matthew McConaughey would make a great Scott. Together, they would make the screen sizzle!
How do you restart the creative juices when you feel a block coming on?
I have a process that I use called "Word and Phrase Association." I use it when I'm stuck. Basically, I choose a word or phrase from the first chapter and build a fast scene around it. Then I choose another phrase. Then another. Before long, I've written multiple scenes (which I place at the end of the book until I can decide where they best fit).
What is the last book you read that you would recommend?
I just finished Tracie Peterson's wonderful new book,
Embers of Love
. I fell in love with the setting (my neck of the woods – East Texas). I also loved the fact that I didn't know which hero the heroine would end up with.
What are you working on now?
I'm currently writing
Love Finds You in Daisy Oklahoma
while working on a couple of write-for-hire devotional projects.
Where else can readers find you online?
My website:
www.janicehannathompson.com
My online writing courses:
www.freelancewritingcourses.com
My facebook page:
www.facebook.com/jhannathompson
Twitter: booksbyjanice
Stars Collide book trailer
The book is available for online purchase through the following buttons:
CBD.com
Finally, what question would you like to ask my readers?
How do you feel about romantic comedy?
Thank you, Janice, for visiting with us and telling us about your novel.
Readers, Janice has offered to give a signed copy of her book to the winner of our drawing on Thursday, March 31.
To enter, leave a comment below in answer to Janice's question, above. "Please enter me" won't get you entered.
Leave your email address, in case you win, like so: trish[at]trishperry[dot]com.
Be sure to check out my interview with

April Gardner

and leave a comment at the bottom of her post to enter the drawing for her book.
Annoying legal disclaimer: drawings void where prohibited; open only to U.S. residents; the odds of winning depend upon the number of participants. See full disclaimer
HERE
.