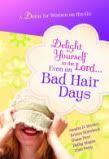 "Delight yourself in the Lord and He will give you the desires of your heart." (Psalm 37:4) Probably the most quoted promise in the Bible, this one passage of scripture inspires hope, sustains faith, and oozes with joy.
This extra posting is to highlight the devotional
I'll give away to three readers
next Saturday,
Delight Yourself in the Lord . . . Even on Bad Hair Days.
I had the pleasure of working with Kristin Billerback, Sandra D. Bricker, Diann Hunt, and Debby Mayne to put together this fun, touching devotional for women on the go. Here's a quick description of the book:
Whether single or married, career girl or stay-at-home mom, today's Christian woman is faced with daily obstacles.
Delight Yourself in the Lord . . . Even on Bad Hair Days
is a devotional filled with upbeat reminders about infusing hope and joy in the Lord as the first step toward conquering life's problems and chasing down the desires of your heart. Through 100 funny and thought-provoking devotions, the authors remind women to go back to the basics with God. And we even share a few private "bad hair confessions" along the way!
"The authors of this devotional know what it's like to face the difficult moments in life and to have their faith deepen because of those moments. Your faith will be deepened, too." Robin Lee Hatcher, bestselling author of
Fit to Be Tied
and
A Matter of Character.
"Thank goodness for five funny women who are brave enough to bare their hearts--and of course, commiserate about truly bad hair days. For me, it's an irresistible combination!" Shelley Shepard Gray, author of the Seasons of Sugarcreek series.
"I laughed, cried, and pondered my own life. If you buy one devotional this year, buy this one!" Colleen Coble, author of the Rock Harbor series and the Mercy Falls series.
To be entered in next week's drawing, leave a comment, sharing why this devotional appeals to you.
The book is available at fine bookstores everywhere, and for online purchase via the following buttons:
CBD.com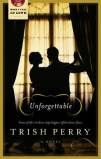 Be sure to check out my post about Unforgettable, below, and leave an appropriate comment under the post to be entered in a drawing for three signed copies of the book.
And see my interview with

Jill Eileen Smith,

and leave a comment at the bottom of the post to enter the drawing for her novel, as well.
Annoying legal disclaimer: drawings void where prohibited; open only to U.S. residents; the odds of winning depend upon the number of participants. See full disclaimer
HERE
.