A loyal Creek warrior, Totka's conflict with the Whites was simpler before his enemy became a beautiful face with a quiet strength and dignity he cannot resist.
Before we chat with today's author, I want to announce that the winner of today's drawing for
Sweet Baklava
, by Debby Mayne, is:
vanetta@ . . .
And the winner of today's drawing for
The Perfect Wife
, by Winnie Griggs, is:
wsmarple@ . . .
Congratulations! I'll contact you today for your snail mail addresses, and we'll get your books to you right away.
I encourage readers to keep commenting and/or subscribe at right (below my list of books) in order to participate in future book give-aways!
Now let's meet novelist
April Gardner
, author of
Wounded Spirits
(Vinspire Publishing, November 2010)'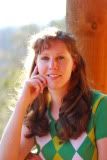 April Gardner has been a military brat, missionary's kid, and military spouse. After 21 years in various countries overseas, April happily resides in Georgia with her USAF husband and two sweet kiddos. In her free time, April enjoys reading, gardening, and DIY. In no particular order, she dreams of owning a horse, visiting all the national parks, and speaking Italian.
Librarian, reviewer, and avid reader, April adores anything books. She writes a regular column for the joint blog, Reflections in Hindsight, and is the founder and senior editor of the website, Clash of the Titles.
Please tell us five random things we might not know about you.
-- To me, coffee is like jeans—it goes with everything.
-- Marrying into the Gardner family did not cure my black thumb. Still, I try.
-- I tiled the backsplash in my kitchen and am quite proud of the accomplishment. Bathroom floors, here I come!
-- I have walked across an entire country in an hour.
-- I have dyslexia.
I'm picturing Lilliputia . . .

Please tell us a bit more about the plot of
Wounded Spirits.
In 1813, Alabama was Mississippi Territory and the furthest west Americans dared go. Those who chose to live there did so at their own risk. Adela McGirth and her family are no exception. They are swept away by the fervor of the Red Sticks as they attempt to cleanse their land of encroaching whites.
A loyal warrior, Totka takes scalps with little compunction. It's either kill or be killed. Fight for what's yours or lose it to the enemy. When beautiful and courageous Adela is placed in his charge, his hands are bloody with guilt. But she could never love him anyway. He's the enemy, after all, and the source of her grief.
Their lives molded by the course of history, these Wounded Spirits must learn to rely on God's grace during one of the bloodiest conflicts in the South.
What is it about your lead character that will make your readers care about her?
Unlike her wild, vivacious sister, Adela is a rule-follower. It's important to her to do what's right. She is a deeply good and predictable person, so when she does the unexpected, everyone's already upturned world takes another spin. What readers love about Adela is watching her grow in faith and integrity as she readjusts her thinking of what's right. Sometimes what we have always believed to be "right" turns out to be what has held us in bondage. We just don't realize it until we break free. This is Adela's journey.
Why will readers enjoy your novel?
My readers all seem to enjoy the unique historical setting the most. Even those who yawn at history are drawn into the frontier world of Wounded Spirits and never want to leave.
If you were the casting director for the film version of your novel, who would play your lead roles?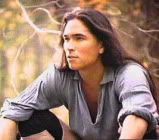 Great question! One of my all time faves is the Daniel Day-Lewis version of
The Last of the Mohicans.
Oh, me, too.
I'd definitely have a young Eric Schweig (Uncas) play Totka.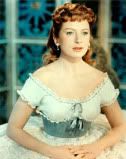 Deborah Kerr would play a wonderful Adela. Deborah is best known for her role in
The King and I
as well as
An Affair to Remember
.
How do you restart the creative juices when you feel a block coming on?
I recently experienced my first real writer's block. It had always been my understanding that when a writer was "blocked" she just didn't know how the story should continue. Now I understand a whole different level of this frustrating mental state. For me, it had nothing to do with not knowing what to write but how to write it. Each word was torture, like pulling teeth. I began to think I'd missed my calling and wasn't a writer, after all! How did I work through it? I just kept going. Most of it was junk, but I just wrote and wrote until I finally broke through and found my groove again.
So smart. And I've talked with authors who attacked writer's block that way and realized later, when they read it back, that they couldn't tell where the rough part was.

What is the last book you read that you would recommend?
Naomi Musch's
The Green Veil
was the last book I completed that I would recommend (I'm in the middle of several others right now). The setting was one I'd never read before—the big woods of Wisconsin Territory. And the author kept me guessing. The questions had me turning e-pages eager to know what in the world was going to become of the heroine. Great book!
What are you working on now?
I'm currently writing
Warring Spirits,
the next book in the Creek Country Saga. Here's a bit about the book:
In 1816 Georgia, a fort controlled by runaways looms over the white population, threatening everything they hold dear. But to Milly—neither white nor black—it is a refuge. Major Phillip Bailey has orders to subdue the uprising at any cost, but a devastating event drives the price higher than any expected to pay. Neither imagines that where blood is spilt unexpected love may bloom.
Where else can readers find you online?
I love to hear from readers! You can find me at these locations:
www.aprilgardner.com

www.aprilwgardner.blogspot.com

www.clashofthetitles.com

www.reflectionsinhindsight.wordpress.com
The book is available for online purchase via the following buttons:
Finally, what question would you like to ask my readers?
If you could change one thing about Christian fiction, what would it be?
Thank you, April, for visiting with us and telling us about your novel.
Readers, April has offered to give a signed copy of her book to the winner of our drawing on Monday, March 28.
To enter, leave a comment below in answer to April's question, above. "Please enter me" won't get you entered.
Leave your email address, in case you win, like so: trish[at]trishperry[dot]com.
Be sure to check out my interview with

James L. Rubart

and leave a comment at the bottom of his post to enter the drawing for his book.
Annoying legal disclaimer: drawings void where prohibited; open only to U.S. residents; the odds of winning depend upon the number of participants. See full disclaimer
HERE
.