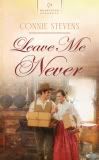 Old lies and new oppression form shackles only God can break.
Before we chat with today's author, I want to announce that the winner of today's drawing for
The Rhythm of Secrets
, by Patti Lacy, is:
janmarien@ . . .
Congratulations! I'll contact you today for your snail mail address, and we'll get your book to you right away.
I encourage readers to keep commenting and/or subscribe at right (below my list of books) in order to participate in future book give-aways!
Readers, please make note of the comment requirement, below!
Now let's meet novelist
Connie Stevens,
author of
Leave Me Never
(Heartsong Presents, division of Barbour Publishing, January 2011).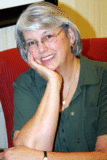 Connie began writing in high school, but set it aside when life happened. Taking up the pen again twelve years ago, she attended some writer's conferences, and the passion to write was fanned into flame. Connie discovered American Christian Fiction Writers in 2001 (it was American Christian Romance Writers back then) and the wealth of resources and mentors available from this fabulous online group helped her grow as a writer. The highlight of Connie's writing journey occurred in 2009 when she was awarded a first-time contract with Heartsong Presents at the ACFW conference. Since then she has signed three contracts, all with Heartsong Presents.
Connie and her husband of 37 years, John, live in north Georgia. One cantankerous kitty, misnamed Sweet Pea, allows them to live in her home. (John calls her Crabby Tabby.) Some of Connie's favorite pastimes include reading, gardening, and making quilts for the Cancer Treatment Center of America.
Thanks for crediting ACFW like that, Connie. I've often mentioned how, had I known about the group, I would have joined them far earlier in my career. I highly recommend ACFW to any inspirational fiction author, regardless of where you are with your writing.
Please tell us five random things we might not know about you.
-- I once started to purchase a Christmas present for Tessa Langford . . . um, Tessa is one of the characters in my novel,
Leave Me Never
. I've also had arguments with some of my characters who refused to cooperate.
-- I am a collector of teddy bears. I share my home with almost 200 bears, all of whom have names. My husband told me if I bring one more bear into the house, he's leaving. I'm sure going to miss him.
-- My car's name is "Jarhead" (the car used to belong to my Marine son).
-- I'm not the least bit afraid of spiders (show me one and I'll smack it for you) but seeing a wasp will send me into a panic.
-- If I had to choose between a steak or Italian food, I'd choose Italian every time.
Totally agree on the wasps! Wasps sting (and bite!) just for kicks--not because you're near their territory. They're like bugs with PMS.
Please tell us a bit more about the plot of Leave Me Never.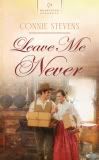 Tessa Langford is abandoned in a town where she knows no one, and must do whatever is necessary to survive on her own. Gideon Maxwell's dream is to sell the mercantile he inherited and start a horse ranch. Henry Kilgore will stop at nothing to get control of the town, and he's set his sights on Maxwell's Mercantile.
Tessa takes the only decent job she can find--working in Kilgore's hotel kitchen--despite Kilgore's repeated haranguing for her to come to work in his saloon. Tessa believes the lies her father told her--that she's worthless--and wonders if the demeaning job is the best she can ever be. Are the precious promises in God's Word meant for somebody like her? Meanwhile, Gideon tries to devise a plan to help Tessa break away from Kilgore's clutches and make her dream a reality while at the same time trying to make his own dream come true.
What is it about your lead character that will make your readers care about her?
Tessa has grown up believing the disparaging remarks from her father. She longs to realize a glimmer of self-worth, and finds strength in God's Word and encouragement in Gideon's respect for her to stand up for herself. I believe readers will see a bit of themselves in Tessa, and seize Tessa's perseverance for their own.
Why will readers enjoy your novel?
My hope is that readers will understand their worth comes from who they are in Christ, and will cast aside the lies of the enemy and allow God to slide the ring of adoption on their finger.
If you were the casting director for the film version of your novel, who would play your lead roles?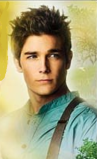 I'm not too familiar with the current stars in Hollywood. Most of the movies I watch are on the Hallmark channel. After watching Logan Bartholomew, who played Willie LaHaye in the
Love Comes Softly
series, I think I'd like to see him in the role of Gideon.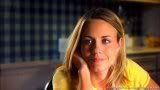 Shannen Fields played Brooke Taylor in
Facing The Giants
. I think she would make Tessa come alive.
Who is one of your favorite fictional characters?
I can only name one, huh? Hmm. Of all the characters I've read in the past several years, I think the one that has stayed with me was Summer Stedman in
Waiting For Summer's Return
because I identified with her grief. I was amazed how Kim Vogel Sawyer wrote the description of Summer's grief and her struggle to overcome it so accurately.
What is the last book you read that you would recommend?
Kim Vogel Sawyer's
Courting Miss Amsel
. The characters are wonderful--not only the main characters but also the secondary characters--and the reader can so easily put themselves into the characters' shoes. I chuckled at some scenes and felt angst at others, and I kept turning pages.
Yet another Kim Sawyer fan!

What are you working on now?
I am currently working on an historical series set in north Georgia. The first story opens in 1838 at the time of the Trail Of Tears, and the second and third books, set twenty-five years later, follow the offspring of the couple in the first book.
Where else can readers find you online?
www.heartsongpresents.com
and
www.conniestevenswrites.com
I'm also on Facebook.
Finally, what question would you like to ask my readers?
What is more important to you as a reader of Christian fiction: Character development? Growth of characters' relationships? Setting? Historical accuracy? Showing how God works in the lives of the characters?
Thank you, Connie, for visiting with us and telling us about your novel.
Readers, Connie has offered to give a signed copy of her book to the winner of our drawing on Thursday, January 27.
To enter, leave a comment below in answer to Connie's question, above. "Please enter me" won't get you entered.
Leave your email address, in case you win, like so: trish[at]trishperry[dot]com.
Be sure to check out my interview with

Miralee Ferrell

below, and leave a comment under her interview to be entered in a drawing for a signed copy of her book.
Annoying legal disclaimer: drawings void where prohibited; open only to U.S. residents; the odds of winning depend upon the number of participants. See full disclaimer
HERE
.