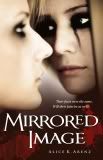 Their faces were the same. Will their fates be as well?
Before we chat with today's author, I want to announce that the winner of today's drawing for my latest release,
The Perfect Blend
, is:
jchoppes@ . . .
Congratulations! I'll contact you today for your snail mail address, and we'll get your book to you right away.
I encourage readers to keep commenting and/or subscribe at right in order to participate in future book give-aways!
Readers, please make note of the comment requirement, below!
Now let's meet novelist
Alice K. Arenz
, author of
Mirrored Image
(Sheaf House, October 2010).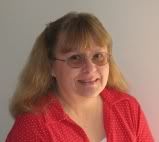 2010 ACFW Carol Award winning author, Alice K. Arenz, has been writing since she was a child. Her earliest publication was in the small, family-owned newspaper where her articles, essays, and poems were frequently included. In the mid-nineties, her writing earned her a stint with a well-known New York literary agency, and although it failed to produced the hoped for results, her determination to become published eventually led her to Sheaf House.
Arenz also writes cozy mysteries under A.K. Arenz.
The Case of the Bouncing Grandma
was a finalist in the 2009 American Christian Fiction Writers Book of the Year contest. The second in the Bouncing Grandma Mystery Series,
The Case of the Mystified M.D
., won the 2010 ACFW Carol Award for mystery.
She lives in Missouri with her husband and two Himalayan cats.
Please tell us five random things we might not know about you.
-- I'm one of six children -- the second to the youngest overall, the youngest girl.
-- Even at 5'2", I'm taller than either of my sisters.
-- I lived in Alaska at the time of the 1964 Good Friday Alaskan Earthquake (scary stuff!)
-- I never had a cat growing up, but now they are my preferred pet -- though I still love dogs!
-- I haven't had an agent since I began getting published -- though I'd really like one now!
Please tell us a bit more about the plot of Mirrored Image.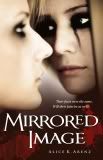 Eccentric newspaper columnist Cassandra Chase and by-the-book Detective Jeff McMichaels clash over the murder investigation of Lynette Sandler -- a woman who looks eerily like the popular columnist.
The uncanny similarities of the two women's lives and a rash of attacks on Cassie, lead her to the conclusion that she, not Lynette Sandler, was the murderer's original mark.
For McMichaels, the Sandler case becomes more than just a test of his mental acumen. Despite departmental regulations and his own common sense, he finds himself drawn to a woman he was determined to dislike.
Oh, I like that mistaken-identity aspect of the story, Alice!
What is it about your lead character that will make your readers care about her?
I think people will be drawn to Cassie for her spunk as well as her vulnerability -- though she would hate to have anyone consider her vulnerable.
Why will readers enjoy your novel?
If you like a serious fast-paced mystery/suspense with just a touch of romance, and a lot of secrets, you'll enjoy
Mirrored Image
. I've been told over and over -- even from men! -- that they just couldn't put the book down.
Who is one of your favorite fictional characters?
I love Claire and Jamie from Diana Gabaldon's
Outlander
series. I've read those first three books several times because they just seem to come alive and jump right off the pages.
If you were the casting director for the film version of your novel, who would play your lead roles?
This is a hard one -- I'm not as up-to-date on the younger actors and actresses as I should be. Um . . . I'm sorry, I just can't come up with anyone -- though I'd love to see it as a movie!!
Judging by your cover, Alice, it looks like Blake Lively might work--she was in the recent film The Town. Here's a picture of her all spick and span and another of her looking a little rough (from the film), as the woman on your cover does. Just keep her in mind when Hollywood comes calling.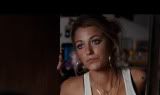 What is the last book you read that you would recommend?
Terri Blackstock's
Intervention
. It is a heart-pounding, fast-paced suspense that kept my interest from beginning to the end. Awesome.
What are you working on now?
I had been working on what I believed would be my next Sheaf House release in Oct. 2011,
An American Gothic
. Unfortunately, that's been put on hold right now.
I've been asked to contribute to a short story -- Cozy Mysteries of the South -- I think that's what it's called. I'm pretty long-winded, but decided to give it a try.
Where else can readers find you online?
My web site is
www.akawriter.com
, but you can find me all over if you Google my name -- either my full name or A.K. Arenz.
The book can be purchased online via the following buttons:
CBD.com
Finally, what question would you like to ask my readers?
Is there something that you would like to see written -- by another writer or me -- that you haven't seen before?
Thank you, Alice, for visiting with us and telling us about your novel.
Readers, Alice has offered to give a signed copy of her book to the winner of our drawing on Monday, January 17.
To enter, leave a comment below in answer to Alice's question, above. "Please enter me" won't get you entered.
Leave your email address, in case you win, like so: trish[at]trishperry[dot]com.
Be sure to check out my interview with Lynette Eason below, and leave a comment under her interview to be entered in a drawing for a signed copy of her book.
Annoying legal disclaimer: drawings void where prohibited; open only to U.S. residents; the odds of winning depend upon the number of participants. See full disclaimer
HERE
.