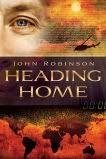 Sometime in the next one hundred sixty eight hours the world you've known will completely change, never again to be the same; how will you redeem that time?
Before we meet today's author, I want to announce that the winner of today's drawing for
The Pirate Queen,
by Patricia Hickman, is:
tstam3@ . . .
Congratulations! I'll contact you today for your snail mail address, and we'll get your book to you right away.
I encourage readers to keep commenting and/or subscribe at right in order to participate in future book give-aways!
Readers, please make note of change in comment requirement, below!
Now let's meet novelist
John Robinson,
author of
Heading Home
(Sheaf House Publishers, August 2010).
John Robinson has been married thirty-seven years to the finest woman on the planet, his wife Barb. The father of two grown sons and grandfather of two, he's also the retired owner of a successful financial planning firm.. In addition to his writing John is a much in demand speaker and teacher, having taught fiction tracks at the Glorieta Christian Writers conference just outside Santa Fe, New Mexico.
Please tell us five random things we might not know about you.
-- My favorite movie is
Open Range
.
-- My favorite musical is
The Phantom of the Opera
.
-- My favorite band is Yes.
-- Due to a brain injury when I was nine I'm dyslexic, and can only type with my thumbs and index fingers.
-- I also have syndactyly, giving me webbed toes.
Now, aren't you glad you've read this far?
I'll bet they are!
Please tell us a bit more about the plot of Heading Home.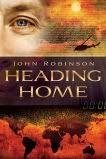 When every Christian on planet earth simultaneously receives a shattering word from God stating the final countdown to Armageddon has begun, the world is thrown into stark panic. Into the chaos of hope and heartbreak two old friends, hardened combat veterans from the closing days of the Vietnam War, set out on a harrowing and suspenseful quest to redeem that time. But what they cannot know is they, and everything they love, have been targeted by a blood-maddened cult for satanic annihilation. And the clock is ticking.
What is it about your lead character that will make your readers care about him?
Nick Castle is strong, tough, funny, fiercely loyal, and guided by love; he's also mission-driven, and doesn't suffer fools gladly.
Why will readers enjoy your novel?
Everyone enjoys a good "what if" tale;
Heading Home
satisfies that desire (I hope!).
If you were the casting director for the film version of your novel, who would play your lead roles?
I've thought about this.
For Nick Castle, I'd like Tom Hanks.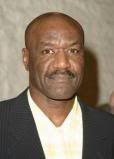 For CT Barnes, Delroy Lindo.
And for Sangre, Steve Buscemi.
The trick for Nick and CT, of course, would be to find younger versions of them for the Vietnam scenes.
If a publisher contracted you to write a fictional account of any one real person, who would you choose to write about?
Without a doubt,
Nikola Tesla
. There's more to that man than meets the eye, and I think he'd be fascinating.
Choose an inanimate object to represent you. Explain what you have in common with that object.
A geode. The reason being they're so terribly plain on the outside, but saw them open and you find something--a hopefully beautiful something--no human has seen until that moment. To me, that's very, very cool.
I agree! My son received a whole geode as a birthday present once. When he broke it open, it was a dud, but the experience of breaking it open was exciting.
I'm sure you're not the dud kind of geode, though, John. I'm sure you're all sparkly and purple inside.

What is the last book you read that you would recommend?
It's a nonfiction work called
Parliament of Whores
, by P.J. O'Rourke. It lays bare the workings of Washington D.C., and does so with unassailable facts, trenchant wit, and a sense of the absurd.
What are you working on now?
First up is
Relentless
, the beginning of my Mac Ryan series. With Mac I've taken a man who's a little like my Joe Box character, but I've given him a darker past and sent him in different direction. The back story is Mac's a former Army Ranger whose entire command is wiped out in the early days of the Iraq War due to a disastrous intel error. Later he finds out just how bad that error was. As he's laid out flat on his back in a Walter Reed Army hospital bed, his fire-scorched back bandaged like Lon Chaney and tranked to the gills, he's visited by a small, well-dressed, soft-spoken balding man with hard black eyes. The guy is a G-5 government spook, and bluntly tells Mac the communications lieutenant who'd passed on that bad info is connected. Highly connected. As in United States senator's son connected.
Mac is given a choice: go public and find his life ruined, or take a medical retirement with a generous--very generous, as in the high five figures--monthly stipend. Not being an idiot, he accepts the deal.
But then he double-crosses the government. Rather than spending the rest of his days getting fat while slurping mai tais with brown-skinned women on a Costa Rican beach, he assuages his guilt by unofficially taking on hopeless tasks that just skirt the edge of the law.
For free.
With that one done, I'm putting the finishing touches on my first science fiction novel,
The Radiance
. Here's the skinny: Former Special Forces combat officer and now disillusioned pastor Travis Walker discovers hope for his shattered life coming from an unexpected source. A force of mysterious origin, dubbed the Radiance, is causing worldwide intelligence, both human and animal, to advance at a horrifying rate. Worse, no one knows when the effect will stop . . . or if it can be stopped. The Radiant Project, a crack team of scientists, clerics and military leaders--and headed by Travis's wealthy industrialist brother Cale--is hastily assembled to combat the phenomenon. Against his better judgment Travis is drafted into this group to give his "everyman" take on things. There he finds himself running on an inside track, battling not only worldwide hopelessness, terrorism and greed, but his own dark and cynical passions as well. And it's here, in this strange new battlefield at the brink of Armageddon, the wounded warrior finds his hard-won skills being called upon one last time.
Where else can readers find you or your writing online?
Here's my website:
www.johnrobinsonbooks.com
. It has info about all my books, plus the first chapter of each, as well as my blog (the kind folks at the Authors Guild constructed the site, and they did a good job). Thanks again for having me, Trish. It's been a pleasure!
The book is available for online purchase via the following buttons:
CBD.com
Thank you, John, for visiting with us and telling us about your novel.
Readers, John has offered to give a copy of his book to the winner of our drawing on Monday, December 6.
To enter, leave a comment below for John

specific to something he said in the interview
. Leave your email address, in case you win, like so: trish[at]trishperry[dot]com.
Be sure to check out my interview with

Charlene Ann Baumbich

below, and leave a comment under her interview to be entered in a drawing for a signed copy of her book. And please take a look at the blog about

Sandi Rog's debut release

and her current situation.
Annoying legal disclaimer: drawings void where prohibited; open only to U.S. residents; the odds of winning depend upon the number of participants. See full disclaimer
HERE
.