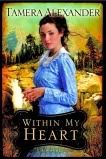 Sometimes the greatest step of faith is taken neck-deep in fear.
Before we meet today's author, I want to announce that the winner of the drawing for
A Prairie Christmas Collection
, featuring Deborah Raney, is:
vie@ . . .
Congratulations! I'll contact you today for your snail mail address, and we'll get your book to you right away.
I encourage readers to keep commenting and/or subscribe at right in order to participate in future book give-aways!
Now let's meet novelist
Tamera Alexander,
author of
Within My Heart
(Bethany House Publishers, September 2010).
Tamera Alexander is a best-selling novelist whose deeply drawn characters, thought-provoking plots, and poignant prose resonate with readers. Having lived in Colorado for seventeen years, she and her husband, Joe, now make their home in Nashville Tennessee, along with Tamera's father, Doug, and with their two adult children who live near by. And don't forget Jack, their precious--and precocious--silky terrier.
Please tell us five random things we might not know about you.
-- I was voted Most Courteous by my 7th Grade classmates at Idlewood Elementary School in Tucker, GA. All of whom I'm sure, if given the choice, would vote quite differently today.
-- When I first met Robin Lee Hatcher in 2003 at the ACFW Conference in Houston, she gave me some of the best counsel I've ever received about writing (during our paid critique session). When I asked her if she thought I "had what it took" to be published some day, she answered, "I don't know what God has in store for you, Tammy. But more than anything I want His will for your life. And that's what I'm going to pray for." Now that's a great answer! (And that paid critique is still the best $25 I've ever spent, Ms. Hatcher.)
-- I LOVE Dark Chocolate. The darker the better.
-- I adore
The Closer
and
Dancing with the Stars
.
-- All of my books should also have Ms. Deborah Raney's name on the cover. Deb's my fabulous writing critique partner. She reads every first draft before I turn it in. (Bless you, Deb! And thanks for the chapter you just sent back this evening. Can't wait to dive in and make those changes!)
Please tell us a bit more about the plot of Within My Heart.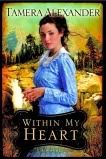 Within My Heart
is the third and final book in the Timber Ridge Reflections series. We first meet Rand Brookston and Rachel Boyd, the two protagonists in
Within My Heart
, in
From a Distance
, Book 1 in the series. We glimpse them again in
Beyond This Moment
, but
Within My Heart
is their love story. Here's a peek at the back cover:
Determined to fulfill her late husband's dream, Rachel Boyd struggles to keep her ranch afloat with the help of her two young sons. But some days it feels as though her every effort is sabotaged. When faced with a loss she cannot afford, she's forced to trust Rand Brookston, the one man in Timber Ridge she wishes to avoid. And with good reason. He's a physician, just like her father, which tells her everything she needs to know about him. Or so she thinks ...
Dr. Rand Brookston ventured west with the dream of bringing modern medicine to the wilds of the Colorado Rockies, but the townspeople have been slow to trust him. Just as slow in coming is Rand's dream to build the town a proper clinic. When a patient's life is threatened, Rand makes a choice--one that sends ripples through the town of Timber Ridge. And through Rachel Boyd's stubborn heart.
What is it about your lead character that will make your readers care about him?
As soon as I learned about Rand Brookston's past (a specific incident that happened to him years before the story in
WMH
opens), and then saw what he'd accomplished with his life, I loved his character. And when I glimpsed his continuing struggle with that haunting fear, I loved him even more. And knew Rachel would too. Once she truly got to know him!
Why will readers enjoy your novel?
Because there's dark chocolate tucked inside of page 211, and again at page 328. Unless, of course, it was scarfed by some greedy bookstore employee as they shelved the new releases. If the chocolate's been absconded, then readers will have to rely on what's hopefully a deeply moving love story with characters that become like friends.
See, now, that's a sales ploy that just won't work with e-books. We're all going to have to stop embedding free chocolates in our novels . . .

If you were the casting director for the film version of your novel, who would play your lead roles?
I'm not one of those writers who uses pictures of actors and actresses for their characters, so I didn't have anyone specific in mind when I wrote Rand and Rachel. Yet they're very clear in my mind. And, of course, Rachel's picture is on the cover. Hopefully readers will be able to "see" them for themselves as they read.
Share with us one line or paragraph (or so) that gives us a good feel for your book's tone.
How about the opening sentences of the prologue, then of Chapter One, since they have slightly different voices, being written from different points of view (POV):
Prologue:
Half hidden beneath the bare-limbed canopy of a dogwood tree, the gravedigger kept a reverent distance, patiently waiting for the last whispered prayers to be uttered and for the final mourner to take her leave. Only then did he step into the fading light, a worn spool of string clutched tight in his gnarled hand. Not much time left. It would be dark soon. And the last grave still needed tending before the pewter skies let loose their winter white.
Chapter One:
Rachel Boyd stood motionless in the main aisle of the general store, knowing she shouldn't eavesdrop. But heaven help her, she couldn't bring herself to move! Half afraid that Ben and Lyda Mullins would hear her if she did try to make a stealthy exit, she gripped the jar of molasses in her hand, unable to stifle a giggle. The only patron in the store, she was grateful for the lull in afternoon traffic and was more than a little amused--and surprised--by the affectionate whispers coming from beyond the curtained doorway.
Choose an inanimate object to represent you. Explain what you have in common with that object.
At this very moment, at 11:37 p.m. after a full day of writing and I'm nearly comatose, I'm looking around our bedroom (my husband is beside me in bed, already asleep, so is Jack, our silky terrier, but he's on a chair across the room, no dogs sleeping in the bed for me), and I'm going to chose . . . The Elephant Clock on the dresser.
The clock belonged to my precious Mom who loved elephants. I'm choosing it because I'm remembering how tired I am and how slow moving I'll be in the morning if I don't get to bed right this minute. And I'm also feeling the incessant tick-tick-tick of my next deadline that's stampeding toward me faster than any elephant could outrun. How's that? Oh, and if I don't get this book turned in on time, it definitely won't be the elephant in the room because my editor will definitely be having words with me. As well she should.
Tammy, that's one of the most efficiently milked metaphors I've read in quite some time. Not bad at all for a tired author. I'm very impressed.
What is the last book you read that you would recommend?
The Help
by Kathryn Stockett. I've read several books since I read
The Help
last year, but I absolutely loved this story. Adored it! I even bought the audio version and enjoyed the story again that way. Best audio book I've ever listened to! And I've listened to lots!
I think that book has been the most common answer answer to this question all year. I listened to the audio version, as well. Fantastic. I can't wait for the film, set to release August 2011! Young actress Emma Stone is playing Skeeter. Perfect casting, in my opinion.

What are you working on now?
A Lasting Impression,
the first book in a brand new three-book historical series that releases in fall 2011. I love these new characters and new setting and hope readers will too.
Where else can readers find you or your writing online?
Website:
www.tameraalexander.com
Blog:
www.tameraalexander.blogspot.com
Group Blog:
www.writespassage.blogspot.com
Twitter:
www.twitter/tameraalexander.com
Facebook:
www.facebook/tameraalexander.com
The book is available for online purchase through the following buttons:
CBD.com
Thank you, Tamera, for visiting with us and telling us about your novel.
Readers, Tamera has offered to give a copy of
Within My Heart
to the winner of our drawing on Thursday, November 4.
To enter, leave a comment for Tamera,
below. Leave your email address, in case you win, like so: trish[at]trishperry[dot]com.
Check out how you can win a signed copy of my novel The Perfect Blend below, and leave an appropriate comment under my post to be entered in a drawing for a signed copy of my book. Be sure to actually read the post, so you'll know what kind of comment is required to be entered in the drawing.
Annoying legal disclaimer: drawings void where prohibited; open only to U.S. residents; the odds of winning depend upon the number of participants. See full disclaimer
HERE
.