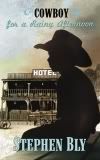 Maybe you weren't born 100 years too late!
Before we meet today's author, I want to announce that the winner of the drawing for
Dragons of the Valley
, by Donita K. Paul, is:
cherierj@ . . .
And Donita is also giving away a signed copy of
The Dragon and the Turtle
to:
barbjan10@ . . .
Congratulations! I'll contact you today for your snail mail address, and we'll get your book to you right away.
I encourage readers to keep commenting and/or subscribe at right in order to participate in future book give-aways!
Now let's meet novelist
Stephen Bly,
author of
Cowboy for a Rainy Afternoon
(Center Point, June 2010).
Stephen Bly has published over 100 books of historical and contemporary fiction and nonfiction for adults, teens and kids, with more than a million in print. His wife, Janet, also a writer, co-authored 18 books with him. He lives in Winchester, Idaho, at 4,000 ft. elev. on the Nez Perce Indian Reservation and pastors Winchester Community Church. He served as mayor of Winchester from 1999-2007. Stephen's hobbies include playing par golf and collecting antique Winchesters. His western novel,
The Long Trail Home
of the Fortunes of the Black Hills Series, won a Christy Award in 2002.
Please tell us five random things we might not know about you.
-- I built a false-front town. . .in my yard.
-- I'm a roving editor for
Big Show Journal,
a magazine for gun collectors.
-- I graduated
summa cum laude
in Philosophy from Fresno State University (California)--(a more worthless degree has never been given).
-- I do not consider the movie
Shane
to be anywhere near one of the top ten western movies (despite what James Scott Bell and Western Writers of America believe).
-- I've been married to my high school sweetheart for 47 years.
Your comment about Shane made me laugh, because I thought of Jim Bell immediately when you mentioned it, even before you invoked his name.
Please tell us a bit more about the plot of Cowboy for a Rainy Afternoon.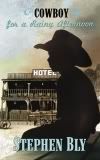 A 10-year-old boy. Six old cowboys. A '49 Plymouth with open trunk. And a damsel in distress. Here's the fixings for adventure in 1954 Albuquerque, New Mexico.
Little Brother listens to Old West tales and cowboy romps by his granddaddy and pals. Meanwhile, a drama brews in the lobby of the Old Matador Hotel that propels them into one last cowboy stand that includes Little Brother himself.
Told from the boy's point-of-view, years later as an adult, he learned many lessons that rainy summer's day. He gets a graduate degree in cowboy philosophy. The old cowboys range in age from 70s to 90s. The eldest was born during the Civil War. All of them rode the range from the late 1880s until the 1940s. They tell first-hand stories of what the West was truly like. They even knew the infamous Stuart Brannon, "the toughest sober man" who never flinched in a fierce gunfight.
Cowboy For a Rainy Afternoon
comes the closest to novel as memoir for me. I was 10-years-old in 1954 and spent many afternoons hearing stories from my grandpa. Maybe it's not that long ago when the West was wild.
Love that summary, Stephen.

Why will readers enjoy your novel?
Because of the diverse array of cowboy characters and western adventures in the mood of nostalgia and sadness for an era that has passed. Great intergenerational bonds.
If you were the casting director for the film version of your novel, who would play your lead roles?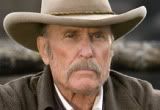 Robert Duvall could definitely play the part of the character named Quirt. Not sure about any of the others.
How important to the story is your book's setting?
The Matador Hotel plays a crucial part in the story. It's downtown and run down, on its last leg of usefulness. . .reflective of the old cowboys who live there.
Choose an inanimate object to represent you. Explain what you have in common with that object.
My saddle--because it's heavy, awkward, useless. . .unless strapped to a source of power. Then, it can transport folks to a different place, get them where they need to go.
Oh, that's a nice one.

What is the last book you read that moved you?
The Virginian
, by Owen Wister. This story always motivates me to create unforgettable characters.
What are you working on now?
Throw Away Heart
. . .a classic western novel set in the 1870s on a train going west. . .from Omaha to Sacramento.
Where else can readers find you or your writing online?
Websites:
www.BlyBooks.com
,
www.OneStepOverTheBorder.com
, and
www.tapaderaswinchesters.com
Blog:
www.BlyBooks.blogspot.com
Thanks, Stephen, for visiting with us and telling us about your novel.
Readers, Stephen has offered to give a copy of his novel to the winner of our drawing on Monday, September 6.
To enter, leave a comment for Stephen, below.
Leave your email address, in case you win, like so: trish[at]trishperry[dot]com.
Check out my interviews with

Jane Kirkpatrick

and

Erin Rainwater

, below, and leave comments under their interviews to be entered in drawings for signed copies of their books. And see how to win one of five copies of my next release, The Perfect Blend,

HERE

.
Annoying legal disclaimer: drawings void where prohibited; open only to U.S. residents; the odds of winning depend upon the number of participants. See full disclaimer
HERE
.