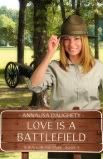 War rages again at Shiloh, but this time it's a battle of the heart.
Before we meet today's novelist, I'd like to announce that the winner of the drawing for Allie Pleiter's novella,
Bluegrass Easter
in the novella collection,
Easter Promises,
is:
jchoppes@ . . .
Congratulations! I'll contact you today for your snail mail address, and we'll get your book to you right away. I encourage readers to
keep commenting and/or subscribe at right in order to participate in future book give-aways!
And now let's meet novelist
Annalisa Daughety,
author of
Love is a Battlefield
(Barbour Publishing, October 2009).
Annalisa Daughety, an Arkansas native, won first place in the Contemporary Romance category at the 2008 ACFW Genesis Awards. After graduating from Freed-Hardeman University, Annalisa worked as a park ranger at Shiloh National Military Park. She currently resides in Memphis, Tennessee, and works as an event planner. Her first book,
Love Finds You in Charm, Ohio
, released in September 2009. In October 2009,
Love is a Battlefield
hit the shelves.
Love is a Battlefield
is the first book in the Walk in the Park series. Each book is set in a different national park.
Please tell us a bit more about the plot of

Love is a Battlefield.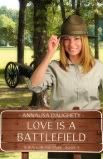 Kristy O'Neal gave up her dream job as a park ranger at Shiloh National Military Park to get married and move away. When she's left at the altar, she returns to the park to find her old position has already been filled. She accepts a seasonal position even though it is a step back, career-wise. Working alongside Ace Kennedy (the man who has her old job) is almost more than Kristy can handle. Throw in a matchmaking mother and friends who think she should put herself back in the dating game, and Kristy is nearly at her wits end. She sees the past as a battlefield of failed relationships and isn't sure she's ready to risk her heart again.
For Ace Kennedy, history offers proof that true love exists. With stories from the park's rich history in his arsenal, he begins the battle to win Kristy's heart. But when Kristy learns he's keeping secrets from her, her skepticism of love seems justified. Can she risk her heart on the battlefield of love one more time or will Ace lose Kristy forever?
Which character in your novel most interested you while you wrote?
Kristy O'Neal--despite the challenges she faces, her faith never wavers. Plus, she's a little quirky, which is always fun.
Why will readers enjoy your novel?
Love is a Battlefield
is a lighthearted and fun read with a unique setting.
If you were the casting director for the film version of your novel, who would play your lead roles?
Reese Witherspoon would play Kristy.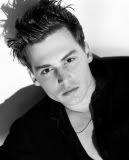 And Johnny Depp (from his younger days) would play Ace.
Tell us about your approach to writing a novel. Some authors use outlines, some write as they go, some take a different approach altogether. Could you give us an idea of the method that works for you?
I have a basic plot in mind and start out using that as a guide--but veering off whenever I (and my characters) see fit. After the first few chapters are written, I fast forward and write the end of the book. I know it sounds crazy! Once that is finished, I go back and do the middle--by that time I have an outline that I stick to pretty well. So far, this is the method that seems to work for me. I'm sure it will change and evolve as I continue to write though!
What facet of the writing craft comes easiest to you, and what creates a struggle?
The act of writing, itself is the easiest part for me. Once I have the plot and characters in mind, I find that the words come pretty easily. But figuring out the plot and making sure everything flows together is challenging. I probably struggle most with staying focused. I find that while I'm writing, I start getting ideas for other stories. Often I find myself jotting down ideas for future projects as I'm writing on a current one--I've come up with some good ideas that way, but sometimes it is easy to get sidetracked. When you're on a tight deadline, there isn't time to get sidetracked!
Choose an inanimate object to represent you. Explain what you have in common with that object.
I would choose one of the brightly colored vintage aprons that I collect--because they're a little old-fashioned, but still relevant and useful.
What is the last book you read that moved you?
Probably
Just Between You and Me
by Jenny B. Jones. It was such a great book about what happens when we let our fears rule our lives and how good it feels to conquer them. I loved the book!
What are you working on now?
I'm working on
Love is Grand,
the third installment in the Walk in the Park series. It's set at the Grand Canyon.
These are great titles, Annalisa!

Where else can readers find you or your writing online?
My web site:
www.annalisadaughety.com
My blog:
www.princessofpatience.blogspot.com
Facebook:
www.facebook.com/annalisadaughety
Shoutlife:
www.shoutlife.com/adaughety
Twitter:
www.twitter.com/annalisa_
Purchase the book on
Amazon.com
and CBD.com.
Thanks, Annalisa, for visiting with us
and telling us about
Love is a Battlefield
. Readers, Annalisa has offered to give a copy of her novel to the winner of our drawing on Saturday, March 6.
To enter, leave a comment for Annalisa
, below. Leave your email address, in case you win, like so: trish[at]trishperry[dot]com.
Check out my interviews with Kay Marshall Strom and Sandra Byrd, below, and leave a comment under their interviews to be entered in drawings for signed copies of their novels
Finally,
if you'd like to enter a drawing for my latest novel,
Sunset Beach
, stop by
Carman Boley's blog
and leave a comment. Carman will draw a winner's name on March 4.
Annoying legal disclaimer: drawings void where prohibited; open only to U.S. residents; the odds of winning depend upon the number of participants."