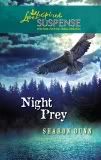 When Jenna Murphy fears the birds of prey she rescues are being harmed on purpose she enlist the help of her childhood friend Keith Roland who has returned to his grandparents ranch to find forgiveness and healing after serving in Iraq.
Before we meet today's author, I want to announce that the winner of today's drawing for
Red Ink
, by Kathi Macias, is:
ecspiers@ . . .
Congratulations! I'll contact you today for your snail mail address, and we'll get your book to you right away.
I encourage readers to keep commenting and/or subscribe at right in order to participate in future book give-aways!
Readers, please make note of the comment requirement, below!
Now let's revisit with novelist
Sharon Dunn
, author of
Night Prey
(Love Inspired Suspense, December 2010).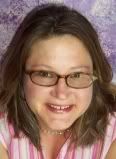 Sharon Dunn is an award winning author who writes humorous mysteries and romantic suspense for the Christian market. She started writing when her oldest son was born (he just turned 19).
She lives with her hubby of twenty three years, three children, three cats and their newest edition to the family, a border collie named Bart. When she isn't writings or being the Mom taxi, she enjoys reading, going for walks and making pets out of the dust bunnies in her house.
Please tell us five random things we might not know about you.
-- My husband says he loved me from almost our first date, but tasting my chocolate chip cookies was what sealed the deal.
-- I went to a very rural two room schoolhouse that had three kids per grade and three grades in a room.
-- My father was a phosphate miner which makes me a phosphate miner's daughter, though I have never written a song about it.
-- My favorite non-fiction author is C.S. Lewis.
-- Since my kids were born, I have pretty much lived in the psalms for my Bible reading time
Yeah, I guess the song lyrics wouldn't flow quite as well as Loretta's, would they?
Please tell us a bit more about the plot of Night Prey.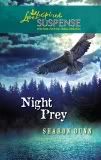 When Jenna Murphy finds an injured bird with buckshot in his wings, she wonders if someone is targeting the birds. More unusual bird injuries and a threatening note only confirm her suspicions. Getting to the bottom of these malicious acts is on the top of her list as the director of the Raptor Rescue Center.
Running into her childhood friend Keith Roland on the ranch where some of the crime has taken place was a complete surprise. The last time she saw Keith he was seventeen and deeply troubled. Can she trust that twelve years have changed him?
As Jenna seeks to protect the wild animals she feels a connection with, she and Keith uncover that the bird injuries are connected to much more dangerous crimes.
What is it about your lead characters that will make your readers care about them?
I think Jenna's passion for caring for the wild raptors and the courage she shows in facing some difficult things in her life. Also, I loved writing about Keith's journey and growth. When he was 17, he didn't leave his grandparents ranch on good terms. He was a troubled kid who had been arrested for drunk driving. Now he has returned a changed man to make amends.
Why will readers enjoy your novel?
First and foremost, the suspense element and the level of danger that Keith and Jenna find themselves in, but the quieter story is about them restoring a broken childhood relationship. Both characters have secrets and wounds that make it hard for them to open their hearts.
If you were the casting director for the film version of your novel, who would play your lead roles?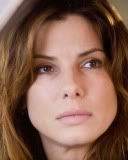 I see Jenna as a real confident outdoorsy type, but also very sensitive. Probably someone like Sandra Bullock.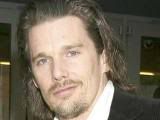 Keith is sort of a brooding ruggedly handsome guy, someone whose face says that he has layers to his personality. I picture him as Ethan Hawke with longer hair.
What song would lend the proper atmosphere to your novel (or a particular scene in your novel)?
"
Wind Beneath My Wings
." The birds, and in particular the eagles, are not only a part of the story, but they area metaphor for how God cares for us. I found so many verses that reference birds. The image of us hiding beneath God's feathers, of finding refuge is very powerful.
I think I'm going to have that song in my head now for the rest of the day. Good choice.
What is the last book you read that you would recommend?
For non-fiction I read a book called
Water from a Deep Well
by Gerald Sittser, an easy to read history of Christian spirituality from the Roman persecution to modern times.
For fiction
The Passion of Mary-Margaret
by Lisa Samson because Lisa never disappoints with her storytelling.
What are you working on now?
I just turned in another Love Inspired Suspense called
Her Guardian
. The book will be out in July 2011 and is about a young woman who was kidnapped and held captive for seven years by a cult leader. The story starts when the heroine is set to testify in trial the trial against the cult leader. Since her life is under threat in the weeks before the trial, her father hires a bodyguard to keep her safe.
Very timely, considering cases like Elizabeth Smart's.
Where else can readers find you or your writing online?
At
www.sharondunnbooks.com
The book is available for purchase online via the following buttons:
CBD.com
Finally, what question would you like to ask my readers?
When do you first remember being excited about reading? What genre did you first connect with and why?
I remember being in our tiny school library where we had a set of Nancy Drew mysteries with pink covers and after I read my first book, I couldn't wait to go back and get another. I read all kinds of genres after that, but in college I picked up an Agatha Christie right before hubby and I went on a camping trip. I remember sitting at the campfire reading that book, that sense of excitement in turning the next page. I think mysteries were always what I connected with.
Thank you, Sharon, for visiting with us and telling us about your novel.
Readers, Sharon has offered to give a copy of her book to the winner of our drawing on Monday, December 20.
To enter, leave a comment below in answer to Sharon's question, above
. Leave your email address, in case you win, like so: trish[at]trishperry[dot]com.
Be sure to check out my interview with

Kay Strom

below, and leave a comment under her interview to be entered in a drawing for a signed copy of her book. And please take a look at the blog about

Sandi Rog's debut release

and her current situation.
Annoying legal disclaimer: drawings void where prohibited; open only to U.S. residents; the odds of winning depend upon the number of participants. See full disclaimer
HERE
.