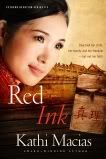 Yang Zhen-Li's name means "truth." Will she stay true to the One who is "the Way, the Truth, and the Life"--even when they take her child, her family, and her freedom?
Before we meet today's author, I want to announce that the winner of today's drawing for
Heading Home,
by John Robinson, is:
janmarien@ . . .
Congratulations! I'll contact you today for your snail mail address, and we'll get your book to you right away.
I encourage readers to keep commenting and/or subscribe at right in order to participate in future book give-aways!
Readers, please make note of the comment requirement, below!
Now let's revisit with novelist
Kathi Macias,
author of
Red Ink
(New Hope Publishers, October 2010).
Kathi Macias is an "occasional radio show host" and an award-winning author of more than 30 books, including the bestselling devotional
A Moment A Day, Valeria's Cross
, and the popular Matthews and Matthews mystery series. A former newspaper columnist and string reporter, Kathi has edited/ghostwritten/collaborated on more than 100 other books and published countless articles and short stories during her nearly thirty years in the publishing world.
Kathi has worked with such well known people as former NFL star Rosey Grier, the late Chaplain of the United States Senate Dr. Richard Halverson, Josh McDowell, and Dr. Jack Hayford. She is a popular and sought-after speaker at women's retreats, writers' conferences, and civic venues, and she also serves as spiritual adviser to CAN (Christian Authors Network).
Kathi lives in Southern California with her husband, Al, and her almost-90-year-old mother, Mary, for whom Kathi is primary caretaker.
Please tell us five random things we might not know about you.
-- My "road name" is Easy Writer, which came about because I ride with my husband on his Harley. I have an "Easy Writer" patch on my black leather vest, which opens up all sorts of interesting conversations and opportunities to witness/share my testimony.
-- I am married to my junior/senior high school sweetheart, Al, whom I've known since we were six years old. (Trust me, that's a LOT of years!!!)
-- I am not only a wife, mother, and grandmother, but a great-grandmother to three-year-old Isaiah as well.
-- I have been involved in jail/prison ministry for many years, and once had the rare opportunity to minister for a full day on Death Row in San Quentin. I also interviewed Charles "Tex" Watson of the Manson Family, and helped David "Son of Sam" Berkowitz (now a Christian and known as "Son of Hope") compile/edit his prison memoirs.
-- Kacy Barnett-Gramckow, fellow CAN member and author of the Genesis trilogy from Moody, is my sister-in-law, married to my "baby" brother, Jerry.
Wow, that's quite a list, Kathi, especially the prison ministry part. I think you have to have a special gift not only to do that, but to be drawn to it.

Please tell us a bit more about the plot of Red Ink.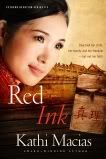 Based loosely on the life of Christian magazine editor Li Ying, currently serving a ten-year prison sentence in China, the story of Yang Zhen-Li (whose name means "truth") tells the desperate tale of her incarceration and separation from her family, as she continues to minister to other "prisoners and even to her guards.
Red Ink
also addresses the issues of human trafficking¸ standing for Jesus in the face of brutality, loving those who are impervious to the Gospel, and following the Holy Spirit's call to pray at the cost of our own comfort. It is a perspective-changing story that exposes what others suffer for the cause of Jesus Christ, and the terrible price they pay to keep the Gospel alive.
Red Ink
is not an easy read, but Li Ying's story, as well as the stories of other characters in both China and the United States, will challenge readers to move beyond their comfort zones and to make their own commitment to stand for Truth--regardless of the cost.
What is it about your lead character that will make your readers care about her?
Zhen-Li, though living in another country and culture and in conditions most of us can't even imagine, is no different than any of the rest of us when it comes to her own weaknesses and insecurities. She agonizes over being away from her family, wonders what will become of them and of herself, and questions if she will be able to stand strong in the face of persecution. Through it all, she continually clings to Christ, knowing He is her only hope . . .
Why will readers enjoy your novel?
As believers we all wonder if we would remain faithful if truly challenged on such horrific levels. Seeing how God "works all things together for good" and brings triumph out of tragedy and new life from ashes in the pages of
Red Ink
will encourage readers and cause them to draw closer to the Father's heart.

If you were the casting director for the film version of your novel, who would play your lead role?
I am hopeless when faced with questions like that, as I seldom go to movies and haven't a clue "who's hot and who's not" at the box office. But an attractive young Asian woman--fragile and frightened, yet faithful and triumphant--would be the obvious pick.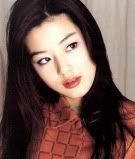 Here's my vote. I don't know anything about this actress (Jeon Ji-hyeon), but I think she fits your description and looks much like your book cover model. She's actually Korean, though.

What song would lend the proper atmosphere to your novel (or a particular scene in your novel)?
"Through It All"
by Andre Crouch (from two or three decades ago) comes to mind.
What is the last book you read that you would recommend?
I just finished
A Memory Between Us
by Sarah Sundin. It was wonderful! It was the first book I've read by Sarah, but I'm definitely looking forward to reading more! Sarah is an excellent writer.
What are you working on now?
I'm completing final edits on book four of the Extreme Devotion series,
People of the Book
, set in Saudi Arabia, which releases in April 2011. I also just finished and turned in
Deliver Me from Evil
, the first in the three-book Freedom fiction series, also from New Hope, which deals with human trafficking and begins releasing in Fall 2011.
Where else can readers find you or your writing online?
In addition to my website
www.kathimacias.com
and
Easy Writer blog
, I'm a regular contributor to Crosswalk.com and a monthly humor columnist for The Christian Pulse. I also write guest blogs for Pearl Girls and International Christian Fiction Writers and various other blogs/ezines.
The book is available for online purchase through the following buttons:
CBD.com

Finally, what question would you like to ask my readers?
If you could read a fiction series on any issue (national or international), what would that issue be? I'm especially interested in issues that haven't been addressed often in a fiction format. Thanks!
Thank you, Kathi, for visiting with us and telling us about your novel.
Readers, Kathi has offered to give a copy of her book to the winner of our drawing on Monday, December 13.
To enter, leave a comment below in answer to Kathi's question, above
. Leave your email address, in case you win, like so: trish[at]trishperry[dot]com.
Be sure to check out my interview with

Sandra Robbins

below, and leave a comment under her interview to be entered in a drawing for a signed copy of her book. And please take a look at the blog about

Sandi Rog's debut release

and her current situation.
Annoying legal disclaimer: drawings void where prohibited; open only to U.S. residents; the odds of winning depend upon the number of participants. See full disclaimer
HERE
.