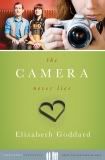 When Polly Perkins' camera finds a murder victim, she uses her uncanny ability to read emotions through a camera lens to find the killer while exploring the potential for love.
Before we chat with today's author, I want to announce that the winner of today's drawing for
Christmas at Harrington's
, by Melody Carlson, is:
mrlyndly@ . . .
Congratulations! I'll contact you today for your snail mail address, and we'll get your book to you right away.
I encourage readers to keep commenting and/or subscribe at right in order to participate in future book give-aways!
Readers, please make note of the comment requirement, below!
Now let's revisit novelist
Elizabeth Goddard
, author of
The Camera Never Lies
(Barbour, December 2010).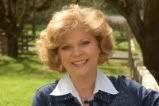 Elizabeth Goddard is a 7th generation Texan who lives in East Texas with her husband and four children. She and her family recently spent five years in Oregon, which serves as the setting for several of her novels, but in 2010 they returned to Texas to live near family again.
Elizabeth has been an avid reader since an early age and longed to write her own novels one day. In 2007, she realized her dream when her first novel,
Seasons of Love
, was released with Heartsong Presents, an imprint of Barbour Publishing. Then in 2009,
Cranberry Hearts
, a three-in-one collection featuring "Seasons of Love," and
Christmas Homecoming
, a four-in-one novella collection featuring her novella "O, Christmas Tree," were both released with Barbour Publishing. In 2010, Elizabeth released three novels with Heartsong Presents,
Disarming Andi, Exposing Amber
, and
Praying for Rayne
. In addition,
Riverwalk Christmas
, a four-in-one novella collection, featuring "Riverside Serenade," released in September.
Please tell us five random things we might not know about you.
-- I love nachos and crave jalapenos so eat them often!
-- I'm an artist and musician.
-- I love to sketch, and I can play the piano, guitar, cello and violin.
-- I'm hoping for a trip to Italy and/or Scotland in the near future.
-- I took scuba diving in college but failed to get certified.
Well, you had guts just taking the course, in this non-swimmer's opinion!
Please tell us a bit more about the plot of The Camera Never Lies.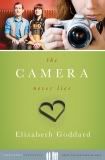 Polly Perkins owns a portrait studio on the Oregon coast and is invited to photograph her friend's wedding at a national park. There, she meets a man from her past that she had wished dead, then he ends up murdered. Because her mother and a romantic interest from her past are both suspects, Polly wants to solve the murder. She wonders if God had given her one last chance to forgive, or if she is guilty of a crime of the heart.
What is it about your lead character that will make your readers care about her?
One thing I've heard from readers is that they feel like they are reading about their relationship with their mother, and connect with her deeply on this level. She loves her mother and they are close, but they have conflict between them.
Why will readers enjoy your novel?
Readers who love a quirky mystery and romance will enjoy the novel because it has a lot of both, and is packed with humor and lots of red herrings.
If you were the casting director for the film version of your novel, who would play your lead roles?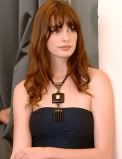 Anne Hathaway comes to mind but she'd have to dye her hair auburn.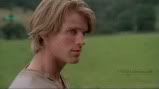 Then I wrote into the story that Spencer, the romantic interest looks like an older version of Westley in
Princess Bride
(Cary Elwes). Though now, Cary is about a decade older than Spencer at this point. Still he looks young, so perhaps he would do in the movie.
Since we're living in a fantasy world with this question anyway, we can mix and match eras, so young Cary Elwes works just fine!

What song would lend the proper atmosphere to your novel (or a particular scene in your novel)?
Ah, my character refers to a lot of movies and songs within the novel. The only problem is if the reader is not familiar with the titles. Perhaps the theme song from the movie
The Goonies
,
"The Goonies 'R' Good Enough"
would do.
What is the last book you read that you would recommend?
The last book I read was
The Skin Map
by Stephen Lawhead and I would definitely recommend it. I love his writing and how he weaves a story.
What are you working on now?
I'm working on two projects that have close deadlines.
Under the Redwood Tree
, a contemporary romance for Heartsong Presents, and
Freezing Point
, a romantic suspense for Love Inspired Suspense. Both release in October of 2011.
Where else can readers find you or your writing online?
ElizabethGoddard.com
and
Facebook
The book is available for purchase online through the following buttons:
CBD.com
Finally, what question would you like to ask my readers?
What would you like to see more of in Christian Fiction?
That's the question most often asked by my interview guests! We novelists really want to write what people want to read!
Thank you, Elizabeth, for visiting with us and telling us about your novella.
Readers, Elizabeth has offered to give a signed copy of her book to the winner of our drawing on Monday, January 3.
To enter, leave a comment below in answer to Elizabeth's question, above
. Leave your email address, in case you win, like so: trish[at]trishperry[dot]com.
Be sure to check out my interview with

Amber Stockton

below, and leave a comment under her interview to be entered in a drawing for a signed copy of her book. And please take a look at the blog about

Sandi Rog's debut release

and her current situation.
Annoying legal disclaimer: drawings void where prohibited; open only to U.S. residents; the odds of winning depend upon the number of participants. See full disclaimer
HERE
.