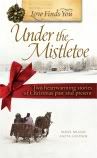 A love triangle--two men falling in love with the same woman--and the story of the emotional ramifications of abandonment and the blessings of adoption.
Before we meet today's author, I want to announce that the winner of today's drawing for
The Voyage of Promise
, by Kay Strom, is:
mitzi_wanham@ . . .
Congratulations! I'll contact you today for your snail mail address, and we'll get your book to you right away.
I encourage readers to keep commenting and/or subscribe at right in order to participate in future book give-aways!
Readers, please make note of the comment requirement, below!
Now let's revisit with novelist
Anita Higman
, author of the novella
Once Upon a Christmas Eve,
featured in
Love Finds You Under the Mistletoe
(Summerside Press/Guideposts, September 2010).
Award-winning author, Anita Higman, has twenty-six books published (several coauthored) for adults and children, and she has been honored as a Barnes and Noble "Author of the Month" for Houston. Anita has a BA degree, combining speech communication, psychology, and art. Her favorite things include exotic teas, movies, and all things Jane Austen.
Please tell us five random things we might not know about you.
-- I once worked in a pillow factory.
-- I once won a hog-calling contest at a banquet.
-- In college I agreed to participate in a fun experiment where I kissed a guy who was hooked up to an EKG machine. The young man got so excited that the marking pen flew off the machine. And yes, I do enjoy telling that story.
-- I love licorice ice cream and orchid tea--both are as delicious as they are hard to find!
-- Thirty-one years ago I rappelled off a cliff alongside the man I was dating. We kissed in mid-air while dangling off that cliff. I ended up marrying that man, and this year we celebrated our 31st wedding anniversary!
Well, of course you ended up marrying that man! I'll bet you would have destroyed yet another EKG machine, had he been hooked up to it while repelling, you vixen, you.

Please tell us a bit more about the plot of your novel.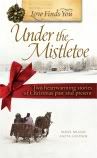 Holly Goodnight's store has just been voted best Christmas shop in America. All the new publicity draws flamboyant novelist Van Keaton to the cozy 'town of Noel, Missouri, demanding to write Holly's story--a dramatic tale of misfortune and triumph. She is swept up in his world of beautiful words and fanciful interludes. . .until Owen Quigly, her lifelong best friend, launches a plan to win her back.
What is it about your lead character that will make your readers care about her?
The idea for
Once Upon a Christmas Eve
may have started with my interest in the fairy archetype. I loved the movies
Cold Comfort Farm
and
Chocolat
for that very reason. There was something enchanting about those two heroines as they whirled around, fixing people's lives. I gave my main character, Holly Goodnight, a similar fanciful quality, and I'm hoping this trait will be endearing enough to cause the reader to care for Holly.
Why will readers enjoy your novella?
My novella is a contemporary romantic comedy, so I hope readers will chuckle a bit. This world needs more laughter! I also hope the story reminds readers that even though life can get messy God is the best detangler!
If you were the casting director for the film version of your novel, who would play your lead roles?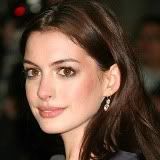 I'd love for Anne Hathaway to play Holly Goodnight.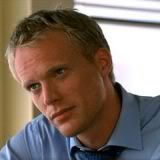 And for Paul Bettany from
The Young Victoria
to play the hero, Owen Quigly.
What song would lend proper atmosphere to your novel?
The beautiful and enchanting song,
"Over the Rainbow"
What is the last book you read that you would recommend?
Winds of Graystone Manor
by B.J. Hoff. I would highly recommend this novel, since it is truly a page-turner. The writing is amazing.
What are you working on now?
I've been doing some freelance work, and then I will start on a novel in the new year.
Where else can readers find you or your writing online?
Please visit my website at
www.anitahigman.com
. I'd be happy for you to drop by and enter my monthly contest.
The book is available for purchase online via the following buttons:
CBD.com
Finally, what question would you like to ask my readers?
What makes you buy a particular novel? The cover? The blurb? The endorsements? The author's name? The first paragraph? Or all the above?
Thank you, Anita, for visiting with us and telling us about your novella.
Readers, Anita has offered to give a copy of
Love Finds You Under the Mistletoe
to the winner of our drawing on Thursday, December 23.
To enter, leave a comment below in answer to Anita's question, above
. Leave your email address, in case you win, like so: trish[at]trishperry[dot]com.
Be sure to check out my interview with

Sharon Dunn

below, and leave a comment under her interview to be entered in a drawing for a signed copy of her book. And please take a look at the blog about

Sandi Rog's debut release

and her current situation.
Annoying legal disclaimer: drawings void where prohibited; open only to U.S. residents; the odds of winning depend upon the number of participants. See full disclaimer
HERE
.