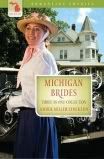 Relive Michigan's industrial boom alongside three women who must change their way of viewing the world before they can realize love.
Before we chat with today's author, I want to announce that the winner of today's drawing for
Love Finds You Under the Mistletoe
, by Anita Higman and Irene Brand, is:
heidivargas@ . . .
Congratulations! I'll contact you today for your snail mail address, and we'll get your book to you right away.
I encourage readers to keep commenting and/or subscribe at right in order to participate in future book give-aways!
Readers, please make note of the comment requirement, below!
Now let's revisit novelist
Tiffany Amber Stockton,
author of the collection
Michigan Brides
(Barbour Publishing, December 2010).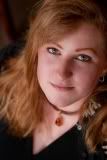 Tiffany Amber Stockton has been crafting and embellishing stories since childhood. Today, she is an award-winning author, speaker, online marketing specialist, and a freelance web site designer who lives with her husband and fellow author, Stuart Vaughn Stockton, in Colorado. They have a toddler daughter, a baby boy on the way, and a vivacious Australian shepherd named Roxie. She has sold eleven books to Barbour Publishing with more on the horizon. Three of her novels have won annual reader's choice awards and in 2009, she was voted #1 favorite new author for the Heartsong Presents book club.
Please tell us five random things we might not know about you.
-- My grandfather's cousin married President Wilson during his presidency.
-- Before I married, I was the only living "Miller" girl in my family.
-- I personally know and work for international celebrity, Jane Seymour.
-- Some of my web design clients live and work in Hollywood.
-- My first story appeared in print when I was 10 years old.
Wow, your entry about your grandfather's cousin sent me straight to Wikipedia. Fascinating story to have in your family heritage, Tiff!

Please tell us a bit more about the plots of your three stories in this collection.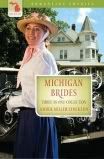 Within the industrial boom during the Turn of the Century, three Michigan women react differently to their rapidly changing worlds.
Felicity Chambers trades her society gowns for poor rags, swapping lifestyles with a sick woman in the factory district. But when she meets Brandt Lawson from the copper refinery, will her noble deed lead to heartache?
Annabelle Lawson takes food to the potato pickers in her father's field and meets William Berringer, a victim of the 1893 financial crash. Can they break through society's stigma when romance blooms?
Shannon Delaney's belief that industrial progress is doomed to fail is confirmed by the sinking of the Titanic and when Jacob Berringer's Model-T almost runs her down. Will Shannon be willing to embrace change and welcome love with it? Can each woman find the faith and strength to weather their times and invite love into their hearts?
What is it about your lead characters that will make your readers care about them?
Well, Felicity has a heart for helping those less fortunate and Brandt has a great sense of humor. Annabelle is dedicated in her service and doesn't hesitate to stand up for what's right, and William is devoted to his family. Jacob is a rascal, but a loveable one, and Shannon is quite the spitfire that gives him a run for his money.
Why will readers enjoy your collection?
I've heard from many readers, and they've all said they love the idea of getting three complete novels in one book. The other feature of my collections is there is always a family connection between the stories. It might not be generational, but you can always connect each story to the other by more than just the setting. You can also do it through the family lineage.
If you were the casting director for the film version of one of your novels, who would play your lead roles?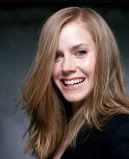 For Copper and Candles, Amy Adams would play Felicity.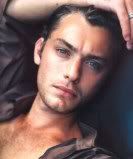 And Jude Law would play Brandt.
What song would lend the proper atmosphere to your novel (or a particular scene in your novel)?
Oh wow, what a question! That's not an easy one, but the first one that comes to mind is
"What if Jesus Came Back Like That"
by Collin Raye, because we should always be looking for ways to help those in need. We never know when we might be God's hands extended or serving Jesus Himself, or even an angel in disguise.
What is the last book you read that you would recommend?
I'm not getting too much time to read these days, with a toddler at home, writing deadlines, running a home business, and a baby on the way, but I'd have to say
Love Me Tender
by Janice Hanna. It has all the flavor of the 1950's and the rocking good times of rock-n-roll. The characters are endearing and memorable, and the story is a lingering one.
What are you working on now?
I just signed another 3-book contract for a series that takes me back to Delaware, the setting of my first 3 novels, only this time I'm jumping 100 years further into the future and heading slightly north from the setting of the first series. There will still be a tie-in to the previous series, but the society in which my characters live is quite different. Delaware also has changed quite a lot, but you'll love getting to discover all the changes as you experience life in this small yet significant state in our country's history.
Where else can readers find you or your writing online?
You can always find me online at my web site:
www.amberstockton.com
. There, you'll find links for the social networking on Facebook, Twitter, Linked In, as well as my blog and sign-ups for my quarterly newsletter. The next edition is due out right after the first of the year, so if you don't want to miss out, head on over there and sign-up. There are over 100 readers so far.
The book is available for purchase online via the following buttons:
CBD.com
Finally, what question would you like to ask my readers?
What sorts of comforts and familiar things in your life would you give up in order to find love? Or if you've already been blessed to find the love of your life, what would you give up in order to help someone in need?
Thank you, Tiff, for visiting with us and telling us about your novella.
Readers, Tiffany has offered to give a signed copy of her book to the winner of our drawing on Monday, December 27.
To enter, leave a comment below in answer to Tiff's question, above
. Leave your email address, in case you win, like so: trish[at]trishperry[dot]com.
Be sure to check out my interview with

Melody Carlson

below, and leave a comment under her interview to be entered in a drawing for a signed copy of her book. And please take a look at the blog about

Sandi Rog's debut release

and her current situation.
Finally, Merry Christmas to you all! God bless us, everyone!
Annoying legal disclaimer: drawings void where prohibited; open only to U.S. residents; the odds of winning depend upon the number of participants. See full disclaimer
HERE
.