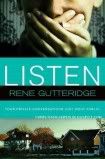 Listen is the story of Marlo, a small community whose private conversations begin being posted on the Internet for all to read.
Today we're talking with
Rene Gutteridge,
author of the novel
Listen
(Tyndale House Publishers, February 2010).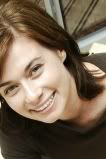 Rene is the author of sixteen novels, including her latest release,
Listen
, from Tyndale House Publishers. Her other suspense titles include,
The Splitting Storm, Storm Gathering,
and
Storm Surge
, plus her very first novel,
Ghost Writer
(Bethany House Publishers).
She is also known as a comedy writer. Her latest comedic novel is
Never the Bride,
co-written with screenwriter Cheryl McKay (of
The Ultimate Gift
). Her other comedy titles from WaterBrook/Multnomah Publishers include The Boo Series:
Boo, Boo Who, Boo Hiss, Boo Humbug
and The Occupational Hazards Series: (
Scoop, Snitch, Skid
). Another very popular comedy title is
My Life as a Doormat
, a Women of Faith selection for 2006, from Thomas Nelson. She has written one novelization,
The Ultimate Gift,
for Thomas Nelson.
Rene also has extensive experience writing comedy sketches, and worked for five years as the director of drama for a downtown church. She has a degree specializing in Screenwriting, for which she earned the Excellence in Mass Communication Award, and graduated magna cum laude.
She is married to Sean, a musician and worship leader, and has two children. They reside in Oklahoma, where Rene writes full time and enjoys instructing in college classrooms and writers conferences.
Wow, that's quite a list of accomplishments, Rene!

Please tell us five random things we might not know about you.
-- I love TV disaster movies
-- I once stabbed a knife through my hand while trying to slice an avocado
-- I'm a magazine-aholic
-- I crave silence . . . I don't even own an iPod
-- I love Scrabble
Ew. Guess which one of those made my stomach turn! It's not the Scrabble comment.

Please tell us a bit more about the plot of Listen.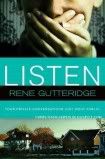 Someone is listening...
The quaint, close-knit community of Marlo was the ideal place to live...until someone started posting private conversations online for everyone to read, word-for-word. Now it's neighbor against neighbor, friend against friend, as careless comments and hurtful accusations turn the town upside down.
Violence and paranoia escalate, and the police scramble to find the person responsible before more people get hurt, or even killed.
But what responsibility do the residents of Marlo have for the words they say when they think no one is listening?
What is it about your lead character that will make your readers care about him?
I love that Damien Underwood hates the Internet, calling its words "sub-standard." He's the kind of guy that still writes letters by hand. But his dislike for technology is creating a gulf between himself and his family. And pretty soon he's got to plug in to figure out how to save them. For me, Damien represents so many of us that feel overwhelmed by this world of meaningless words. I wanted a character who felt that words counted for something.
Why will readers enjoy your novel?
I think that the premise is so fun yet kind of makes your stomach turn a little bit . . . what if everyone could hear your private conversations? That question alone started the whole novel, and I think that is its best hook.
Excellent point, Rene--far more stomach churning than the avocado comment . . .

If you were the casting director for the film version of your novel, who would play your lead roles?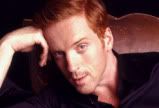 The names are coincidence, but I love Damian Lewis, who starred in the short-lived TV series
Life
. My husband loved him from
Band of Brothers.
I think he'd play Underwood perfectly.
He has a great look. I don't know if I've seen him in anything yet.
If a publisher contracted you to write a fictional account of any one real person, who would you choose to write about?
That's tough, because I'm fascinated by so many people. But off the top of my head, I think it'd be interesting to write about Oswald Chambers, or maybe even his wife.
Choose an inanimate object to represent you. Explain what you have in common with that object.
A sun catcher, because it stares out the window a lot, but it absorbs and reflects light, and I hope that is what I'm doing with my books, after a day of staring out the window.
What is the last book you read that you would recommend?
If God is Good
by Randy Alcorn. It's an in-depth look at suffering, and who of us has not suffered in one way or the other?
What are you working on now?
Just finishing another novelization, from a script by director/producer/actor John Ward (
I AM
). It's called
Heart of the Country
and it's been a delightful journey with characters I've fallen in love with. I will miss them when it's over. Both the movie and novelization should be out next year. My newest novel, a thriller called
Possession
will be out this January from Tyndale.
Where else can readers find you or your writing online?
www.renegutteridge.com
or come find me on Facebook and Twitter.
The book is available for online purchase through the following buttons:
CBD.com
Thank you, Rene, for visiting with us and telling us about your novel.
Readers, Rene has offered to give a copy of her book to the winner of our drawing on Monday, November 15.
To enter, leave a comment for Rene,
below. Leave your email address, in case you win, like so: trish[at]trishperry[dot]com.
Be sure to check out my interview with

Irene Brand

below, and leave a comment under her interview to be entered in a drawing for a signed copy of her book.
Annoying legal disclaimer: drawings void where prohibited; open only to U.S. residents; the odds of winning depend upon the number of participants. See full disclaimer
HERE
.