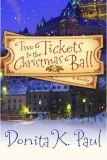 God uses unusual people to nudge two people into a romance.
Before we revisit with today's author, I want to announce that the winner of the drawing for
Reinventing Rachel
, by Alison Strobel, is:
booklovercb@ . . .
Congratulations! I'll contact you today for your snail mail address, and we'll get your book to you right away.
I encourage readers to keep commenting and/or subscribe at right in order to participate in future book give-aways!
Readers, please make note of change in comment requirement, below!
Now let's revisit with novelist
Donita K. Paul
, author of
Two Tickets to the Christmas Ball
(WaterBrook Press, October 2010).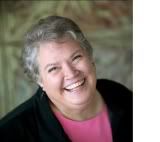 Donita K. Paul has written three Christian romances, four novellas, and eight Christian fantasies, plus two picture books, short stories, and magazine articles; puppet plays and a melodrama performed one memorable night at her kids' high school. After an early retirement from teaching, she dove into a second career of writing. Her stories have captured the imagination of the students she left behind plus their parents and grandparents.
With awards sprinkled here and there in her writing career, she feels compelled to share what has worked for her with authors just starting out in their careers. Therefore she mentors writers of all ages and is best at giving encouragement.
Donita lives in a hobbit hole not far from Pikes Peak in Colorado. She enjoys cooking, beading, stamping, knitting, and her grandsons. Not necessarily in that order.
Yeah, I know the grandsons aren't at the bottom of the list!

Please tell us five random things we might not know about you.
-- There is a fountain outside my office window.
-- I love dogs and an occasional kitty.
-- I would like to own an African Gray Parrot.
-- I would love to be a soup chef.
-- I already have my Christmas shopping done.
I'm almost there with the shopping too, Donita! I love getting it done early like that--I find it's easier to enjoy the holiday season that way.

Please tell us a bit more about the plot of Two Tickets to the Christmas Ball.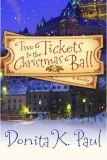 This book is about two mischievous matchmaking booksellers, who make sure that tickets to the annual old-fashioned Christmas Ball fall into the right hands each year. This year's unlikely couples include a pair of single people who work together but have no awareness of each other. You must read it to find out if Simon and Cora discover a perfect chemistry in their opposite personalities and shared faith!
What is it about your lead characters that will make your readers care about them?
Cora is a relatively new Christian, having been raised in a very dysfunctional household. She struggles with identifying what is truly worship in Christmas traditions and what blocks her drawing near to God.
Simon has been surrounded by strong Christians all his life, but he is content with the status quo and needs to connect with other people in order for his faith to grow.
Why will readers enjoy your novel?
Two Tickets
is a feel-good read similar to a Hallmark made for television movie. The surface story is whimsical with quixotic characters and fun adventures. But the underlying story delivers affirmation of the holiness of the Christmas season. There's a touch of magic but it does not take away from the miracle of our Savior's birth.
If a publisher contracted you to write a fictional account of any one real person, who would you choose to write about?
Laura Bush. I think I would cast her as the queen in a fantasy where her unheralded support defines the direction of the kingdom. I'd give her a magic room full of books where she can absorb wisdom and one book that clarifies truth out of a jungle of lies, half-truths, and deceit by omission. She'd be tempted by evil wizards: Pride, Power, and Security.
And that, ladies and gentlemen, is the mind of a fantasy author! What a fun answer.

Choose an inanimate object to represent you. Explain what you have in common with that object.
A night stand. There are few pieces of furniture in the house that are as underappreciated as a night stand. That's where you put your glasses, water glass, nighttime pills, and most importantly, the lamp for reading books in bed. I enjoy being a support person, not necessarily heralded as a useful being, but steadfast and available when needed. I like being called up to live up to my role often and would not want to be a trunk in a closet that is useful, but not involved in daily life.
Good point. A night stand isn't always noticeable until it's taken away--then you realize how much you need it. We would definitely notice if we didn't have you around, Donita.
What is the last book you read that you would recommend?
Venom and Song
by Wayne Thomas Batson and Christopher Hopper. First, these men are my friends and I am ever so impressed by their commitment to God and to our young people. Second, the story is intriguing, not your run of the mill, stock fantasy. Third, they use an unusual narrative style that is not the current, approved style and I found that very refreshing.
What are you working on now?
Dragons of the Watch
. It is the last book in the Chronicles of Chiril series. I'm loving the twists and turns in this story. And there is a cast of very naughty children, who give the hero and heroine quite a bit of trouble.
Where else can readers find you or your writing online?
You can find my blogs and websites at my main website:
www.donitakpaul.com
. I have a separate website for the children's books which my daughter, Evangeline Denmark and I are writing. It's called
www.dragonandturtle.com
. If you click on Mrs. Paul you will see the blogs that I write.
The book is available for online purchase through the following buttons:
CBD.com
Thank you, Donita, for visiting with us and telling us about your novella.
Readers, Donita has offered to give a copy of her book to the winner of our drawing on Thursday, November 25.
To enter, leave a comment below for Donita

specific to something she said in the interview
. Leave your email address, in case you win, like so: trish[at]trishperry[dot]com.
Be sure to check out my interview with

Jenny B. Jones

below, and leave a comment under her interview to be entered in a drawing for a signed copy of her book.
Annoying legal disclaimer: drawings void where prohibited; open only to U.S. residents; the odds of winning depend upon the number of participants. See full disclaimer
HERE
.