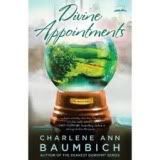 What happens when the queen of corporate downsizing realizes she needs to right-size and upgrade her personal life?
Before we meet today's author, I want to wish you all a fantastic, blessed Thanksgiving holiday. God is with us through the good and bad, and we have so much to be thankful for. I hope you're all spending the day with family, friends, and lots of goodies.
Now, I'd like to announce that the winner of the drawing for
Two Tickets to the Christmas Ball
, by Donita K. Paul, is:
bousmama@ . . .
Congratulations! I'll contact you today for your snail mail address, and we'll get your book to you right away.
I encourage readers to keep commenting and/or subscribe at right in order to participate in future book give-aways!
Readers, please make note of change in comment requirement, below!
Now let's meet novelist
Charlene Ann Baumbich
, author of
Divine Appointments
(Waterbrook Press, September 2010). Tell us about yourself, Charlene.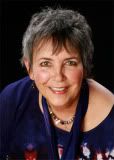 Whether I'm writing, reading, speaking, or listening, I am readied to learn from a good story--yes, even when it comes out of my own mouth or pen. (And I am fascinating!)
I often preach to myself. (Don't you?) I fully believe that if we could just remember what we know, we would be brilliant. Thus, I tell stories to remind us that laughter is a wonderful grace, and tears help us heal. I tell stories to help remind us that we are more alike than different, and that we really do need each other. We all mess up; we are each capable of brilliant moments, sometimes when we least expect them.
The best part is that no matter what, God is there to love us through every nanosecond. Whether you're tuning into me live or in print, fasten your seatbelt. I promise you a wild, fun, provocative, heart-warming ride.
Please tell us five random things we might not know about you.
-- After raising two rascally boys, I'm now Grannie B to two rascally girls. I wouldn't wish them any other way.
-- I make good chili.
-- Right this moment, my office is too messy, even for me, and that's saying something.
-- I love accessories. When I can't decide which necklace to wear, I wear them all. If I can't decide about earrings, sometimes I wear four different ones. (Double pierced ears.)
-- I love watching stock car racing on a dirt track. You can keep your NASCAR. Give me the rumble and a short track, and let the mud wads fly.
You're right in style with your jewelry mishmash, Charlene! That's what all the hot stars and models are wearing these days. You sound like a walking Christmas tree with all the trimmings!
Please tell us a bit more about the plot of
Divine Appointments.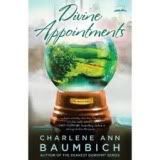 Prepared to perform her seamless slash-and-burn corporate "rightsizing," buttoned-up Josie Victor Brooks signs a one-year contract with Chicagoland's Diamond Mutual. She soon discovers she's plopped herself into the midst of a tight-knit group of coworkers and friends under the leadership of a "bleeding heart" boss.
Employee Marsha's writing her way through the anger phase of a husband who left her for a younger woman.
Barb, the most beloved employee and head of data entry, the first department scheduled to shrink, tries to hold everyone's head and heart up--until she learns she's on the target dismissal list too.
Lyle, boss man, feels everyone's pain as he struggles to come to grips with the reality of what needs to be done.
Toss these core characters into the rivers of soul searching, add good doses of laughter and a mysterious snowglobe, one that ignites a peculiar thirst in Josie, and you've find yourself in the midst of a topsy-turvy, uplifting story.
What is it about your lead character that will make your readers care about her?
Let's start here: Josie suffers with hot flashes. I feel her pain! Even though she is one tough woman (she stared me down until I wrote about her), she learns she doesn't know herself as well as she thinks. (Familiar?)
She was a military brat, moved often when she was young, and therefore learned not to allow herself to get attached to anyone. This self sufficiency serves her well--until it doesn't.
She had a complicated relationship with her parents.
She sometimes over thinks things. Ah, yes. So relatable.
Why will readers enjoy your novel?
After finding glimpses of themselves, they will come away with renewed hope and insights about their own lives here on planet earth, where we really do need each other. Oh, and a few good laughs!
If you were the casting director for the film version of your novel, who would play your lead roles?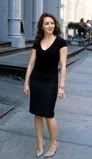 Kristen Davis as Josie.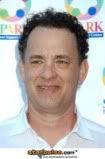 Tom Hanks as Lyle.

Joy Behar as Marsha.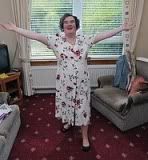 And Susan Boyle as Barb.
If a publisher contracted you to write a fictional account of any one real person, who would you choose to write about?
Hm. Perhaps Paul Newman, so I could spend an entire book deadline staring straight into his dreamy blue eyes, following him wherever he goes, like onto the race track.
Choose an inanimate object to represent you. Explain what you have in common with that object.
A sparkly rock. I'm an earth person. Solid. Hard to crack. I would enjoy taking journeys in people's pockets.
What is the last book you read that you would recommend?
The Yiddish Policemen's Union
by Michael Chabon. I found the writing style engaging, and the loose connections with the real Sitka Alaska--along with the whole intriguing concept and mystery--extremely entertaining. It's not the type of book I would usually pick up, but the owner of an independent book store hand sold me. I'm glad he did. GO INDIES!
Yes, Michael Chabon is a clever writer. Very sharp sense of humor.

What are you working on now?
Rewrites for my next novel, due to release Spring 2012. It is not currently titled, but is again with Waterbrook Press. A couple title possibilities:
Our Lady of Dance
, or
Abundant Grac
e. I loved this story. LOVED IT! Such an uncommon friendship between two women with very different lives. It drew me in and held me captive, and gifted me with how important it is to stand strong in who God created us to be.
Where else can readers find you or your writing online?
www.charleneannbaumbich.com
www.travelinglaughs.blogspot.com
I Tweet as @TwinkleChar
The book is available for online purchase via the following buttons:
CBD.com
Thank you, Charlene, for visiting with us and telling us about your novel.
Readers, Charlene has offered to give a copy of her book to the winner of our drawing on Thursday, December 2.
To enter, leave a comment below for Charlene

specific to something she said in the interview
. Leave your email address, in case you win, like so: trish[at]trishperry[dot]com.
Be sure to check out my interview with

Patricia Hickman

below, and leave a comment under her interview to be entered in a drawing for a signed copy of her book. And please take a look at the blog about

Sandi Rog's debut release

and her current situation.
Annoying legal disclaimer: drawings void where prohibited; open only to U.S. residents; the odds of winning depend upon the number of participants. See full disclaimer
HERE
.