When a promotion transfers the town-drunk's daughter too close to home, can her new-found nephew and his guilt-laden guardian heal heart?
Today we meet
Shannon Taylor Vannatter,
author of
White Doves
(Heartsong Presents bookclub, October 2010 -- in stores April 2011).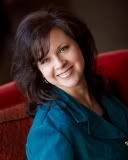 Shannon Taylor Vannatter is a stay-at-home mom/pastor's wife/writer. When not writing, she runs circles in the care and feeding of her husband Grant, their eight-year-old son, and their church congregation. Home is a central Arkansas zoo with two charcoal gray cats, a chocolate lab, a dragonfish, and three dachshunds in weenie dog heaven. If given the chance to clean house or write, she'd rather write. Her goal is to hire Alice from the Brady Bunch.
Please tell us five random things we might not know about you.
-- I live near a very popular lake, but I haven't been there since I was sixteen. I love to swim, but it's always crowded and I really like chlorine. The lake seems dirty to me.
-- I don't like to cook big complicated dishes. I like making simple soups and casseroles. I have a cookbook full of recipes with only five ingredients. It's my favorite and you'd be amazed at the tasty dishes you can make.
-- Pie is my downfall. Turtle anything, cheesecake, or cream cheese coolwhip. If there is pie in my house, it's the first thought I have when I wake up. It calls to me, "Shannon, there's pie in the refrigerator."
-- I drink iced sweet tea, year round and with every meal, even dessert. I never developed a taste for milk, so I take lots of calcium. Even though I thought I'd die without Coke when I was a kid, I never drink it anymore. It burns all the way down. Tea is so refreshing.
-- I didn't start drinking coffee until I was in my thirties. Until my husband made me an extra sweet cup when I had a sore throat. Now I can't live without it. Cold, hot, doesn't matter. I love crème brulee, caramel, and amaretto flavors. I like three teaspoons each of sugar and powdered creamer. If you only knew how many times I've been asked, "Do you want a little coffee with that?" I don't like coffee with food. It should be savored all by itself.
Oh my goodness, I have a refrigerator like yours--the one that talks about pie!
Please tell us a bit more about the plot of White Doves.
White Doves
is book two in my series. Laken Kroft is the temporary postmaster in Romance, Arkansas. Laken was raised close to Romance and hasn't been home in eight years. She's estranged from her busybody mother and alcoholic father and wants to stay that way. Countless Sundays, she sat in church with her parents, listening to sermons about drunkenness and gossiping. She's certain all Christians are hypocrites like her parents. All she wants is to get out of Romance.
Hayden Winters is the hunky mail carrier, raising his paraplegic nephew and beating himself up over the accident that caused the boy's condition. He's fresh from a disastrous relationship and intent on never trusting another woman. When Laken's brother turns out to be the father of Hayden's nephew and comes to claim his son, she gets involved. But Hayden isn't sure who's side she's on. God is the only One he can depend on.
What is it about your lead character that will make your readers care about her?
Laken's hurting and she's lonely. Even though she's turned her back on her family, she longs for a real relationship with them. And even though marriage terrifies her because of her parent's dysfunctional home, she longs for a family of her own.
Why will readers enjoy your novel?
Laken and Hayden are both hurting so badly, and they're hurts don't ease until they turn them over to God.
If you were the casting director for the film version of your novel, who would play your lead roles?
I'm so out of the loop. I don't watch TV, I don't know actors and actresses names and I usually only watch kids movies these days since I have an eight year old. Is there a young George Clooney with green eyes? That would be Hayden.
I couldn't find any blue-eyed Georges, but we'll use our imaginations.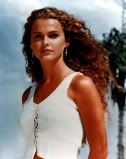 Keri Russell would make a good Laken. I sent the cover artist pictures I'd clipped from a magazine, but I don't know who the people in the pictures were. The cover artist did a great job.
Share with us one line or paragraph (or so) that gives us a good feel for your book's tone.
No matter what life throws at you, God will get you through it, if you'll let Him.
Choose an inanimate object to represent you. Explain what you have in common with that object.
A seashell. We're both made by God's intricate design.
What is the last book you read that you would recommend?
Can't pick one. Christine Lynxweiler's
Along Came a Cowboy
and the
Reluctant Cowgirl
. These are the only two I've read of Christine's, but if I ever have time, I plan to read the others. I'm currently reading Lorna Seilstad's
Making Waves
.
I love Christine's writing. She always paints such gripping characters with major issues, but there's always a happy ending.
I don't usually read historicals, but Lorna is one of my critique partners and she made me like it. Her characters are so funny and it's fun to read the actual book in my hands, instead of ripping apart her work on the computer screen a chapter at a time.
What are you working on now?
I just turned in the first book in a rodeo series that I hope will be my next contract. I'm also working on another romance, between an estranged, married couple.
Where else can readers find you or your writing online?
Website
Blog
Group Blog
Twitter: @stvauthor
Facebook: Shannon Taylor Vannatter
Thank you, Shannon, for visiting with us and telling us about your novel.
Readers, Shannon has offered to give a copy of her novel to the winner of our drawing on Monday, October 18.
To enter, leave a comment for
Shannon, below. Leave your email address, in case you win, like so: trish[at]trishperry[dot]com.
Annoying legal disclaimer: drawings void where prohibited; open only to U.S. residents; the odds of winning depend upon the number of participants. See full disclaimer
HERE
.