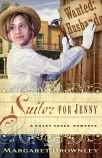 Love and Laughter in the Old West
Before we meet today's author, I want to announce that the winner of the drawing for
Betrayal in the Badlands
, by Dana Mentink, is:
mrlyndly@ . . .
Congratulations! I'll contact you today for your snail mail address, and we'll get your book to you right away.
I encourage readers to keep commenting and/or subscribe at right in order to participate in future book give-aways!
Now let's meet novelist
Margaret Brownley,
author of
A Suitor For Jenny
, A Rocky Creek Romance (Thomas Nelson, September 2010).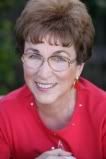 Margaret Brownley has published more than 20 books and has written for Harlequin, St. Martin's Press and Penguin. Her books have been published in 15 languages. Her first inspirational novel,
A Lady Like Sarah
, was a Women of Faith selection for 2010 and a Romance Writers of American RITA finalist. Margaret and her husband live in Southern California and have three grown children.
Please tell us five random things we might not know about you.
-- I failed 8th grade English (Still can't diagram a sentence).
-- Didn't much like history either (all those dates!).
-- A bull once chased me across a field. It took me forever to climb over the fence to pick wild berries, but mere seconds to scramble back.
-- While I was doing research on the 49er trail, wild goats chased me down a mountain (Do you see a theme, here?)
-- I'm allergic to broccoli--really!
Goodness. After considering the scholastic and animals-gone-wild challenges you've overcome, a little broccoli allergy sounds pretty tame!
Please tell us a bit more about the plot of A Suitor for Jenny.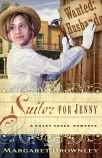 After their parents died, Jenny Higgins felt responsible for taking care of her two younger sisters. Learning that Rocky Creek has the highest number of eligible bachelors per capita, Jenny rolls into this Texas town with a clear objective: find suitable husbands for her two younger sisters and then start fresh somewhere far, far away. Jenny believes that women who fall in love at first sight often wish they'd taken a second look, so she diligently begins to follow all the rules set forth in her handy manual on how to land a husband.
But while Jenny is interviewing the less-than-promising candidates, her sisters are falling in love the old fashioned way. Jenny is convinced she knows how to pick "perfect" men and it will take two rebellious sisters, a handsome marshal and a whole lot of faith to convince her otherwise.
What is it about your lead character that will make your readers care about her?
Determined to find appropriate husbands for her two sisters Jenny surrounds herself with lists, schedules, and etiquette books. Worse, she puts every perspective suitor through the PHAT (Potential Husband Aptitude Test). She means well and is truly concerned about her sisters' futures, but she does tend to carry things too far. It takes a very strong and motivated hero to peel away her defenses and find the soft, vulnerable and lonely women inside.
She's a bit of a precursor to our Type A personality, isn't she?
Why will readers enjoy your novel?
I hope it will make readers laugh and maybe even cry. More important, I hope it makes readers feel a little closer to God.
If you were the casting director for the film version of your novel, who would play your lead roles?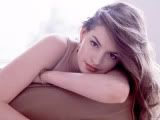 I had to get help on this one. My daughter suggested Anne Hathaway for the role of Jenny.
Hugh Jackman has to play the part of Marshal Rhett Armstrong, he just does!
Share with us a line or paragraph that will give us a good feel for the tone of your novel.
Sage advice from Margaret Brownley's new book
A Suitor for Jenny:
-- Charm and composure must prevail at all times. If a gunfight erupts, exit the scene with grace and serenity.
-- If you don't know whether or not to kiss a handsome man, give him the benefit of the doubt.
-- Never engage in boisterous laughter. If you must show mirth, a polite smile or titter will suffice.
-- Never criticize your beau. If it wasn't for his faults he'd probably be courting someone else.
-- An inappropriate suitor should be quickly and thoroughly banished before he wins the heart of his intended.
-- A woman more knowledgeable than a man is obliged to hold her tongue and feign ignorance in all matters except, of course, childbirth.
-- Never show affection in public. Love may be blind but the townspeople are not.
-- Once your vows are exchanged devote yourself to domestication--his.
-- Eschew secrets, for they are normally discovered at the worst possible time. If confronted, weep and deny everything.
Oh, yes. That definitely gives us a good feel for your book's tone. Made me laugh.
What are you working on now?
I'm working on the first book in a new three book series. This one takes place on an Arizona cattle ranch and so far I'm loving where the characters are taking me.
Where else can readers find you or your writing online?
Visit me at
www.margaretbrownley.com
I'm also a resident blogger on
www.petticoatsandpistols.com
If you want a laugh you might want to check out Stagecoach Etiquette:
YouTube
The book is available for online purchase through the following buttons:
CBD.com
Thank you, Margaret, for visiting with us and telling us about your novel.
Readers, Margaret has offered to give a copy of her novel to the winner of our drawing on Thursday, October 21.
To enter, leave a comment for
Margaret, below. Leave your email address, in case you win, like so: trish[at]trishperry[dot]com.
Check out my interview with

Shannon Vannatter

below, and leave a comment under her interview to be entered in a drawing for a signed copy of her book.
Annoying legal disclaimer: drawings void where prohibited; open only to U.S. residents; the odds of winning depend upon the number of participants. See full disclaimer
HERE
.