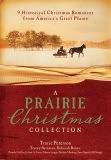 An anonymous gift comes full circle years later to unite giver and receiver in a wonderful "Circle of Blessings."
Before we meet today's author, I want to announce that the winner of the drawing for
A Suitor for Jenny
, by Margaret Brownley, is:
countrybear52@ . . .
Congratulations! I'll contact you today for your snail mail address, and we'll get your book to you right away.
I encourage readers to keep commenting and/or subscribe at right in order to participate in future book give-aways!
Now let's revisit with novelist
Deborah Raney,
author of the novella,
"A Circle of Blessings,"
in the collection,
A Prairie Christmas Collection
(Barbour Books, September 2010).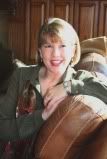 Deborah Raney is at work on her twentieth novel. Her books have won the RITA Award, HOLT Medallion, National Readers' Choice Award, Silver Angel, and have twice been Christy Award finalists. Her first novel,
A Vow to Cherish
, inspired the highly acclaimed World Wide Pictures film of the same title. Her newest books, the Hanover Falls Novels, are from Howard/Simon & Schuster. She and her husband, Ken Raney, have four children and enjoy small-town life in Kansas.
Please tell us five random things we might not know about you.
-- I grew up on a farm, the oldest of five children.
-- I play the piano by ear (not very well, but love playing for my own enjoyment.)
-- Tiramisu is my favorite dessert. LOVE that stuff!
-- I witnessed a murder the day before I got my first contract offer.
-- I love kids and wanted 12 of them! (Before I had my 4, which seemed like 12 most days!)
Wow! From tiramisu to murder. Quite a range!
Tell us about the collection, Deborah.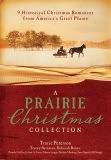 In this holiday romance collection, the warmth of Christmas will radiate new love from the high plains of Minnesota and Dakota Territory, across the rolling hills of Nebraska, Iowa, and Illinois, and down into the flats of Kansas. Filled with inspiration and faith, each story will become a treasure to be enjoyed again each year.
A Prairie Christmas Collection
was penned by multi-published authors, including Tracie Peterson and Deborah Raney.
Featuring deckled-edge pages and a foil-stamped cover with fold-under flaps, the collection makes an ideal gift for the romance reader.
Along with Peterson and Raney, other contributing authors include Tracey Bateman, Pamela Griffin, JoAnn A. Grote, Maryn Langer, Darlene Mindrup, Janet Spaeth and Jill Stengl.
And your novella within the collection?
My novella in the collection, "A Circle of Blessings," is set in 1871 Dakota Territory on the campus of (fictional) St. Bartholomew's Academy. James Collingwood meets Stella Bradford who is in need of his services as an English tutor. Recently graduated and acting as an aid in the English department, James agrees to help Stella, who sees no practicality in conjugating verbs or diagramming sentences. Instead of learning more about English, Stella falls in love. However, an indiscretion in James's past threatens to undermine their relationship.
What is it about your lead character that will make your readers care about him?
I think James Collingwood will tug at the people's heartstrings. He's made mistakes in his past that he can never change, but he's willing to do what it takes to make up for his errors.
Why will readers enjoy your novella?
"A Circle of Blessings" is the only historical novella I ever wrote, but I thought it was a great vehicle for writing a story based on one of our family's Christmas traditions. (I can't tell you what that tradition is without giving away my story, so you'll just have to read it to find out!) It was also fun to use my grandmother's names for my characters in this novel.
If you were the casting director for the film version of your novel, who would play your lead roles?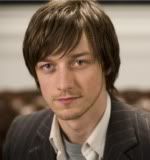 James McAvoy would be perfect for my James.
Ah, I haven't seen that handsome, blue-eyed face for awhile!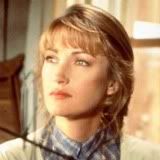 And a young Jane Seymour would be Stella.
Share with us one line or paragraph (or so) that gives us a good feel for your book's tone.
Stella Bradford hurried across the campus of St. Bartholomew's Academy, a stack of textbooks in arm and a bulging drawstring bag looped over one shoulder. The petticoat beneath her long-sleeved cotton dress clung to her legs, and with her free hand, she dabbed beads of moisture from her brow with a crumpled handkerchief. One should not have to perspire in October! If she didn't hurry, she was going to be late for class, and it would be the second time this week. She was having enough trouble with this infernal English grammar class as it was. It certainly wouldn't help matters to be late again.
What is the last book you read that you would recommend?
I just finished Ann Tatlock's
Promises to Keep
(coming soon from Bethany House Publishers). Like all of Ann's books, this one is a wonderful, warm and compelling story. The last few chapters had me on the edge of my seat!
What are you working on now?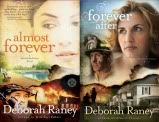 I just finished copyedits for
Forever After
, second in the Hanover Falls Novels series from Howard/Simon & Schuster. Now I'm back to work on the first draft of Book 3,
After All
.
Where else can readers find you or your writing online?
www.deborahraney.com
novelgarden.blogspot.com
The book is available for online purchase through the following buttons:
CBD.com
Thank you, Deborah, for visiting with us and telling us about your novella.
Readers, Deborah has offered to give a copy of
A Prairie Christmas Collection
to the winner of our drawing on Thursday, October 28.
To enter, leave a comment for Deborah,
below. Leave your email address, in case you win, like so: trish[at]trishperry[dot]com.
Check out my interview with

Darlene Franklin

below, and leave a comment under her interview to be entered in a drawing for a signed copy of her book.
Annoying legal disclaimer: drawings void where prohibited; open only to U.S. residents; the odds of winning depend upon the number of participants. See full disclaimer
HERE
.