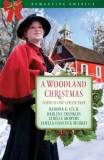 Joey Carpenter is searching for the one woman who is fitting for The Face of Mary.
Before we meet today's author, I want to announce that the winner of the drawing for
White Doves
, by Shannon Vannatter, is:
wpd_2@ . . .
Congratulations! I'll contact you today for your snail mail address, and we'll get your book to you right away.
I encourage readers to keep commenting and/or subscribe at right in order to participate in future book give-aways!
Now let's revisit with novelist
Darlene Franklin
, author of
The Face of Mary
(a novella in the anthology
A Woodland Christmas
from Barbour, September 2010).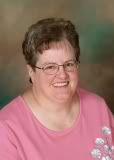 Award-winning author and speaker Darlene Franklin recently returned to cowboy country--Oklahoma--to be near family. She recently signed the contract for her twelth book. This fall she is celebrating the repacking of her Rhode Island romance in Seaside Romance and her third novella anthology,
Face of Mary
in
A Woodland Christmas
.
Please tell us five random things we might not know about you.
-- Last month I became a grandma for the fourth time, this time to my first grandson.
-- I just returned home from a 1400 mile trip to the Texas hill country.
-- I love mountains and on this trip I managed to identify Oklahoma's "mountain" -- in the Arbuckles.
-- I love to play peek-a-boo with babies.
-- My mother let me stay up until 11 on a school night to watch the original
Star Trek
.
Please tell us a bit more about the plot of The Face of Mary.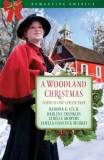 An itinerant woodcarver moves from town to town in the woodlands, delivering "sawdust sermons" that hold even more value than the furniture he crafts. Will the advice he dispenses help four couples find their way to the miracle of love at Christmas?
In my novella,
The Face of Mary
, Mary "Polly" Jessup holds onto a promise of marriage made five years ago, but when Joseph "Joey" Carpenter returns from law school with a new outlook and new girlfriend, her future hopes are dashed.
What is it about your lead character that will make your readers care about her?
Polly took over as mother for her siblings after their mother's death. Now their father is struggling with memory loss, and she's afraid. Her hopes that Joey will fulfill his jesting promise to marry her when he comes home from law school are dashed when he's courting the banker's daughter.
Why will readers enjoy your novel?
They will root for Polly and her struggles, and I pray they will search their own hearts as Joey looks for the face of Mary.
If you were the casting director for the film version of your novel, who would play your lead roles?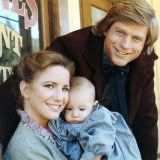 How about the familiar pair who played Alonzo Wilder and Laura Ingalls? Dean Butler and Melissa Gilbert.
I couldn't resist this shot of them together--we'll pretend she's babysitting a friend's child . . .

Share with us one line or paragraph (or so) that gives us a good feel for your book's tone.
"Any girl who loves the law of the Lord like the Psalmist did is a woman after my lawyer's heart. If you don't have a beau when I come home from college, I think I'll marry you myself." He smiled at the girls and left the room.
Speechless, Polly stared after him. Did Jean's handsome brother just say he might marry her someday?
His words engraved themselves on her heart.
Oh, mercy. Poor impressionable girl!
What is the last book you read that you would recommend?
I am always on the search for a new mystery writer who I want to read repeatedly. I believe I've found one in Barbara Fister, who dedicated her book
In the Wind
to "citizen librarians" and wrote a thoughtful mystery comparing the current espionage climate to that of the Vietnam era.
What are you working on now?
I have two projects at the moment: next year's novella,
First Christmas
, and the third book (
Knight Music
) in a Colorado contemporary trilogy based on my first published novel (
Romanian Rhapsody
.)
Where else can readers find you or your writing online?
Darlenefranklinwrites.blogspot.com
The book is available for online purchase via the following buttons:
CBD.com
Thank you, Darlene, for visiting with us and telling us about your novella.
Readers, Darlene has offered to give a copy of
A Woodland Christmas
to the winner of our drawing on Monday, October 25.
To enter, leave a comment for Darlene,
below. Leave your email address, in case you win, like so: trish[at]trishperry[dot]com.
Check out my interview with

Margaret Brownley

below, and leave a comment under her interview to be entered in a drawing for a signed copy of her book.
Annoying legal disclaimer: drawings void where prohibited; open only to U.S. residents; the odds of winning depend upon the number of participants. See full disclaimer
HERE
.