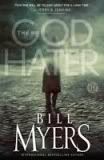 From award-winning author Bill Myers comes a suspense novel featuring a philosophy professor who programs himself into a computer-generated world in order to save society from a computer virus--and its own immorality.
This weekend I want to highlight two terrific new releases for you to check out. Today, check out
Bill Myers'
hot new release,
The God Hater:

A bit about the book:
A cranky, atheist philosophy professor loves to shred incoming freshmen of their faith. He is chosen by a group of scientists to create a philosophy for a computer-generated world exactly like ours.
Much to his frustration every model introduced from Darwinism, to Existentialism, to Eastern beliefs fails. The only way to preserve the computer world is to introduce laws from outside their system through a Law Giver. Of course this goes against everything he believes and he hates it. But even this doesn't completely work because the citizens of that world become legalists and completely miss the spirit behind the Law.
The only way to save them is to create a computer character like himself to personally explain it. He does. So now there are two of him--the one in our world and the one in the computer world. (Sound familiar?)
Unfortunately, a rival has introduced a virus into the computer world. Things grow worse until the professor in that computer world sees the only way to save his world is to personally absorb the virus and the penalty for breaking the Law. Of course it's clear to all, including our real world professor, that this act of selfless love has become a complete reenactment of the Gospel. It is the only possible choice to save the computer world and, as he finally understands, our own.
A bit about Bill Myers:
Writer/director Bill Myers's first major success was as co-creator/writer/co-producer of Focus on the Family's children's video series,
McGee and Me
(40 awards, broadcast in 80 countries, 4.5 million books and videos sold). On its heels he wrote the
My Life as...
series (over 2.1 million books sold).
Other successes include his teen series,
Forbidden Doors
(winner of the C.S. Lewis Honor Award), and his best selling adult novels,
Blood of Heaven, Fire of Heaven, Eli, Soul Tracker, The Face of God,
and
The Wager
(also a motion picture staring Randy Travis). As a writer/director, his work has won over 60 national and international awards, and as an actor he was the voice of Jesus in the NIV Audio Bible and has made several guest appearances on
Adventures in Odyssey
.
He holds an honorary doctorate from The Nimes Theological Institute in France where he has taught. He enjoys traveling and lecturing as well as serving as lay college pastor for his church.
He lives with his wife and two daughters in Southern California.
My review of The God Hater, which I had the pleasure of reading this week:
I almost wished I didn't know the story of Christ's redemptive sacrifice when I read Bill Myers' excellent new novel,
The God Hater
. If you know that story, in some ways you know where this allegory has to go in order to be a true parallel. But Myers still manages to infuse his tale of atheist Nicholas Mackenzie with intensity, intrigue, surprise, and emotion. If you've ever struggled to explain why Christ did what He did for us, or how Christ and God could be separate but one, or how Jesus relates to Old Testament law, use this book to do it. A fresh, imaginative, entertaining take on the greatest story ever told.
The book can be purchased online through the following buttons:
CBD.com
Remember to check out my interview with

Dana Mentink

below, and leave a comment under her interview to be entered in a drawing for a signed copy of her book.
Annoying legal disclaimer: drawings void where prohibited; open only to U.S. residents; the odds of winning depend upon the number of participants. See full disclaimer
HERE
.