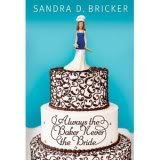 They say you can't have your cake and eat it, too. Emma Rae Travis knows all about that. She's a diabetic baker who can't indulge in her own heavenly creations!
Before we meet today's author, I want to announce that the winner of the drawing for
Cowboy for a Rainy Afternoon
, by Stephen Bly, is:
bousmama@ . . .
Congratulations! I'll contact you today for your snail mail address, and we'll get your book to you right away.
I encourage readers to keep commenting and/or subscribe at right in order to participate in future book give-aways!
Now let's meet novelist
Sandra D. Bricker
, author of
Always the Baker, Never the Bride
(Abingdon Press, September 2010).
Tell us about yourself, Sandie.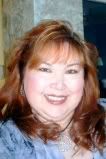 I've been publishing in both the Christian and general market for years with novels for women and teens, magazine articles and short stories. With 11 novels in print and 5 more slated for publication through 2012, I've started to carve out a niche as an "author of laugh-out-loud comedy for the inspirational market."
I was an entertainment publicist in Hollywood for 15+ years for some of daytime television's hottest stars but, when my mom became ill in Florida, I left Los Angeles to provide care
. . . and begin this new phase of my life as a novelist!
Please tell us five random things we might not know about you.
-- At the age of five, I announced to my family that I was going to be a writer when I grew up. Of course, what I meant was that I'd figured out how to string the cursive letters together to write my own name, but . . .
-- I am an advocate for animal rights, and I have a special affection for dogs everywhere. I volunteer and raise funds for various animal rescue groups, and my dog Sophie is a rescue adopted from Lost Angels Animal Rescue here in Tampa.
-- I am an ovarian cancer survivor! (Hu-ah!)
-- I was a faithful viewer of
General Hospital
for nearly 20 years before I finally went to work for actors on the show in 1984.
-- I have kissed John Stamos!
Wow. It certainly hasn't been a boring life so far, has it?
Please tell us a bit more about the plot of Always the Baker, Never the Bride.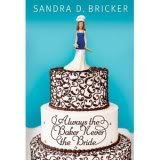 When Jackson Drake hears about this local baker who has won a prestigious award for her wedding cake artistry, he tells his assistant to be sure and include her in the pastry tastings scheduled at his new wedding destination hotel the following week. And for Jackson, that particular day has started out badly with two workmen trapped in a broken elevator and a delivery of several dozen 300-thread count bed linens in the wrong size delivered and abandoned in the lobby.
But when the arrogant baker he met a week prior in Roswell stumbles into the dining room with a platter of pastries and a bucketful of orders, he knows for certain: It's going to be a really rotten day. What it turns out to be instead is the catalyst for a love affair that will change his life forever.
What is it about your lead characters that will make your readers care about them?
Well, I hope that Emma Rae is charming and goofy and lovable. And Jackson is just about everything we all hope for in a romantic hero. But it's the influence of their crazy families that really make them who and what they are. I think everyone can relate to that.
Yes, I loved the family members in your book, Sandie.
Why will readers enjoy your novel?
Because they'll find themselves laughing. And a merry heart is excellent medicine!
If you were the casting director for the film version of your novel, who would play your lead roles?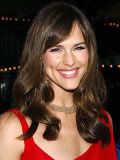 On the big screen, I think Jennifer Garner.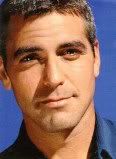 And George Clooney would rock the movie!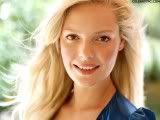 On the small screen, I think I'd like to see Katherine Heigl.
And Dean McDermott.
Okay, then, I'm totally voting for the big screen. Gotta love that George Clooney!
Share one hard, cold fact about writing with my readers. And then share one warm, fuzzy comment about writing with them.
Hard, cold fact: You can't be a writer just by dreaming about it. You have to sit your butt in a chair and actually write something. An
entire
something, from start to finish.
Warm, fuzzy fact: When a reader tells you that you've touched something in them, and you start to cry . . . That's allowed. This is your dream.
Oh, yeah. That's the best.
Choose an inanimate object to represent you. Explain what you have in common with that object.
Then I would have to say a gel pen. Smoothly relying on words to fulfill its purpose.
What is the last book you read that moved you?
I'm currently reading
Eat.Pray.Love.
I'm not finished with it yet, but I love the whole idea of turning your back on an everyday life which is mundane, stressful, and everything in between in order to just stop and
marvel
at the world through new eyes.
What are you working on now?
I have
Love Finds You in Carmel-by-the-Sea, California
coming out with Summerside Press in October.
I am finishing up the devotional that I'm working on
with you, Trish!!
Delight Yourself in the Lord . . . Even on a Bad Hair Day
is a devo we're co-authoring with Kristin Billerbeck, Debby Mayne and Diann Hunt. The five of us have really bonded through this project, and I think we're going to reach women right where they are . . . while raising funds for ovarian cancer research. What could be better than that?
Agreed. The entire experience has been a blessing and great fun. As a matter of fact, I should post the link for the silly

trailer

we threw together, with the help of mariancreates.com.
Where else can readers find you or your writing online?
At my weekly blog:
sandradbricker.blogspot.com
And at my Web site:
www.SandraDBricker.com
The book can be purchased online via the following buttons:
CBD.com
Thanks, Sandie, for visiting with us and telling us about your novel.
Readers, Sandie has offered to give a copy of her novel to the winner of our drawing on Monday, September 13.
To enter, leave a comment for Sandie, below.
Leave your email address, in case you win, like so: trish[at]trishperry[dot]com.
Check out my interview with

Leanna Ellis

, below, and leave a comment under her interview to be entered in a drawing for a signed copy of her book.
Annoying legal disclaimer: drawings void where prohibited; open only to U.S. residents; the odds of winning depend upon the number of participants. See full disclaimer
HERE
.