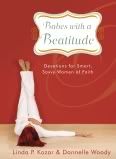 "Emotional devotionals." Devotions that make you laugh, cry, and everything in between.
Before we meet today's author, I want to announce that the winner of the drawing for
A Very Private Grave
, by Donna Fletcher Crow, is:
spowell01@ . . .
And the winner of the drawing for
Seeking His Love
, by Carrie Turansky, is:
michellekidwell1977@ . . .
Congratulations! I'll contact you both today for your snail mail addresses, and we'll get your books to you right away.
I encourage readers to keep commenting and/or subscribe at right in order to participate in future book give-aways!
Now let's meet
Linda Kozar
, co-author of the devotional,
Babes with Beatitude
(Howard Publishing).
Tell us about yourself, Linda.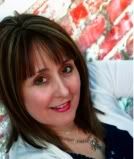 I'd rather talk about Jesus than talk about me! I love my Lord and Savior and consider it a privilege that the Author of Salvation would use me as an author to touch people's hearts and lives.
My wonderful husband Michael and I have been married for 21 years. We have two amazing daughters. Katie, a sophomore at Baylor is majoring in psychology and Lauren, a high school senior, plans to attend Baylor as well with a major in Film and Digital Media.
With a degree in Communications, I started off in journalism, writing feature articles for numerous small newspapers, took a break to raise my children, then took up where I left off, but in 2003 I decided it was time to start writing books instead. The discipline of writing on deadlines was perfect preparation!
I also co-founded Words For The Journey Christian Writers Guild with Sharen Watson in 2003. Then in 2008, I founded and am president of "Writers On The Storm," The Woodlands, Texas Chapter of ACFW.
Present WIPS? I'm putting the finishing touches on a historical romance set in New Orleans (where I was raised). After that, a revision of a contemporary I finished in May is in the queue. . .
Tell us a little more about your devotional.
My friend Dannelle Woody and I started a women's Bible study at our home church--WoodsEdge Community Church, The Woodlands, Texas. In that first year, I felt the Lord tugging at my heart to write a book of devotions. At the time I was immersed in writing fiction, and doing a book of devos was the last thing on my mind. But God brought that desire to the forefront and I even felt led to tell Dannelle who had no previous writing experience, that she was going to write too!
In the meantime, I put together a proposal and sent it off to my agent at the time--Les Stobbe. (Wendy Lawton is my agent now.) He let me know right away that devotions weren't selling very well, but I told him to humor me and send it off because God wasn't going to let this thing go until he did. So he sent it off and after six rejections we got a yes from Chrys Howard at Howard Publishing (Simon and Schuster). Yay God!
I would describe our devotions as "emotional devotionals." Devotions that make you laugh, cry, and everything in between. Women are so busy these days they don't always have time to start their day reading a chapter or two of their Bible. Hopefully, they find other times in the day to do that. But we should all try to start the day with our Vitamin B! These short, savvy devos are designed to kick-start a woman's day with a scripture, an inspired message and a practical application.
How are the devotions structured?
There are 366 (one for leap year) daily devotions that generally run from 300 to 500 words, though originally they were much longer--in the tradition of Streams in the Desert. They start off with a relevant scripture followed by the devotion and finally by a "Beatitude Check," which I like to call "take-away for your day." The themes for many of the devotions came from years of women's ministry, from family life and personal experience, but most important of all, from spending time in prayer with God.
Who would your book best serve?
For me, the second half of the title, "Devotions For Smart, Savvy Women of Faith" says it all. Who doesn't want to be a smart, savvy woman of faith? The devotions are not calibrated to appeal to particular age demographics. Instead, they cover a broad spectrum of age, race, denomination and economic class--just like the weekly Bible study that bears the same name. We're celebrating our 4th year now and have ministered to women from 20 to 85, which is coincidentally, the range of demographics we get feedback from.
Where can readers find Babes with Beatitude?
The
Babes With A Beatitude--Devotions For Smart, Savvy Women of Faith
book is available at major bookstores across the United States and around the world. It is also available in digital format. Both are available for purchase online as well. When the book first came out, it was one of the top ten inspirational books in Australia. We were thrilled to be tops down under for a while!
The book can be purchased online through the following buttons:
CBD.com
And this isn't your only book, is it, Linda? Where can readers learn about your other books?
My very first book,
Misfortune Cookies
(Barbour's Heartsong Presents--Mysteries) came out in November of 2008 and is the first in the When The Fat Ladies Sing series. In the interim, Barbour's Heartsong-Presents became Hometown Mysteries. The second book,
Just Desserts
, will release under the new imprint in 2011 and the third sometime later.
www.hometownmysteries.com
www.barbourbooks.com
www.coffeeteaandthee.org
www.babeswithabeatitude.com
babeswithabeatitude.blogspot.com
booktrailerpark.blogspot.com
acfwwritersonthestorm.blogspot.com/
Thanks, Linda, for visiting with us and telling us about your book.
Readers, Linda has offered to give a copy of her book to the winner of our drawing on Monday, September 27.
To enter, leave a comment for
Linda below. Leave your email address, in case you win, like so: trish[at]trishperry[dot]com.
Annoying legal disclaimer: drawings void where prohibited; open only to U.S. residents; the odds of winning depend upon the number of participants. See full disclaimer
HERE
.