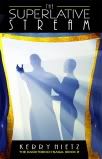 He crossed the stars to follow a song . . . so where's the singer?
Before we meet today's author, I want to announce that the winner of the drawing for
Babes with a Beatitude
, by Linda Kozar, is:
unpaintedportrait@ . . .
Congratulations! I'll contact you today for your snail mail address, and we'll get your book to you right away.
I encourage readers to keep commenting and/or subscribe at right in order to participate in future book give-aways!
Now let's meet novelist
Kerry Nietz
, author of
The Superlative Stream
(Marcher Lord Press, April 2010).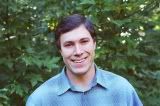 Kerry Nietz is a refugee of the software industry. He spent more than a decade of his life flipping bits--first as one of the principal developers of the database product FoxPro for the now mythical Fox Software, and then as one of Bill Gates's minions at Microsoft. He is a husband and a father, a technophile and a movie buff. He has three published books: a memoir entitled
FoxTales: Behind the Scenes at Fox Software
and two novels from the DarkTrench Saga:
A Star Curiously Singing
and
The Superlative Stream.
Please tell us five random things we might not know about you.
-- I have three children under six. So yeah, never a dull moment.
-- I've seen every planet in the solar system through a telescope, including Pluto.
-- I've scuba-dived to over a hundred feet.
-- I used to be the captain of a whirlyball team.
-- My first novel,
A Star Curiously Singing
, was a finalist in this year's Indie Book Awards in both the Religious Fiction and Science Fiction categories. Two circles that rarely connect.
That's nice that you still credit poor Pluto.
Please tell us a bit more about the plot of
The Superlative Stream.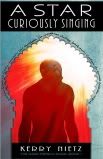 A Star Curiously Singing
is a speculative Christian novel with a decidedly cyberpunk feel. It takes place in a future hundreds of years from now, where much of the world is living under sharia (meaning Islamic) law. It is dualistic society, where average people live on the streets in near-squalor and the powerful ride above them in cable-car-like conveyances. This latter group is shrouded in high tech, to the point of needing specialized debuggers to handle their machines. That's where my protagonist comes in. Sandfly is a debugger who's summoned to solve the mystery of why a bot malfunctioned. The unusual circumstance? The bot has been to space. Deep space. Something about the trip made it malfunction.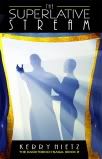 The Superlative Stream
is the second book in the DarkTrench Saga series. At the end of
A Star Curiously Singing,
a couple of the characters were headed off into deep space, so this book follows their story. There was evidence to suggest that some supernatural force other than what the characters have known is out there . . . waiting. So, ultimately the quest of
The Superlative Stream
is to find the True God of the heavens. I think it is a very unique and enjoyable story, with a lot of unexpected twists. I hope it surprises people.
What is it about your lead character that will make your readers care about him?
Well, to start with, Sandfly is a slave. He and his kind, called "debuggers," are implanted at ten years of age with a device that connects them to the future version of the Internet, and also to the machines they work with. The downside of that implant is that it also controls Sandfly's behavior through painful shocks, keeping him within the rules of his society. He can also be remotely shocked by his master--for those instances when the internal "stops" miss something.
In his thoughts, though, Sandfly is frequently rebellious, and at the very least sarcastic. Much about his society bothers him, plaguing his dreams. Yet because of the implant, he isn't free to do a lot about it. So he's not just an unexpected hero, he's a forbidden hero. An unusual and unique character, I think.
I love the conflict of his character. Why will readers enjoy your novel?
"Cool" should be the subtitle of these books. They have robots, spaceships, bald implanted debuggers, future societies, the struggle for freedom, high-tech mysteries, and a bit of cyber romance. In addition they explore contemporary issues in an interesting and unique way.
Really there is something for everyone.
A Star Curiously Singing
has thirty positive reviews on Amazon, and every one of them has a distinct reason for why they liked it.
If you were the casting director for the film version of your novel, who would play your lead roles?
This is tough for me, because my book would be challenging for Hollywood on so many levels. Though my scenes are certainly cinematic events in my head (and hopefully on the page) I never think of who could play my characters. I just can't imagine that. (I've tried in other interviews, but was never happy with my answers.) My book is just too cerebral and politically incorrect for Hollywood.
Share one hard, cold fact about writing with my readers. And then share one warm, fuzzy comment about writing with them.
Cold hard fact: Very few books sell enough to earn back what it costs to produce them.
Warm fuzzy comment: The first time someone says they love your book will be enough. You'll be grateful that at least that copy sold.
Choose an inanimate object to represent you. Explain what you have in common with that object.
Maybe a house plant. Doesn't require much attention, yet has a lot going on under the surface. Plus in often unrecognized ways, a house plant is doing something beneficial for those around it--providing oxygen, shade and warmth. That's something to aspire to anyway, isn't it?
Or at least to respire to, har har. Seriously, though, I especially like your choice for how it contrasts with the techno-cyber environments of your fictional worlds. Nicely rounded.
What is the last book you read that moved you?
That's a hard question, because I've read so many great books over the last year and I'm sure each one of them moved me in some way. One that immediately comes to mind is Tosca Lee's
Havah
. I was surprised by the vividness--and plausibility--of the life of Eve that Tosca describes there. The book really paints a picture for how the early life of man might have been.
Plus, since Havah is essentially a series of tragedies--and anyone who's read the Bible knows what those tragedies are--there were times when I didn't want to pick it up to read again, because I knew the sadness that was coming. I don't remember too many books having that effect on me: it is so good; I don't want to keep reading.
Such an excellent point about the book. I loved it and dreaded it at the same time, yes. Tosca's a gifted writer.

What are you working on now?
Book three of the DarkTrench Saga. I'm about 35,000 words into it, and so far, it has been a lot of fun. I hope it will be lots of fun for the reader, as well.
Where else can readers find you or your writing online?
My website is
www.kerrynietz.com
. I also have a
Facebook
author page that I'm fairly active on
My books are available directly from the publisher at
MarcherLordPress.com
and online via the following buttons:
CBD.com
Thanks, Kerry, for visiting with us and telling us about your novel.
Readers, Kerry has offered to give a copy of his novel to the winner of our drawing on Monday, October 4.
To enter, leave a comment for
Kerry, below. Leave your email address, in case you win, like so: trish[at]trishperry[dot]com.
Check out my interview with

Melanie Dickerson

below, and leave a comment under her interview to be entered in a drawing for a signed copy of her book.
Annoying legal disclaimer: drawings void where prohibited; open only to U.S. residents; the odds of winning depend upon the number of participants. See full disclaimer
HERE
.