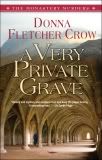 Felicity thinks she knows it all until searching for a brutal murderer teaches her she doesn't know anything.
Before we meet today's author, I want to announce that the winner of the drawing for
Always the Baker, Never the Bride
, by Sandra D. Bricker, is:
Ladijo40@ . . .
Congratulations! I'll contact you today for your snail mail address, and we'll get your book to you right away.
I encourage readers to keep commenting and/or subscribe at right in order to participate in future book give-aways!
Now let's meet novelist
Donna Fletcher Crow,
author of
A Very Private Grave
(Book 1, The Monastery Murders, Monarch Books, September 2010).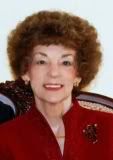 Donna Fletcher Crow is the author of 35 books, mostly novels dealing with British history. The award-winning
Glastonbury
, The Novel of Christian England is her best-known work, an Arthurian grail search epic covering 15 centuries of English history.
A Very Private Grave
, book 1 in the Monastery Murders series is her reentry into publishing after a 10 year hiatus.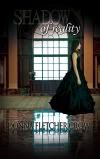 The Shadow of Reality
, first in the Elizabeth and Richard Mysteries, a romantic intrigue, is available in Ebook format.
Donna and her husband have 4 adult children and 10 grandchildren. She is an enthusiastic gardener and you can see pictures of her garden, watch the trailer for
A Very Private Grave
, and read her international blog (link below).
Please tell us five random things we might not know about you.
-- I was Miss Rodeo Idaho in 1960.
-- I was an only child who wanted a family of 12. My husband thought 4 was enough. He was right.
-- My favorite food is English Christmas cake (fruitcake wrapped in marzipan), followed by salmon and grapes. Of course, there's always chocolate, too.
-- I am an embarrassingly bad poet. (But that doesn't stop me writing it when the mood strikes.)
-- I once played the Countess Olivia in Shakespeare's
Twelfth Night
and thought of becoming an actress. (Briefly.)
Please tell us a bit more about the plot of A Very Private Grave.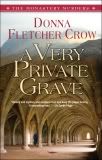 Felicity Howard, a young American studying theology at the College of the Transfiguration in Yorkshire, is devastated when she finds her beloved Fr. Dominic brutally murdered and Fr. Antony, her church history lecturer, soaked in his blood.
A Very Private Grave
is a contemporary novel with a thoroughly modern heroine who must learn some ancient truths in order to solve the mystery and save her own life as she and Fr. Antony flee a murderer and follow clues that take them to out-of-the way sites in northern England and southern Scotland. The narrative mixes detection, intellectual puzzles, spiritual aspiration, romance, and the solving of clues ancient and modern.
What is it about your lead character that will make your readers care about her?
The fun thing about this series is growing Felicity up. On the plus side she is brilliant--a classicist, talented--former ballerina, intensely caring--studying to be a priest; on the other hand, she is rash, headstrong and impatient. And therein lies the story.
Why will readers enjoy your novel?
Perhaps Liz Curtis Higgs said it best: "History and mystery and murders most foul keep the pages turning in
A Very Private Grave
. Two scholars, Felicity and Antony, embark on an unusual spiritual pilgrimage, following the journey of Saint Cuthbert from Lindisfarne to Whithorn, even as they're pursued by friends and foes, who don't reveal their true colors to the very end. Seldom does one find a whodunit with such a thorough grasp of ecclesiastical history. A fascinating read."
If you were the casting director for the film version of your novel, who would play your lead roles?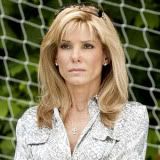 Oh, what a question! Sandra Bullock from
The Blind Side
could definitely have played Felicity when she was in her 20's, the long blond hair and determined attitude are just right, but the southern accent would have to go.
Rupert Penry-Jones would be a lovely Antony if he were shorter and had darker hair.
There we go--a darker-haired pic of him. Yes, I like him! Loved his version of Persuasion.

Share one hard, cold fact about writing with my readers. And then share one warm, fuzzy comment about writing with them.
"Some days writing is like climbing Mt. Everest barefoot." (Lawrence Block)
Some days it is like soaring with eagles. Every day I thank God for allowing me to do it.
Choose an inanimate object to represent you. Explain what you have in common with that object.
A cup of good, strong English Breakfast tea. It's reliable, traditional, no-nonsense, always makes you feel better.
What is the last book you read that moved you?
The White Garden
by Stephanie Barron left me inspired about the enduring legacy of the beauty of a garden and saddened by the waste and emptiness of the life of a woman of genius lived without God.
What are you working on now?
I just finished
A Midsummer Eve's Nightmare
, #2 The Elizabeth and Richard Mysteries, a romantic intrigue set in the Shakespearean Festival at Ashland, Oregon, that includes lots of suspense and fun with the Bard.
Where else can readers find you or your writing online?
Please visit my website at
www.DonnaFletcherCrow.com
. Bring a cup of tea and stay awhile, there are lots of pictures and lots of things to read.
The book is available for online purchase through the following buttons:
CBD.com
Thanks, Donna, for visiting with us and telling us about your novel.
Readers, Donna has offered to give a copy of her novel to the winner of our drawing on Monday, September 20.
To enter, leave a comment for
Donna, below. Leave your email address, in case you win, like so: trish[at]trishperry[dot]com.
Check out my interviews with

Carrie Turansky

and

Maureen Lang

below, and leave comments under their interviews to be entered in drawings for signed copies of their books.
Annoying legal disclaimer: drawings void where prohibited; open only to U.S. residents; the odds of winning depend upon the number of participants. See full disclaimer
HERE
.