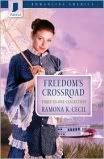 Three young women in Nineteenth Century Indiana wonder if God has abandoned them as they struggle with questions of life, love, and forgiveness.
Before we meet today's author, I want to announce that the winner of the drawing for
The Crimson Cipher
, by Susan Page Davis, is:
ashley.vanburen@ . . .
Congratulations! I'll contact you today for your snail mail address, and we'll get your book to you right away.
I encourage readers to keep commenting and/or subscribe at right in order to participate in future book give-aways!
Now let's meet novelist
Ramona Cecil,
author of
Freedom's Crossroad
, a three-in-one collection of Indiana historical romance stories (Barbour Publishing, May 2010).
Tell us about yourself, Ramona.
I am a wife, mother, grandmother, freelance poet, and award-winning inspirational romance writer. Native Hoosiers, my husband and I make our home in the southern part of Indiana.
Freedom's Crossroad
is the compilation of my second, third, and fourth published novels. My first published novel is also a historical romance with an Indiana setting. Before I began writing fiction, I had about ninety verses published by a leading publisher of Christian gift items. My next published work out is a novella, which is part of a Texas Christmas anthology scheduled for release this September.
Aside from writing I enjoy a speaking ministry, where I share my journey to publication while encouraging aspiring writers. Some of my other hobbies are reading, gardening, and visiting places of historical interest.
Please tell us five random things we might not know about you.
-- As a child, I was a tomboy and loved to climb trees.
-- When I was ten years old, I had a pet lamb named Daisy.
-- At the age of fourteen, I split wood with an axe and helped roof a house.
-- With my brother's help, I painted a blue lacy design on the sides of my first car, a white 1965 Ford Fairlane.
-- On a dare, I once sent a letter and an original poem to Prince Charles of England and received a reply from his squadron leader.
I love these items, Ramona. You sound like a quirky character from a novel (and I mean that in a good way, LOL).

Please tell us a bit more about the plots of your three stories.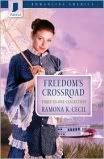 As the book is a three-in-one, there are three plot lines.
Sweet Forever
, set in 1845 in Madison, Indiana, along the Ohio River: The notorious riverboat gambler who killed Rosaleen Archer's husband holds her captive. When the riverboat explodes, escape seems imminent, but can she trust her rescuer, the Reverend Jacob Hale, with her welfare as well as her secrets?
Everlasting Promise
, set in 1851 along Indiana's historic Whitewater Canal: For Susannah Killion, every day is a struggle as a war widow, raising a daughter and managing an inn alone. When railroad surveyor Thand Sutton arrives bearing a long overdue letter, could her life forever change?
Charity's Heart
, set in 1866 along the Muscatatuck River at Vernon, Indiana: Charity Langdon lost everything in the Civil War, but when she meets Daniel Morgan, a former POW whose wounds run as deep as hers, can they bring themselves to a level field of forgiveness?
What is it about your lead characters that will make your readers care about them?
Sweet Forever
--My heroine, Rosaleen, is an illegitimate orphan who thinks God hates her for it. She's being pursued by the sinister gambler who killed her husband. My hero, Jacob, questions his fitness for the ministry.
Everlasting Promise
--My heroine, Susannah, is a young widow and mother, whose inn depends upon the Whitewater Canal to stay operational. My hero, Thad Sutton, has been ordered to plot a railroad that would replace the canal, or lose both his job and his father's respect.
Charity's Heart
--My heroine, Charity, was forced to flee her burning home when General Sherman's army burned Atlanta, Georgia. She barely escaped to the North with her life and virtue intact. My hero, Daniel, spent six months of the Civil War in Andersonville, the notorious Southern prisoner-of-war camp. On his way back home at the close of the war, he nearly lost his life in the Sultana riverboat explosion.
Why will readers enjoy your novel?
I think they will enjoy the high tension, heart-gripping romance, and interesting facts about Indiana's history. I also think they will appreciate the characters' spiritual journeys as they work through realistic problems faced by people who lived in Indiana during that era.
If you were the casting director for the film version of your novel, who would play your lead roles?
That's a tough one, but I'll give it a try.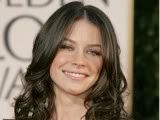 Sweet Forever
--Rosaleen: Evangeline Lilly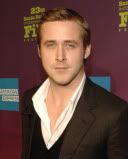 Jacob: Ryan Gosling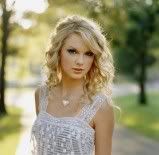 Everlasting Promise
--Susannah: Taylor Swift
Thad: Ethan Hawke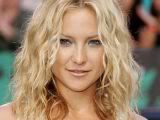 Charity's Heart
--Charity: Kate Hudson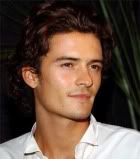 Daniel: Orlando Bloom
How important to the story is your book's setting?
Very. The stories were all required to be set in Indiana. I tried to paint a vivid and accurate picture of each Indiana town at a specific moment in time, drop my characters into it, then weave my story around it.
Choose an inanimate object to represent you. Explain what you have in common with that object.
A 1951 Chevy sedan. Like the car, I was made that year, and I'm kind of short and stout with rounded fenders. I don't go very fast, but I'm a dependable classic that keeps puttering along.
Love the fenders comment, Ramona!

What is the last book you read that moved you?
Glenn Beck's
Overton Window
. Learning how the media and PR firms can manipulate public opinion was both unsettling and eye-opening.
What are you working on now?
A long historical romance set in 1870. Though set in a fictional Indiana farming town, the story is inspired by some of the colorful history of my own town.
Where else can readers find you or your writing online?
My web site is
www.ramonakcecil.com
The book is available for online purchase via the following buttons:
CBD.com
Thanks, Ramona, for visiting with us and telling us about your novel.
Readers, Ramona has offered to give a copy of her novel to the winner of our drawing on Thursday, August 12.
To enter, leave a comment for Ramona, below.
Leave your email address, in case you win, like so: trish[at]trishperry[dot]com.
Check out my interview with

Merrillee Whren

below, and leave a comment under her interview to be entered in the drawing for a signed copy of her book.
Annoying legal disclaimer: drawings void where prohibited; open only to U.S. residents; the odds of winning depend upon the number of participants. See full disclaimer
HERE
.