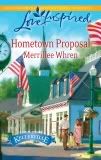 Bad boy Seth Finely has become a Christian and turned his life around. Now he wants to win back the love of his once-burned, twice-shy ex-girlfriend, Elise Keller.
Before we meet today's author, I want to announce that the winner of the drawing for
Love Finds You in Hershey, Pennsylvania
, by Cerella Sechrist, is:
jrs362@ . . .
Congratulations! I'll contact you today for your snail mail address, and we'll get your book to you right away.
I encourage readers to keep commenting and/or subscribe at right in order to participate in future book give-aways!
Now let's revisit with novelist
Merrillee Whren,
author of
Hometown Proposal
(Steeple Hill Love Inspired, August 2010).
Merrillee wrote her first novel while she was in high school and shared it with her friends. However, many years passed before she considered writing anything for publication. Finally in 2003, after writing and revising eight manuscripts, she won the prestigious Romance Writers of America's Golden Heart Award for best, unpublished inspirational manuscript. The following year, she made her first sale to Steeple Hill Books. Her ninth book for the Steeple Hill Love Inspired line is
Hometown Proposal.
Because she loves stories with happy endings, she is thrilled to be writing inspirational romance.
She is married to her own personal hero, her husband of thirty plus years, and has two grown daughters. She has lived in Atlanta, Boston, Dallas and Chicago but now makes her home on one of God's most beautiful creations, an island off the east coast of Florida. When she's not writing or working for her husband's recruiting firm, she spends her free time playing tennis or walking the beach, where she does the plotting for her novels.
Please tell us five random things we might not know about you.
-- I played the piccolo solo in the John Phillips Sousa march, "Star and Stripes Forever" in a concert.
-- I have been to all fifty states.
-- I have a cat named Nomar. I inherited him from our younger daughter, who named him after Nomar Garciaparra, the baseball player.
-- I drive a Mustang convertible.
-- I had a tonsillectomy twice, once when I was seven and again when I was twelve.
Well, that's just not fair, is it?

Please tell us a bit more about the plot of
Hometown Proposal.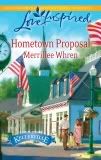 Seth Finley is a single dad with a little girl named Olivia. He has just taken a new job in Kellerville, Ohio, the hometown of his former girlfriend, Elise Keller. They dated while they both worked on a cruise ship together a couple of years before. She wants nothing to do with him because of his past behavior, but he is determined to win her back. Before he can plead his case, he is critically injured in a car accident, and Elise realizes she can't ignore him.
During his recovery, Elise watches Olivia and grows very fond of the child. As Seth recovers, Elise realizes how much he loves his little girl and how much he has changed. But just when she thinks they have resolved their differences, the past comes back to haunt them. Seth and Elise believe all is lost until Olivia helps them to realize they were meant to be a family.
What is it about your lead characters that will make your readers care about them?
Readers will like the heroine because she is strong and determined at this time in her life to do what is right after living apart from God.
Readers will like the hero because he has to fight to show the heroine how he has changed.
Why will readers enjoy your novel?
Who doesn't like a good reunion story? Romances have happy ending, but they are fun to read as you discover the hero and heroine's journey to find true love again.
If you were the casting director for the film version of your novel, who would play your lead roles?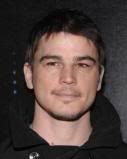 Josh Harnet would play Seth Finley.
And Rachel McAdams would play Elise Keller.
How important to the story is your book's setting?
The book's setting is a small fictional town, Kellerville, located in southwestern Ohio. The town is definitely important because it is the setting for three books.
Kellerville: Finding family, community and love in one small town.
Hometown Promise
(February 2010)
Hometown Proposal
(August 2010)
Hometown Dad
(February 2011)
Choose an inanimate object to represent you. Explain what you have in common with that object.
A radio tuned to a talk-radio station. I love to talk.
What is the last book you read that moved you?
The Help
, by Kathryn Stockett. I can't begin to list all of the emotions this story evoked. It made me realize how far removed my life, growing up in Montana, South Dakota and Washington State, was from the reality of race relations during this troubling time in our nation's history.
By far, that's the book most often mentioned this year in answer to that question.
What are you working on now?
I am working on a proposal for a story that revolves around a college basketball coach and a newspaper reporter. She has a belief that some not-so-good things are going on in college athletics, and he dislikes reporters because he believes they are more interested in getting a story than in finding the truth.
Where else can readers find you or your writing online?
www.merrilleewhren.com
www.shoutlife.com
www.facebook.com
loveinspiredauthors.blogspot.com
craftieladiesofromance.blogspot.com
The book is available for online purchase through the following buttons:
CBD.com
Thanks, Merrillee, for visiting with us and telling us about your novel.
Readers, Merrillee has offered to give a copy of her novel to the winner of our drawing on Monday, August 9.
To enter, leave a comment for Merrillee, below.
Leave your email address, in case you win, like so: trish[at]trishperry[dot]com.
Check out my interview with

Susan Page Davis

below, and leave a comment under her interview to be entered in the drawing for a signed copy of her book.
Annoying legal disclaimer: drawings void where prohibited; open only to U.S. residents; the odds of winning depend upon the number of participants. See full disclaimer
HERE
.
Finally, take a look at all of the wonderful novels being released during August! Happy reading:
1.
Angel Song
by
Sheila Walsh
and
Kathryn Cushman
-- General Fiction from Thomas Nelson. Angels eagerly watch over Anne Fletcher's every move. She just doesn't know it yet.
2.
Assignment: Bodyguard
; CHAIM series, Book Four
by
Lenora Worth
-- A Suspense/Mystery/Thriller from Steeple Hill. Fast-paced romantic suspense.
3.
Be Not Afraid; The Samantha Cain Series Book 1
by
Deborah Lynne
-- A Suspense/Mystery/Thriller from OakTara Publishing. Samantha Cain witnesses a serial killer in action and is now his next target.
4.
Beautiful Bandit
by
Loree Lough
-- An historical from Whitaker House. An old-fashioned "Wild West" tale that puts trust, faith, family loyalty, and love to the ultimate test.
5.
Detours; Tabor Heights Series
by
Michelle L. Levigne
-- A Romance from Desert Breeze. It's a long and winding road from "some enchanted evening" to the first date, let alone the promise of a lifetime.
6.
Exposing Amber
by
Elizabeth Goddard
-- A Romance from Barbour Heartsong. Amber McKinsey interns under museum director Brandon Selman and finds a kindred spirit who loves the science of God's creation, but they must confront their pasts to have a future.
7.
Fear No Evil
by
Robin Caroll
-- A Suspense/Mystery/Thriller from B&H. A new policeman must protect a young social worker from big-city gangs making their evil way down south.
8.
Hometown Proposal
; Book 2 in Kellerville Series
by
Merrillee Whren
-- A Romance from Steeple Hill. Finding family, community and love in one small town.
9.
Hope's Promise
; The Sierra Chronicles, Book 2
by
Tammy Barley
-- A Romance from Whitaker House. While trying to prove their unconditional love for each other, the Bennetts must defend against attacks, deeply rooted doubts, and an unknown force that could destroy all they hold dear.
10.
Killing Time
by
K. Dawn Byrd
-- A Suspense/Mystery/Thriller from Desert Breeze. "I was framed!" Drew Stone has heard it before, so why is he tempted to believe Mindy when she tells him the same thing?
11.
Lost Island Smugglers
; The Sam Cooper Adventure Series - Book # 1
by
Max Anderson
-- A Suspense/Mystery/Thriller from Port Yonder Press. Three boys, a monster storm, Lost Island, and smugglers?
12.
Love Remains
; The Matchmakers, Book 1
by
Kaye Dacus
-- A Romance from Barbour. Circumstances pulled them apart fourteen years ago--will two young professionals allow themselves to discover if love remains?
13.
Mission of Hope
by
Allie Pleiter
-- Romance from Love Inspired Historical. The gallant, romantic sequel to Pleiter's San Francisco historical, "Masked by Moonlight," featuring an unlikely hero helping the city heal from it's massive earthquake.
14.
Never Without Hope
; Sacred Vows Book 1
by
Michelle Sutton
-- Women's Fiction from Sword of the Spirit Publishing. Succumbing to temptation often decimates marriages, but with God, restoration and healing is within reach.
15.
Sarah's Christmas Miracle
by
Mary Ellis
-- A Romance from Harvest House. A Plain and loving story of hope and redemption, one that will be a welcome addition to the joy of the Christmas season.
16.
Surrender The Heart
; Surrender to Destiny, Book 1
by
MaryLu Tyndall
-- An Historical from Barbour. A lady, desperate to save her family and a man, desperate to please his, are caught in the brink of a war that could change the course of history forever.
17.
The Bridge of Peace
; Ada's House Series
by
Cindy Woodsmall
-- A Romance from Waterbrook. Love alone isn't enough to overcome the obstacles between a man and a woman.
18.
The Doctor's Blessing;
#2 in The Brides of Amish Country
by
Patricia Davids
-- A Romance from Steeple Hill. A nurse-midwife to the Amish and the new doctor clash over her home deliveries.
19.
Twilight Seranade
; Book 3
by
Tracie Peterson
-- An Historical from Bethany. Britta Lindquist must decide whether to settle for a peaceful future or fight for the love of her life.
20.
Vanishing Act
by
Liz Johnson
-- A Romance from Love Inspired. Eighteen months ago, Nora James vanished, but she's about to be discovered by a ruthless assassin ... and an FBI agent afraid of risking his heart.