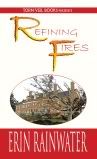 A disfigured veteran. A ruined nurse. A tormented child. A kept woman. Strangers whose paths cross, bringing redemption into each other's lives in ways none of them could have predicted.
Before we meet today's author, I want to announce that the winner of the drawing for
Seaside Romance
, featuring
Beacon of Love
, by Darlene Franklin, is:
peggyfrezon@ . . .
Congratulations! I'll contact you today for your snail mail address, and we'll get your book to you right away.
I encourage readers to keep commenting and/or subscribe at right in order to participate in future book give-aways!
Now let's meet novelist
Erin Rainwater,
author of
Refining Fires
(Torn Veil Books, July 2010).
Tell us about yourself, Erin.
I am a Pennsylvania native, a nurse, a child of God, a wife, mother and grandmother, and a writer of historical fiction--and that's in chronological order, not order of importance. I self-published two historical love stories in 2006, both of which have received rave reviews.
The Arrow That Flieth By Day
, whose title is taken from Psalm 91, is set in 1860s Colorado.
True Colors
, my Civil War set novel, was awarded two first-place awards in historical fiction in 2009. Both novels have been touted as book club favorites. I'm a member of American Christian Fiction Writers and the Military Writers Society of America. I live in Colorado with my husband of 36 years.
Please tell us five random things we might not know about you.
-- I'm 100% Irish (although if you've visited my web site you might already know that).
-- For our first date, my husband took me to the shooting range.
-- I lived in Hawaii for five years.
-- I love the dry climate of Colorado because my hair frizzes wildly where I grew up back East.
-- I made the dean's list for the very first time in my life during my very last semester in college. Better late than never, I always say.
You bet! Please tell us a bit more about the plot of Refining Fires.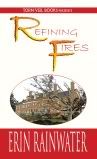 It's unique with its three-stories-in-one format. First, a nurse with a questionable reputation seeks work in the home of a bitter, disfigured Korean War veteran. But as Clare ministers to Peter's body, his soul develops a raw yearning for the kind of love he has never experienced. Theirs is quite a romance, but
Refining Fire
is only the beginning of their love story.
You'll then be swept to a remote mountain cabin and introduced to Susannah, the bravest nine-year-old girl you'll ever meet. She must trek down a mountainside alone to save her mother's life, and faces harder times yet to come. The love that Peter and Clare share has an immense impact on this extraordinary child who is filled with
Blind Courage
.
Lastly, you'll meet a
Kept Woman
bent on self-destruction until a child and an unlikely couple teach her about Who has been keeping her all along.
Refining Fires
goes beyond simple romance, showing how God's refining hand weaves lives together to bring about their redemption.
The book is published by Torn Veil Books, a new Christian publisher in Winnipeg, Manitoba. I'm happy to be one of their first signed authors, and
Refining Fires
is one of their premier books. One of the great things about them is they publish each book in both print and eBook formats to satisfy readers in both camps.
What is it about your lead character that will make your readers care about him?
Despite the fact that in your initial meeting with Peter you'll find him brash and judgmental, you'll just know there's depth to him and will want to stick around and explore those depths. He holds a certain charm that often comes out in the form of his debating internal thoughts, and once his sense of humor rises to the surface, you'll be snagged for good. You'll mourn his losses, cheer him on in his fearful attempts to move his life forward, and feel his heartsickness when he first discovers what it is to love sacrificially.
Why will readers enjoy your novel?
It's uniqueness, for one. The 3-in-1 format almost comes off as three short stories, but hold on, and you'll see how they all combine into one. Lovers of romance will enjoy the pureness of Peter and Clare's love story. It's not formulaic, no love at first sight, nothing predictable about it (other than, of course, it has a happy ending). The little girl, Susannah, is adorable and will grip your heart from the get-go. Even the kept woman will surprise you in how quickly you come to root for her.
If you were the casting director for the film version of your novel, who would play your lead roles?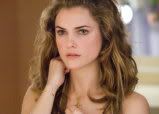 I'd love to see Keri Russell as Clare.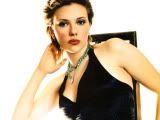 Maybe Scarlett Johannson as the kept woman.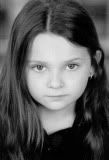 I'm not sure what young star could be Susannah, but if Abigail Breslin was about four years younger she'd be perfect.
As for Peter, hmmm.
What is one thing you've learned about yourself as a result of your writing career?
That I'm capable of growing thick skin. I started out very thin-skinned, and took every rejection and delay to heart. That can be very painful. Then I made the conscious decision to choose how to react. It had a lot to do with learning to trust God fully and not just with the big stuff. Life is so much less stressful this way.
What is the last book you read that moved you?
Rekindled
by Tamera Alexander. That hero had something in common with Peter Cochran in
Refining Fires
, although the plot is totally different. I loved the overcoming nature of her hero, and mine.
What are you working on now?
I'm going to be collaborating this summer with a theatrical producer who is translating a scene from my Civil War love story onto the stage. As a Military Writers Society of America Gold Medal winner last year,
True Colors
earned a spotlight moment at their annual conference in Pittsburgh in September. The scene, complete with period costumes and re-enactors, will be one of the highlights of opening night at the conference.
Where else can readers find you or your writing online?
At my web site,
www.erinrainwater.com
. No blogspots for me. I can barely keep up with what I have.
The book is available for online purchase via the following buttons:
Thanks, Erin, for visiting with us and telling us about your novel.
Readers, Erin has offered to give a copy of her novel to the winner of our drawing on Saturday, September 4.
To enter, leave a comment for Erin, below.
Leave your email address, in case you win, like so: trish[at]trishperry[dot]com.
Check out my interviews with

Jane Kirkpatrick

and

Donita K. Paul

, below, and leave comments under their interviews to be entered in drawings for signed copies of their books. And see how to win one of five copies of my next release, The Perfect Blend,

HERE

.
Annoying legal disclaimer: drawings void where prohibited; open only to U.S. residents; the odds of winning depend upon the number of participants. See full disclaimer
HERE
.