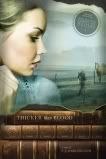 Estranged for fifteen years, will sisters May and Christy Williams discover that some hurts can't be healed or is there a tie that's thicker than blood?
Before we meet today's author, I want to announce that the winner of the drawing for
My Boyfriends' Dogs
, by Dandi Mackall, is:
vie@ . . .
Congratulations! I'll contact you today for your snail mail address, and we'll get your book to you right away.
I encourage readers to keep commenting and/or subscribe at right in order to participate in future book give-aways!
Now let's meet novelist
C.J. Darlington,
author of
Thicker than Blood
(Tyndale House, January 2010).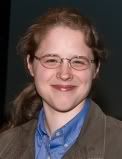 C.J. Darlington's first novel
Thicker than Blood
was the winner of the 2008 Jerry B. Jenkins Christian Writers Guild Operation First Novel contest. Her second novel
Bound by Guilt
will release in February 2011. She has been in the antiquarian bookselling business for over a decade, scouting for stores similar to the ones described in her novels before cofounding her own online bookstore.
After a homeschool education, she also cofounded the Christian entertainment Web site www.TitleTrakk.com. She lives in Pennsylvania with her family.
Please tell us five random things we might not know about you.
-- I'm an identical twin.
-- I have been to 44 of the U.S. States (still need to visit Washington, Oregon, Alaska, Hawaii, South Dakota, and Vermont).
-- I had my first short story accepted for publication when I was 18, and I bought a watch I still wear with my very first earnings.
-- I was homeschooled for all my schooling years. I am a licensed ham radio operator.
Oh, I love the sentiment behind the watch, C.J.
Please tell us a bit more about the plot of Thicker than Blood.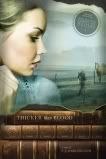 Christy Williams finally has her life on track. She's putting her painful past behind her and working hard to build a career as an antiquarian book buyer. But things begin to unravel when a stolen Hemingway first edition is found in her possession, framing her for a crime she didn't commit.
With no one to turn to, she yearns for her estranged younger sister, May, whom she abandoned after their parents' untimely deaths. Soon, Christy's fleeing from her shattered dreams, her ex-boyfriend, and God.
Could May's Triple Cross Ranch be the safe haven she's searching for? Will the sisters realize that each possesses what the other desperately needs before it's too late?
What is it about your lead character that will make your readers care about her?
Christy Williams could be any of us. She's incredibly flawed and makes bad decisions. She wants to do right, but she doesn't know how to sometimes. She yearns for love and forgiveness, like all of us, but doesn't feel she deserves it.
Why will readers enjoy your novel?
One of the biggest comments I get about this book is people's fascination with Christy's profession as a used and rare book dealer. It's been fun to share some of the tidbits about books and book collecting I've learned over the years as an antiquarian book dealer myself. What makes a book truly rare? Often the answer is surprising. Did you know that a book's dust jacket can often be worth more than the book itself?
This book shares the story of a woman who's searching. Through her journey I share the gospel, but I really tried not to be preachy about it. I think that's refreshing to people.
If you were the casting director for the film version of your novel, who would play your lead roles?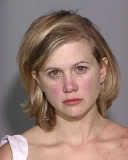 I've always maintained that actress Tracey Gold reminds me a little of Christy. Especially that mug shot photo that's circulating the internet. Since Christy's arrested for a DUI in the first scene of
Thicker than Blood
, it's kinda appropriate (sorry, Tracey!).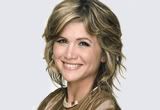 Here, I posted the mug shot and another shot of a more "together" gal. I assume Christy gets there at some point.

And how about her younger sister?
May's another story. If someone were to play her in a movie, I think I'd want it to be an unknown actress. Just a normal young woman who wasn't model-thin and could actually physically do some of the things May does on the ranch.
How important to the story is your book's setting?
Setting is huge in
Thicker than Blood
. And there are actually two settings. The first is the used and rare bookstore Dawson's Book Barn. This is where Christy works. A first edition of Ernest Hemingway's
For Whom the Bell Tolls
plays a key part in the final outcome of the story.
The second setting is May's Triple Cross ranch. This is her life, and she's facing the fact that she might lose everything she's ever worked for. It's a rough existence being a rancher. But she's surrounded by her beloved horses, cattle and mountains. It's ultimately this setting that decides Christy's fate.
Choose an inanimate object to represent you. Explain what you have in common with that object.
Let's see . . . I'm staring at an empty coffee cup right now. Perhaps that could represent me. I can feel full of ideas and inspiration some days . . . then the next I feel empty. All it takes is pouring life back into myself (sometimes in the form of doing something completely unrelated to writing) to fill up my well.
Oh, those empty coffee cup days . . . not fun.

What is the last book you read that moved you?
When I read the last chapter of a book called
Considering the Horse
by Mark Rashid it had me in tears at the end. He was talking about the death of a horse (who had lived a long full life), and it just got me. I'm a sucker for animals, and I was choked up for several minutes.
What are you working on now?
I just finished the edits for my second novel
Bound by Guilt
which is set to release from Tyndale House in February 2011. I'm really, really excited about this book. It's a sequel to my first in that some of the main characters from
Thicker
become minor characters in
Bound
. And it features an even rarer book---a first edition of
The Great Gatsby
by F. Scott Fitzgerald. I'm also about 40K into the rough draft of my third novel.
Where else can readers find you or your writing online?
My website has all the details!
www.cjdarlington.com
The book is available for online purchase through the following buttons:
CBD.com
Thanks, C.J., for visiting with us and telling us about your novel.
Readers, C.J. has offered to give a copy of her novel to the winner of our drawing on Thursday, August 26.
To enter, leave a comment for C.J., below.
Leave your email address, in case you win, like so: trish[at]trishperry[dot]com.
Check out my interviews with

Allie Pleiter

and

Robert Elmer

, below, and leave comments under their interviews to be entered in drawings for signed copies of their books. And see how to win one of five copies of my next release, The Perfect Blend,

HERE

.
Annoying legal disclaimer: drawings void where prohibited; open only to U.S. residents; the odds of winning depend upon the number of participants. See full disclaimer
HERE
.