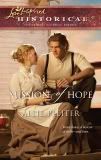 An unlikely hero and his surprising young love help the city heal from its massive 1906 earthquake.
Before we meet today's author, I want to announce that the winner of the drawing for
The Six-Liter Club
, by Harry Kraus, is:
kfp10596@ . . .
Congratulations! I'll contact you today for your snail mail address, and we'll get your book to you right away.
I encourage readers to keep commenting and/or subscribe at right in order to participate in future book give-aways!
Now let's meet novelist
Allie Pleiter,
author of
Mission of Hope
(Steeple Hill Love Inspired Historical, August 2010).
An avid knitter, coffee junkie, and devoted chocoholic, Allie Pleiter writes both fiction and non-fiction. The enthusiastic but slightly untidy mother of two, Allie spends her days writing books, buying yarn, and finding new ways to avoid housework. Allie hails from Connecticut, moved to the midwest to attend Northwestern University, and currently lives outside Chicago, Illinois. The "dare from a friend" to begin writing has produced two parenting books, twelve novels, and various national speaking engagements on faith, women's issues, and writing.
Please tell us five random things we might not know about you.
-- I'm probably the only romance author you've ever met who's actually had amnesia.
-- I was a theater major in college and have extensive training in mime.
-- I own six translations of Beowulf and am literate in the original language.
-- I'm six feet tall (okay, anyone who's met me might have figured that out).
-- I was once a singing telegram deliverer for Western Union.
Wow! I knew about the amnesia (no one believes me when I tell them about you!), but all of the other items are news to me. You're one interesting, tall lady!

Please tell us a bit more about the plot of Mission of Hope.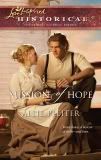 Mission of Hope
is the sequel to my San Francisco historical,
Masked by Moonlight.
I'll let the back cover copy tell the story...Steeple Hill did a great job with this:
No one knows who he is or where he's from. But witnesses throughout San Francisco report a masked man in black is bringing supplies--and badly needed hope--to homeless earthquake survivors. Some believe that the city's gallant rescuer is a gentleman of wealth. But others whisper that he is a working class man with courage as great as his faith. And rumor has it that one of the city's most spirited society belles is helping him against her family's wishes. What can be confirmed is that the masked messenger will need more than a miracle to escape those on his trail--and win the woman risking everything to save him...
What is it about your lead character that will make your readers care about him?
Quinn is dashing and resourceful. He has a marvelous inner integrity that many people would never attribute to someone from his circumstances. He goes after his goals with an abandon I think most of us would like to possess. Well, then there's the handsome and charming bit...I think that helps, too.
Sure doesn't hurt! Why will readers enjoy your novel?
Okay, forget the bit that it's about an earthquake...it's a marvelously hopeful story. There's humor and love and surprises because even under such dire circumstances, life does go on. It's the kind of story that makes you feel as though you might find it within yourself to conquer whatever's ahead of you. Wouldn't any of us like to know we possess that kind of courage?
Excellent point, Allie. That's the kind of thing we prefer not be tested, but we hope is in our nature.

If you were the casting director for the film version of your novel, who would play your lead roles?
Actually, I always cast my books with celebrities...I think it helps the art department know how I see my characters. Of course, I often fiddle with ages and chronology to get the effect I want, so often the casts could never happen in real life.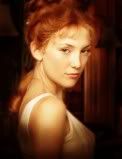 For this book I cast Kate Hudson as Nora.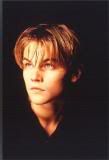 And Leonardio DiCaprio as Quinn.
I kind of fiddled with ages in finding pics for this, too, Allie. I wanted to post Leo in a shot where he looked more like your hero looks on the book cover. He may be a bit young in the photo. And Kate's look seems to fit the era, although she's not as blonde as she probably should be.

How important to the story is your book's setting?
Huge. After all, it is the San Francisco earthquake, so the setting is almost a character in itself. The destruction--or more precisely the restoration after the destruction--is the driving force behind characters and plot.
What is the last book you read that moved you?
I just finished Sharon Hinck's
The Restorer
(yes, it does take a while for things to get to the top of my to-read pile), and I loved how she wove a recognizable mom character into such a completely foreign world. It's also a book about courage, so it really resonated with me.
What are you working on now?
I'm slated to do another Love Inspired contemporary and then another historical set in WWI South Carolina. My next book out will be
Yukon Bride
in early 2011. It's the lead book in the Alaskan gold rush series that serves as the historical "prequel" to the current contemporary Treasure Creek series now out.
Busy woman! Where else can readers find you or your writing online?
Visit my author's website at
www.alliepleiter.com
or my entertaining but completely unrelated knitting blog at
www.DestiKNITions.blogspot.com
The book is available for online purchase via the following buttons:
CBD.com
Thanks, Allie, for visiting with us and telling us about your novel.
Readers, Allie has offered to give a copy of her novel to the winner of our drawing on Saturday, August 21.
To enter, leave a comment for Allie, below.
Leave your email address, in case you win, like so: trish[at]trishperry[dot]com.
Check out my interview with

Dandi Mackall

, below, and leave a comment under her interview to be entered in the drawing for a signed copy of her book. And see how to win one of five copies of my next release, The Perfect Blend,

HERE

.
Annoying legal disclaimer: drawings void where prohibited; open only to U.S. residents; the odds of winning depend upon the number of participants. See full disclaimer
HERE
.