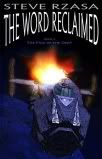 Baden found the last Bible--but now he wishes he'd never touched it.
Before we meet today's author, I want to announce that the winner of the drawing for
Rodeo Redemption
, by Teri Wilson, is:
delia@ . . .
Congratulations! I'll contact you today for your snail mail address, and we'll get your book to you right away.
I encourage readers to keep commenting and/or subscribe at right in order to participate in future book give-aways!
Now let's meet novelist
Steve Rzasa
, author of
The Word Reclaimed
, Book 1 of The Face of the Deep Series (Marcher Lord Press, October 2009), and its sequel,
The Word Unleashed
(April 2010).
Steve Rzasa was born and raised in South Jersey, and fell in love with books--especially science fiction novels and historical volumes--at an early age. He earned a bachelors degree in journalism from Boston University in 2000 and spent the next eight years working at newspapers. He and his wife, Carrie, and their two boys moved to Buffalo, Wyoming, in 2007. Today Steve works at the Johnson County Library there.
Steve's short story, "Rescued," which is set in the universe of
The Word Reclaimed
and
The Word Unleashed
, won the 2009 G.K. Chesterton Award in the Athanatos Christian Ministries Writing Contest.
Steve, tell us five random things we might not know about you.
-- I like chocolate--a lot.
-- I like anything to do with spaceships and World War II.
-- My favorite TV shows (and really the only ones I watch) are
Castle
and
NCIS.
-- Between preschool and high school my two worst subjects were scissor-cutting and calculus.
-- Churches I've attended include Roman Catholic, Assemblies of God, independent fundamentalist Baptist, Calvary Chapel, and Lutheran (Missouri Synod).
I was pretty bad at calculus in preschool too! (Actually, I never got that far in math ever.)

Please tell us a bit more about both books.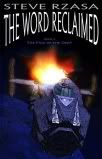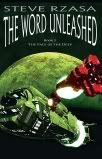 In the far future, the civilized worlds have finally been freed of the curse of religion. Thanks to the secret police, no one has been bothered by so much as a hymn in two generations--much less a Torah, Koran, or that most dangerous of books, a Bible.
Baden is a young man with an attitude. He spends his spare time salvaging wrecks in deep space. One day, he finds a strange and very old book, preserved against the ravages of space. He counts himself lucky.
Until it begins talking to him.
Baden would like nothing more than to get rid of this book--the Bible. It's brought trouble and questions. But he can't seem to let it go. He can hide it, or proclaim it.
With Kesek in control of the Realm and coming after all its opponents, Baden will have to trust not only in his friends but in a contingent of elite soldiers determined to save the king. He'll have to come to grips with the power he has unleashed on the Realm of Five. And that power has plans of its own.
Wow, this sounds like something my college-bound son would love, Steve.
What is it about your hero that will make readers care about him?
My lead character, Baden Haczyk, is meant to be just a run-of-the-mill young man who has problems getting along with his father. It is his interaction with the Bible and his questions about God that I hope readers will find intriguing. They are questions I think many people run up against, and I try to also present what it might be like for someone who's never heard of the Bible to suddenly discover the power of its message.
Why will readers like these books?
It's not just about Baden's personal journey but about the turning point in an interstellar kingdom.
The Word Reclaimed
and
The Word Unleashed
are full of adventure, intrigue, suspense, and conflict, whether it be between individuals or between spacefaring fleets. There are quiet moments of contemplation and pulse-pounding passages of space combat.
If you were the casting director of the film versions of your books, who would play the lead roles?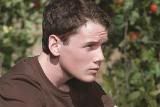 Baden Haczyk--Anton Yelchin of the new Star Trek movie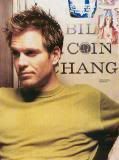 Simon Haczyk--Michael Weatherly (plus some age makeup) of the NCIS TV show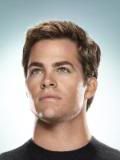 Jason--Chris Pine of the new Star Trek movie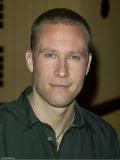 Detective Chief Inspector Nikolaas Ryke Michael Rosenbaum of the Smallville TV show
What is one thing you've learned about yourself as a result of your writing career?
I've learned that I can take criticism about my writing and make major changes, and the world does in fact keep turning! Letting go of a work like this is not easy, but it was a good lesson. Your writing needs to change to become better. I am indebted to Jeff Gerke of Marcher Lord Press for teaching me that.
Jeff is a terrific reader and editor.
Choose an inanimate object to represent you. Explain what you have in common with that object.
I'd say an old and out of date encyclopedia. Why? Because my brain is full of lots of information, but much of it is not very useful, though some of it makes for an interesting read!
What is the last book you read that moved you?
Well, besides the Bible, that's a tough question. Now that I think about it, I recently finished a book from our local library called
Halsey's Typhoon
by Bob Drury and Tom Clavin. It's about the Third Pacific Fleet's terrifying battle not with Japanese enemies but a raging storm. Four ships were lost. After reading harrowing accounts from the survivors, and how they adapted to life after the disaster and war, I flipped to the last few pages. There was a heading that began the list of all 793 men who died in the storm when their ships went down. The book listed every man's name on page after page after page. It struck me silent.
Oh my goodness, how heartbreaking! I've never heard of the account. You prompted me to visit Amazon, and there are a number of books written about the tragedy.
What are you working on now?
Several things. I have a third book underway, hopefully for sometime in 2011, that is meant to follow
The Word Reclaimed
and
The Word Unleashed
, but would focus on the set of main characters from my 2009 short story "Rescued." I do also have some more short stories at least in the planning stages.
Where else can readers find you or your writing online?
Both books are available at
www.marcherlordpress.com
, and my own website at
www.steverzasa.com
includes information about the books, what I'm up to, and some accompanying artwork.
Thanks, Steve, for visiting with us and telling us about your novel.
Readers, Steve has offered to give a copy of
The Word Unleashed
to the winner of our drawing on Saturday, July 17.
To enter, leave a comment for Steve, below.
Leave your email address, in case you win, like so: trish[at]trishperry[dot]com.
Check out my interview with

Cara Lynn James

below, and leave a comment under her interview to be entered in a drawing for a signed copy of her book. And leave a comment on

my post

about Beach Dreams to be entered in a drawing for that book, as well.
Annoying legal disclaimer: drawings void where prohibited; open only to U.S. residents; the odds of winning depend upon the number of participants. See full disclaimer
HERE
.