Single mom and restaurateur Sadie Spencer bites off more than she can chew when she takes on a competing entrepreneur who has recently moved to her hometown of Hershey, Pennsylvania.
Before we meet today's author, I want to announce that the winner of the drawing for
Crossing Oceans
, by Gina Holmes, is:
suttondenise@ . . .
Congratulations! I'll contact you today for your snail mail address, and we'll get your book to you right away.
I encourage readers to keep commenting and/or subscribe at right in order to participate in future book give-aways!
Now let's meet novelist
Cerella Sechrist,
author of
Love Finds You in Hershey, Pennsylvania
(Summerside Press, February 2010).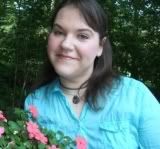 Cerella D. Sechrist makes her home in southern Pennsylvania, under an hour's drive from the sweet life in Hershey. Growing up, her family annually celebrated an event called "Cookie Baking Day" where everyone gathered to bake over 80-dozen cookies, including one of their specialties: Peanut Blossoms topped with a Hershey's kiss. It therefore stands to reason that her love of desserts is a genetic inheritance and not to be taken lightly. When dieting, she consoles herself with midnight viewings of the Food Network.
Please tell us five random things we might not know about you.
-- Growing up, I was homeschooled.
-- I just adopted two pug puppies.
-- Though my name is unusual, my mom actually got it out of a baby name book.
-- I have the same initials (and the same middle name) as both my brother and sister: our middle names are my mother's maiden name.
-- I am what my family calls "directionally dysfunctional" with the unfortunate inability to find my way out of a paper bag.
Please tell us a bit more about the plot of Love Finds You in Hershey, Pennsylvania.
Chef Sadie Spencer has learned that in life, as well as in food, sour balances sweet. After returning to her deliciously charming hometown of Hershey with a young daughter in tow, Sadie has managed to rise from the ashes following the death of her husband, the passing of her mother, and the dissolution of her career as a TV chef. With the help and encouragement of her best friend, Jasper, she opens a restaurant and looks forward to savoring the sweet side of life.
That is, until a handsome Russian entrepreneur arrives in town, apparently intent on opening up his own restaurant in direct competition to hers. Sadie becomes obsessed with honing the one skill she's never had--creating desserts--to keep up with her adversary, and in the process, she finds a love that's simply icing on the cake.
What is it about your lead character that will make your readers care about her?
The best reason I can give is the one that made
me
care about my heroine, Sadie: I could identify with her need to be talented at something she simply wasn't good at. I think we all have a time when we have to recognize our limitations and let go of things we can't have in order to focus on what we already have. Of course, learning those lessons can be very difficult, and Sadie's struggle is extremely relatable.
Why will readers enjoy your novel?
Other than the blatant associations to chocolate?
I've had many readers tell me that reading
Love Finds You in Hershey
is like watching a movie: you can just "see" the events unfolding before your eyes. It's much like settling in with a romantic comedy flick. And don't forget to have chocolate munchies handy as you read.
Oh, my goodness, if you say chocolate one more time, my defenses will crumble.

If you were the casting director for the film version of your novel, who would play your lead roles?
In light of my response to the previous question, I have to say how much I enjoy answering this one!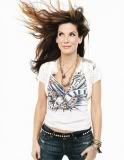 For my heroine Sadie, I would choose either Sandra Bullock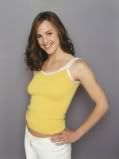 or Jennifer Garner. They both seem like the kind of down-to-earth women you could spend an afternoon with--much like Sadie herself.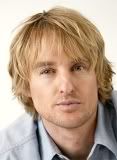 In the novel, Jasper's look is described as a "surfer dude gone country", so I always imagined him as a delightful blend of Owen Wilson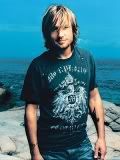 and Keith Urban.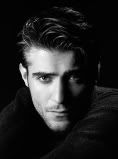 Dmitri, Sadie's competitor, is darkly handsome, and I think Goran Visjnic is the perfect casting choice for him.
What is one thing you've learned about yourself as a result of your writing career?
I've learned the art of perseverance when things don't come easily. If you love something, if you feel called to it, you don't give up on it. It took me thirteen years to get published, and there were often days when I despaired of ever seeing a book in print. Writing has taught me my own limitations, but it's also stretched my character in ways I hadn't thought possible.
Choose an inanimate object to represent you. Explain what you have in common with that object.
I'll go with a Reese's Peanut Butter Cup. Sweet on the outside and a little nutty on the inside. (It helps that they're my favorite Hershey's candy.)
Excuse me for a moment.

"Aaaaaand we're back," she said, licking the chocolate from her fingers.

What is the last book you read that moved you?
The young adult novel:
Thirteen Reasons Why
by Jay Asher. It has some profound insight into teen suicide and the theory that everything we do matters--the way we touch another's life, for good or for ill, can have a lasting effect we may never fully recognize.
What are you working on now?
I'm researching my next novel--another foodie tale! These days, you can find me staying up late, watching the Food Network and flipping through cookbooks.
Where else can readers find you or your writing online?
The trailer for
Love Finds You in Hershey
can be viewed at
my website
. My website also features lots of extra features from
Love Finds You in Hershey
: recipes, Sadie's blog, a soundtrack, links, a photo gallery and more!
You can also visit my blog at
www.thecerellalife.com
or join me on
Facebook
.
The book can be purchased online via the following buttons:
CBD.com
Thanks, Cerella, for visiting with us and telling us about your novel.
Readers, Cerella has offered to give a copy of her novel to the winner of our drawing on Monday, August 2.
To enter, leave a comment for Cerella, below.
Leave your email address, in case you win, like so: trish[at]trishperry[dot]com.
Check out my interviews with

Jamie Carie

and

Mary Ellis

below, and leave comments under their interviews to be entered in drawings for signed copies of their books.
Annoying legal disclaimer: drawings void where prohibited; open only to U.S. residents; the odds of winning depend upon the number of participants. See full disclaimer