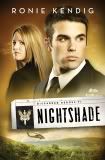 A former Navy SEAL fights a new battle--the home front.
Before we meet today's author, I want to announce that the winner of the drawing for
Chasing Lilacs
, by Carla Stewart, is:
malward2002@ . . .
Congratulations! I'll contact you today for your snail mail address, and we'll get your book to you right away.
I encourage readers to keep commenting and/or subscribe at right in order to participate in future book give-aways!
Now let's meet novelist
Ronie Kendig,
author of
Nightshade
, Discarded Heroes #1 (Barbour, July 2010).
Ronie Kendig grew up an Army brat, married a veteran, and they now have four children and a Golden Retriever. She has a BS in Psychology, speaks to various groups, volunteers with the American Christian Fiction Writers (ACFW), and mentors new writers.
Please tell us five random things we might not know about you.
-- I'm an Army brat.
-- My mother was a naturalized citizen from Ireland.
-- I have identical twin sons.
-- I was born in Germany to a military father.
-- I have a Maltese dog.
Ah, so now I understand your Irish coloring!
Please tell us a bit more about the plot of Nightshade.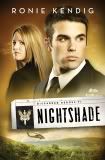 Soldiers all across the globe are returning home to their families after brutal tours of duty. They are discharged from the service. . .and on their own. Meet Max Jacobs, one of these discarded heroes, as he faces a wall of failure--in his career, his friendships, and his marriage.
Failing again--this time to end his life--he is offered a thread of hope. Are covert government operations the answer for him, or will they only bring more danger and dissension upon his broken family?
What is it about your lead character that will make your readers care about him?
Max is the ultimate soldier who wants to serve his country but brutal tours of duty have massacred his faith and his marriage. He wants to make things right but doesn't know where to begin; he's afraid to face his inner demons.
Why will readers enjoy your novel?
Because there is honesty, integrity, heroism, and current issues that are dominating our lives and media.
If you were the casting director for the film version of your novel, who would play your lead roles?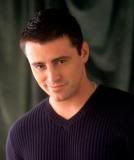 Matt LeBlanc with the dark eyes.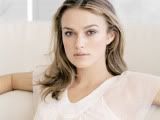 A modest Keira Knightley.
What is one thing you've learned about yourself as a result of your writing career?
I am much more sensitive than I ever realized . . .and I love people immensely, which translates well into fiction.
What is the last book you read that moved you?
Rooms
by James L. Rubart--it drastically altered my life by taking the Audience of One concept to a new, deep level. It's an absolute must read!
What are you working on now?
Book #3,
Wolfsbane
, and series proposals for new stories.
Where else can readers find you or your writing online?
www.roniekendig.com
or
www.discardedheroes.com
The novel can be purchased online via the following buttons:
CBD.com
Thanks, Ronie, for visiting with us and telling us about your novel.
Readers, Ronie has offered to give a copy of her book to the winner of our drawing on Thursday, July 8.
To enter, leave a comment for Ronie, below.
Leave your email address, in case you win, like so: trish[at]trishperry[dot]com.
Check out my interviews with

Cara Putman

and

Margaret Brownley

, below, and leave a comment under their interviews to be entered in drawings for signed copies of their books.
Annoying legal disclaimer: drawings void where prohibited; open only to U.S. residents; the odds of winning depend upon the number of participants. See full disclaimer
HERE
.
Finally, take a look at some of the fantastic inspirational fiction being released this month!
1.
A Shore Thing;
Otter Bay, Book 2
by
Julie Carobini
-- A Romance from B and H. A fiery, eco-friendly young woman leads the fight against a large development in her beachfront hometown while falling for the architect assigned to the job.
2.
Back on Murder;
A Roland March Mystery, Book 1
by
J. Mark Bertrand
-- A Suspense/Mystery/Thriller from Bethany House. Homicide cop Roland March attempts a comeback as corruption and a high profile case threaten to sink him.
3.
Beautiful Bandit;
The Lone Star Legends Series
by
Loree Lough
-- An Historical from Whitaker House. When rancher Josh Neville rescues a terrified woman who calls herself Dinah, she unwittingly leads notorious killers to his door, putting him and everyone at the Lazy N in jeopardy.
4.
Beyond Summer;
Blue Sky Hills Series, Book 3
by
Lisa Wingate
-- Women's Fiction from Peguin Group/NAL. Tam Williams discovers the blessings of community when her father is jailed, and the family moves to downscale Blue Sky Hill where her new friend, Shasta might lose her home to her father's shady mortgage company.
5.
Bride in Training;
Man's Best Friend Series
by
Gail Gaymer Martin
-- A Romance from Love Inspired. Troubled lives lead to loneliness, Emily and Martin learn, until the Lord teaches them he is able to accomplish infinitely more than we would ever dare to ask or hope.
6.
Cattleman's Courtship
by
Carolyn Aarsen
-- A Romance from Love Inspired. Cara Morrison has to fix the past before she can face the future.
7.
Doctor in Petticoats;
Sophie's Daughters Series, Book #1
by
Mary Connealy
-- A Romance from Barbour. A burned out doctor is called in because he's a man, while the town's lady doctor does all the work and keeps the doctor from cracking up.
8.
Driftwood Lane;
3rd in Series of Stand Alones
by
Denise Hunter
-- A Romance from Thomas Nelson. A love story set on Nantucket Island.
9.
Firestorm
by
Kelly Ann Riley
-- A Romance from Steeple Hill. A firefighter falls in love while trying to find her father's killer.
10.
Flash Point; Emerald Coast 911
by
Stephanie Newtonr
-- A Suspense/Mystery/Thriller from Love Inspired Suspense. Courage Under Fire.
11.
Heart of a Cowboy;
2nd book in the Helping Hands Homeschooling
by
Margaret Daley
-- A Romance from Love Inspired. Zachary Rutgers is perfectly happy with being a loner until he discovers he has a son and must deal with buried feelings concerning Jordan Masterson.
12.
Love Finds You in Calico, California
by
Elizabeth Ludwig
-- An Historical from Summerside Press. A young seamstress struggling to survive in a booming mining town is pressed into a marriage of convenience with the local livery owner.
13.
Minnesota Moonlight 3-in-1 Collection
by
Becky Melby and Cathy Wienke
-- Romance from Barbour. An ex-con, a storm chaser, and a footloose musician--three unlikely heroes for three women learning to trust God...and the men He's brought into their lives.
14.
Nightshade;
Book #1 of the Discarded Heroes series
by
Ronie Kendig
-- A Suspense/Mystery/Thriller from Barbour. This Former Navy SEAL is fighting a new battle--the home front!
15.
Prodigal Patriot;
Vermont #1
by
Darlene Franklin
-- A Romance from Barbour Heartsong. How can Sally and Josiah battle through the barriers separating Tory and Patriot to find love and forgiveness?
16.
Ransome's Crossing;
The Ransome Trilogy, Book 2
by
Kaye Dacus
-- A Romance from Harvest House. Disguising herself as a midshipman to get to her secret fiance, Charlotte Ransome faces danger--and love--crossing the Atlantic.
17.
Rodeo Redemption; The Rodeo Royalty Series, Book 1
by
Teri Wilson
-- A Romance from White Rose Publishing. Josie Turner would rather forget she was ever crowned Rodeo Queen. Can former rodeo cowboy Luke Anderson mend Josie's heart and can one rodeo weekend help them both find redemption?
18.
Seeds of Summer;
Seasons of the Tallgrass - Book #2
by
Deborah Vogts
-- A Romance from Zondervan. When a former Miss Rodeo Kansas queen returns home after her father's death to care for the family ranch and her two younger siblings, what follows is a summer full of change, life-lessons and an unexpected romance with the new minister in Diamond Falls.
19.
So Over It;
Book 3 in The Reinvention of Skylar Hoyt series
by
Stephanie Morrill
-- General Fiction from Revell. Senior year is over and Skylar Hoyt is ready to forgive and forget. Or at least forget.
20.
Song of Solomon
by
Kendra Norman Bellamy
-- A Romance from Urban Books. How can he convince her that she's his God-given mate when she's already wearing a wedding ring?
21.
Stars in the Night
by
Cara Putman
-- An Historical from Summerside Press. Step back to 1942 Hollywood as Audra Schaeffer tries to find her sister and a killer before it is too late.
22.
The Crimson Cipher
by
Susan Page Davis
-- An Historical from Summerside Press. When Emma's father is murdered, she's hired to do the job he could have had--helping track them down by breaking their ciphers.
23.
The Engineered Engagement; Book Three in the Kennebrae Brides Series
by
Erica Vetsch
-- An Historical from Barbour Heartsong. Sparks fly when a shipbuilder finds himself engaged to the wrong girl.
24.
The Seeker; The Shaker Series # 3
by
Ann H. Gabhart
-- An Historical from Revell. The story brings alive the strikingly different worlds of the Southern gentry, the simple Shakers and the ravages of war in 1860s Kentucky.
25.
The Way to a Man's Heart;
The Miller Family Series, Book 3
by
Mary Ellis
-- A Romance from Harvest House. When all the men beat a path to Leah's diner, her parents don't breathe a sigh of relief until she narrows her suitors from half a dozen down to one.
26.
Where the Dogwoods Bloom
by
Myra Johnson
-- A Romance from Barbour Heartsong. Jilly Gardner left Blossom Hills ten years ago, determined never to return, but when Cam Lane calls to ask for her help, she finds she can't say no.