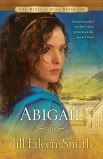 Turmoil marked her life--what price must she pay for love?
Before we meet today's author, I want to announce that the winner of the drawing for
The Word Unleashed
, by Steve Rzasa, is:
estrella8888@ . . .
Congratulations! I'll contact you today for your snail mail address, and we'll get your book to you right away.
I encourage readers to keep commenting and/or subscribe at right in order to participate in future book give-aways!
Now let's meet novelist
Jill Eileen Smith,
author of
Abigail: A Novel
(Revell, February 2010).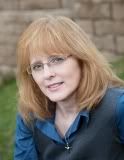 Jill Eileen Smith is the best-selling author of Michal and Abigail, books one and two in The Wives of King David series. She has more than twenty years of writing experience, and her writing has gathered acclaim in several contests. Her research into the lives of David's wives has taken her from the Bible to Israel, and she particularly enjoys learning how women lived in Old Testament times.
When she isn't writing, she enjoys spending time with her family; in person, over the webcam, or hopping a plane to fly across the country. She can often be found reading Christian fiction, testing new recipes, grabbing lunch with friends, or snuggling one or both of her two adorable cats. She lives with her family in southeast Michigan.
Please tell us five random things we might not know about you.
-- To overcome temporary writer's block, I chew bubble gum or file my nails.
-- My maiden name and married name are the same.
-- I collect refrigerator magnets of places I've been.
-- I was a high-school valedictorian.
-- I love Bible trivia questions.
Wow, not only are you brilliant (valedictorian), you're amazingly efficient (marrying another Smith).
Please tell us a bit more about the plot of Abigail.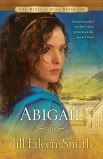 What price must she pay for true love? Her days marked by turmoil and faded dreams, Abigail has resigned herself to a life with a man she does not love. When her husband Nabal's foolish pride angers David and his men, she boldly steps forward to save her family--and David, the would-be king, takes notice.
Circumstances offer Abigail a second chance at happiness with the handsome David, and she takes a leap of faith to join his wandering tribe. But her struggles are far from over. How can she share his love with the other women he insists on marrying?
What is it about your lead character that will make your readers care about her?
Abigail is stronger than she realizes, a woman who quickly learns to make the best of her otherwise unhappy marriage to Nabal. When Nabal dies and she has another chance at marriage to a more admirable man, she takes it, but soon discovers her life is not without struggle and heartache. She suffers the plight of a polygamous relationship and is never truly satisfied with having to share her husband's love. In the end, she learns to accept some things that she cannot change, while gaining courage to try to change what she can, and learning by God's grace to tell the difference.
Why will readers enjoy your novel?
Abigail is a love story based on real-life people. While I have imagined much of what went on in their lives, I have tried to stay true to the nature of the characters as they are portrayed in Scripture. I hope readers will enjoy having the story take them there and let them experience the biblical tale in a fresh way--a way that makes them want to go back and read the real thing.
If you were the casting director for the film version of your novel, who would play your lead roles?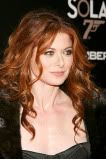 The characters I "cast" for my Idea Board on Abigail were Debra Messing (Abigail).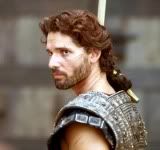 And Eric Bana (David) as he is seen in
Troy
.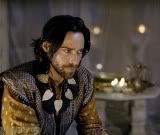 With James Callis (Nabal) as
seen in
One Night with the King
.
That's not necessarily who I would cast in the roles should I ever be given the choice (wishful dreaming!) but they came close to who I envisioned as far as looks are concerned. I haven't seen enough of their acting to know if they'd fit the part.
What is one thing you've learned about yourself as a result of your writing career?
I am very undeserving of all of the good God has allowed to happen so far with these books. Each surprising blessing humbles me more. I'm in awe of Him!
What is the last book you read that moved you?
The End of Religion
by Bruxy Cavey. At first I wasn't sure what to think of this book by the title, but once I read it, I loved the way the author reinforces the truth of the gospel, that Jesus did not come to establish a new religion. He came to restore our relationship to His Father. Salvation has always, always been about relationship. Jesus died to restore the relationship that was lost at the Fall in the Garden of Eden that we might know Him and love Him as God always intended it should be.
The most tragic words in all of Scripture are in Matthew 7:21-23 where people stand before Jesus at the judgment and tell him all of the things they did in His name, and He will say to them, "I never knew you." Salvation is not about keeping the rules of a religion or doing the works of a religion. It's about knowing Jesus, being restored to fellowship with God, to know Him and in knowing Him, to love Him.
The End of Religion
makes this clear in an insightful way. Loved it!
What are you working on now?
I'm finishing the first draft of Sarai's story, book one in The Wives of the Patriarchs series. In August, I'll be getting galleys on
Bathsheba
. I can't wait to see what my editor has to say on that one!
Where else can readers find you or your writing online?
My website:
www.jilleileensmith.com
. I keep a blog there and host monthly interviews of Christian fiction authors.
The series website:
www.thewivesofkingdavid.com
. Bathsheba's section should be up a few months before the book releases next year--February or March 2011.
Twitter:
www.twitter.com/JillEileenSmith
Facebook: Jill Eileen Smith (Author)
The book can be purchased online through the following buttons:
CBD.com
Thanks, Jill, for visiting with us and telling us about your novel.
Readers, Jill has offered to give a copy of her novel to the winner of our drawing on Saturday, July 24.
To enter, leave a comment for Jill, below.
Leave your email address, in case you win, like so: trish[at]trishperry[dot]com.
Check out my interviews with

Jennifer Hudson Taylor

and

Marybeth Whalen

below, and leave comments under their interviews to be entered in drawings for signed copies of their books.
Annoying legal disclaimer: drawings void where prohibited; open only to U.S. residents; the odds of winning depend upon the number of participants. See full disclaimer
HERE
.