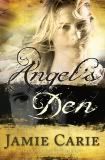 A gripping romantic tale of unrequited love on the western frontier and God's sovereign plan of rescue for a heroine caught in a nightmare.
Before we meet today's author, I want to announce that the winner of the drawing for
The Mailbox
, by Marybeth Whalen, is:
weceno@yahoo.com@ . . .
And the winner of the drawing for my novel,
Sunset Beach,
is:
beautifulmomentsofjoyandpeace@ . . .
Congratulations! I'll contact you both today for your snail mail addresses, and we'll get your books to you right away.
I encourage readers to keep commenting and/or subscribe at right in order to participate in future book give-aways!
Now let's meet novelist
Jamie Carie,
author of
Angel's Den
, (B&H Publishing, February 2010).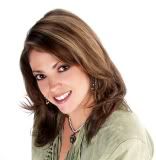 Jamie Carie is an inspirational fiction novelist who believes in the power of "story" to touch hearts and change lives. She is the author of
Snow Angel
, a
USA Book News
winner for Best Romance of 2007, a
ForeWord Magazine
Book of the Year award winner and a RITA Awards® finalist. She is the author of several historical romances and her first novella,
The Snowflake
, out later this year.
Jamie lives in Indiana with her husband, three boys and a giant of a dog named Leo.
Please tell us five random things we might not know about you.
-- When my boys were little I was a part of the puppet ministry at church (my father-in-law gave us several awesome puppets from the 80's). It was so much fun!
-- I rarely enjoy cooking but don't mind cleaning the house and laundry. I've often told my husband that, in my dream world, I would rather have a cook than a maid.
-- I love sports cars and fast driving with the music cranked--though I try to keep it around the speed limit.
-- One of my greatest fears is public speaking--but I try to practice what Joyce Meyers preaches and "do it afraid" when opportunities arise.
-- I
love
writing the first few pages of a new novel. That's the closest I will ever get to cliff diving.
I would say fast driving in your sports car is somewhat close to cliff diving, too!

Please tell us a bit more about the plot of
Angel's Den.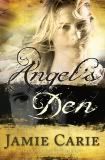 When Emma Montclaire says "I do" she thinks she is beginning her fairy tale life. But it doesn't take her new husband, the famed most handsome man west of the Appalachians, long to disabuse her of any fantasies. As the abuse escalates and turns physical, Emma prays for a way out.
Cartographer Luke Bowen is delighted when Eric Montclaire hires him for an expedition to follow the trail Lewis and Clark blazed a few years earlier to the Pacific Ocean. But something's not right. Why has Montclaire insisted his wife accompany them? And why does Emma Montclaire seem so . . . haunted?
The challenge to follow God's rescue plan and not their own will be daunting--requiring faith, trust and longsuffering when it looks like God has abandoned them. But the God who made them knows them and all they can endure. His plan of rescue unfolds in a way neither of them could have imagined.
What is it about your lead character that will make your readers care about her?
I think readers will care about Emma because what happens to her could happen to any of us. She starts out as a young, hopeful innocent who views the world as good and safe. When her husband turns from angel to monster (think -
Sleeping With the Enemy
starring Julia Roberts) all her illusions are shattered. There are times in most of our lives where the sin and evil of the world reaches in and tries to destroy us. The Bible warns in 1 Peter 5:8 "Be self-controlled and alert. Your enemy the devil prowls around like a roaring lion looking for someone to devour." (NIV) But God always has a plan of salvation. I hope that the journey that readers go on with Emma will encourage them and build their faith that God can accomplish anything on behalf of those who love Him.
You have an excellent point about why readers will identify with Emma. That battle is universally experienced.
Why will readers enjoy your novel?
If you like suspense, unexpected plot twists and a satisfying ending, I think you will enjoy this story.
If you were the casting director for the film version of your novel, who would play your lead roles?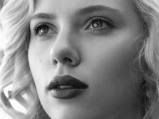 My protagonist, Emma Montclair: I'm thinking a Scarlett Johansson type. She's so pretty!
She really is. Stunning.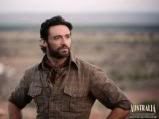 My hero, Luke Bowen: Maybe a version of Hugh Jackman?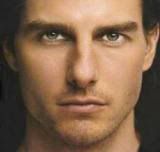 The antagonist, Eric Montclaire - Tom Cruise, definitely Tom Cruise.
What is one thing you've learned about yourself as a result of your writing career?
Being creative every day (every day I sit down to write anyway) is harder than I imagined. When I first started writing I wrote when the mood struck me, which was pretty often, but now I write on a schedule and it has been challenging. I'm still trying to figure out the best schedule for myself.
I hear you. Scheduling is such a left-hemisphere activity, and it's hard to make it fit the right-hemisphere activity of creating!
Choose an inanimate object to represent you. Explain what you have in common with that object.
Wow, great question! I'm going to go with a rainbow. The colors represent the different aspects of me--my created being. But if you split them with a prism they turn back to their original source of white light, which represents my spirit made in the image of God and redeemed by Jesus. I learned a lot about light while writing my fourth book,
Love's First Light
. I'm amazed at the complexity and beauty of the science of light. We've only scratched the surface of what God has created to point us back to Him. It is astonishing--the wonders He has made!
What a lovely analogy!

What is the last book you read that moved you?
I've been reading
Faith to Live
by Derek Prince and it is mind blowing for me! He has a way of explaining things so that I feel like light bulbs are going off in my head. Also, I really change. We read all of these books and sometimes catch a truth here and there but for it to stick and change us? That's the Holy Spirit in action. This book is doing that with me.
What are you working on now?
I am currently finishing up my sixth book for B&H Publishing which I have tentatively titled
Pirate of my Heart
. It's about an American sea captain who enjoys his bachelorhood too much to consider settling down and the English Earl's daughter, Lady Kendra Townsend, who must flee to America on board his ship. Sparks fly as they fight their attraction. Dorian Colburn is determined to remain independent (even from God) and Lady Kendra is determined to always do the right thing. She reminds herself of the fruit of the spirit as needed by silently shouting out the words--
love, patience, kindess,
etc. to herself in a hopefully humorous way. It is a bit lighter and lots of fun. I've enjoyed being swept away as they discover their love and I hope the reader will too.
Where else can readers find you or your writing online?
Website
Blog
Facebook
Twitter
Here is my favorite review of
Angel's Den
by Kim Ford at
Window to My World blog
Buy Jamie's book online through the following buttons:
CBD.com
Books-A-Million
Borders
Also, look for Jamie's books at your local Christian bookstore and most Wal-Mart stores!
Thanks, Jamie, for visiting with us and telling us about your novel.
Readers, Jamie has offered to give a copy of her novel to the winner of our drawing on Thursday, July 29.
To enter, leave a comment for Jamie, below.
Leave your email address, in case you win, like so: trish[at]trishperry[dot]com.
Check out my interviews with

Jill Eileen Smith

and

Gina Holmes

below, and leave comments under their interviews to be entered in drawings for signed copies of their books.
Annoying legal disclaimer: drawings void where prohibited; open only to U.S. residents; the odds of winning depend upon the number of participants. See full disclaimer
HERE
.