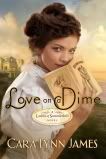 A young society girl during the Gilded Age struggles to keep her writing career secret while her former beau pushes her to reveal her identity and accept him back into her life.
Before we meet today's author, I want to announce that the winner of the drawing for
Nightshade
, by Ronie Kendig, is:
peachykath79@ . . .
Congratulations! I'll contact you today for your snail mail address, and we'll get your book to you right away.
I encourage readers to keep commenting and/or subscribe at right in order to participate in future book give-aways!
Now let's meet novelist
Cara Lynn James
, author of
Love on a Dime
(Thomas Nelson).
Tell us a little about yourself, Cara.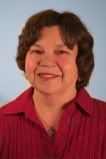 I'm a wife, mother, grandmother and debut author. We all live in northwest Florida where the beaches were once beautiful and hopefully will be again. I've lived all over the country--Connecticut, Rhode Island, Massachusetts, Vermont, Texas, California and Virginia.
Please tell us five random things we might not know about you.
-- I was a Naval officer for almost eight years.
-- My husband and I adopted two babies from Latin America (they're now grown up).
-- I'm a 13th generation New Englander
-- I have more books than I can read in a lifetime, but I keep buying them anyway.
-- I love caramel frappachinos with whip cream.
What more can you share about the plot of Love on a Dime?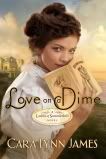 Turn of the century novelist Lilly Westbrook learns that being faithful to her calling means more than just putting pen to paper. It's the summer of 1899 in Newport, Rhode Island, and Lilly Westbrook is struggling to conceal her career from family and friends because of the stigma attached to dime novels. Lilly feels good about her secret--after all, she's enlightening working class girls with her books and honoring God by using her talents to His glory.
But her secret is threatened when Jackson Grail, a former suitor, becomes Lilly's new publisher. He's determined to revive his floundering publishing house by maximizing their most promising--and most secretive--author. His plan? Find "Fannie Cole" and convince her to go public. When a gossip columnist discovers Lilly's true identity, she finds that being faithful to her calling involves more than just putting pen to paper. It requires that she stand up for her faith and for herself, no matter the consequences.
What is it about your lead character that will make your readers care about her?
My heroine, Lilly Westbrook, writes romance dime novels in secret because her family and society wouldn't approve. But since she believes this is what the Lord has called her to do, she takes a chance she won't get caught. I think readers will care about Lilly because she's so much like we are sometimes--she has good intentions, but she falters against strong opposition. She takes the easy way out until she can't any longer. In the end Lilly finds the courage to confront her situation head on.
Why will readers enjoy your novel?
It's light, it's fun and it's set in a time and place that most people aren't too familiar with. Newport, Rhode Island at the turn-of-the-century--the Gilded Age--was the premier summer resort in America, especially for New Yorkers and other easterners. These were high society people, the "movers and shakers" of the era who had more money than they knew what to do with.
Love on a Dime
is a story about a couple who tries to adjust to the norms of their social group while also living their Christian values.
If you were the casting director for the film version of your novel, who would play your lead roles?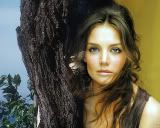 Maybe Katie Holmes for my heroine.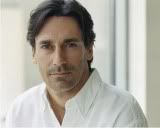 And any tall, handsome actor with black hair and dark eyes.
Maybe Jon Hamm of Mad Men?
What is one thing you've learned about yourself as a result of your writing career?
I've learned I'm not very disciplined, but I do get things done--sometimes at the last minute.
Mercy, do I hear that.
Choose an inanimate object to represent you. Explain what you have in common with that object.
I know this is trite, but I'd choose a book to represent me. It's usually closed, but it promises more than you see at first glance. You might find the front cover intriguing or maybe the back cover copy. Sometimes neither cover gives the right idea. So you have to read the book to discover if the story lives up to the hype.
It is funny how often authors say they're like books. I suppose some of us are just that into the written word.
What is the last book you read that moved you?
I really loved
Evolving in Monkey Town
by Rachel Held Evans. It's a non-fiction book about a young Christian woman's spiritual journey from certainty, to doubt, to mature faith. Her questions are really thought-provoking. And it's a journey I've taken myself, so I could really relate to the aches and pains of growing and continuing to grow.
What are you working on now?
The second historical romance in the Ladies of Summerhill series,
Love on Assignment
, will be in bookstores in January 2011. Right now I'm working on
Love by the Book
, the third. I'm also mulling over ideas for a new Gilded Age series set in New York City.
Where else can readers find you or your writing online?
My website is
www.caralynnjames.com
. I'm a Seeker (a group of inspirational romance writers) and I blog on Seekerville. Also, I'm on Facebook.
Thanks, Cara, for visiting with us and telling us about your novel.
Readers, Cara has offered to give a copy of her book to the winner of our drawing on Thursday, July 15.
To enter, leave a comment for Cara, below.
Leave your email address, in case you win, like so: trish[at]trishperry[dot]com.
Check out my interview with

Teri Wilson

and see my post about a free, signed copy of Beach Dreams, below. Leave a comment under each post to be entered in drawings for signed copies of Teri's book and mine.
Annoying legal disclaimer: drawings void where prohibited; open only to U.S. residents; the odds of winning depend upon the number of participants. See full disclaimer
HERE
.
Finally, if any of you are novelists (or hope to be) and would like some guidance from one of the pros, check out

James Scott Bell's Webinar

.