"I'll be seeing you again . . ."
On occasion I feature a new release, apart from my interviews with authors.
Rather than giving the author's book away, I simply add commenters' names an extra time to existing drawings.
This week let's take a look at
Roxanne Rustand's
novel,
End Game
(Steeple Hill Love Inspired Suspense, June 2010).
A little about Roxanne: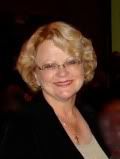 This is Roxanne Rustand's twenty-fourth published book, and her seventh since moving into inspirational fiction. Her first manuscript won the Romance Writers of America Golden Heart, and her second was a Golden Heart finalist. One of her books won RT Bookclub Magazine's award for Best Superromance of 2006, and she was nominated for RT's Career Achievement Award in 2005. She has given workshops at national and regional writer's conferences from coast to coast, and also through various online venues.
About the book:
"I'll be seeing you again . . ."
The attacker's words still ring in Deputy Megan Peters's ears. Her attempt to trap the serial rapist terrorizing Lost Falls failed, but she has succeeded in becoming the target of his attention. Undaunted, Megan moves forward in her investigation, and Scott Anders, the only newcomer in town, draws her suspicion. Is his gentleness just an act?
Yet as Megan and Scott grow closer, she finds herself questioning her instincts. What will she believe--her heart or the evidence that seems to be mounting against Scott?
First Page:
"I won't stop until I find this guy, Anna." Seeing the raw pain in her friend's eyes, Megan Peters took a deep breath and forced back the memories threatening to swamp her. "I promise."
"How?" Anna lashed out, pulling her hands away from Megan's. "I didn't see his face. I don't know who it was, and neither did the other woman who got away. And the two dead girls won't be talking."
The bitterness in Anna's voice stung Megan as if she'd been slapped. "No. But the DNA--"
"Hasn't matched anyone in the system so far, and probably never will, right? This guy will never be caught."
"But it does connect the crimes, so when we get him, we'll be able to send him away for good. There'll be a time when someone picks up on a clue. Someone else who escapes."
They both fell silent, Megan's words a chilling re minder of the two women who had been raped and murdered within the past six months. If a group of noisy hikers hadn't come by and scared off her attacker, Anna might have been number three."
An excerpt is available
HERE
.
Drop by Roxanne's blog (see blog roll on lower right) or her website
www.roxannerustand.com
Roxanne's book can be purchased online via the following buttons:
CBD.com
Leave a comment for Roxanne, below, to be added an additional time to the drawing on Monday, June 14. Leave your email address (in case you win) like so: trish[at]trishperry[dot]com.
Annoying legal disclaimer: drawings void where prohibited; open only to U.S. residents; the odds of winning depend upon the number of participants. See full disclaimer
HERE
.