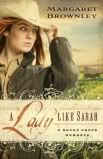 He's a preacher; she's an outlaw. Both are in need of a miracle.
Before we meet today's author, I want to announce that the winner of the drawing for
The Healer
, by Linda Windsor, is:
tstam3@ . . .
Congratulations! I'll contact you today for your snail mail address, and we'll get your book to you right away.
I encourage readers to keep commenting and/or subscribe at right in order to participate in future book give-aways!
Now let's meet novelist
Margaret Brownley,
author of
A Lady Like Sarah
(Thomas Nelson, December 2009).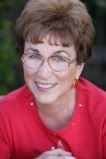 Thrills, mystery, suspense, romance: Margaret penned it all. Nothing wrong with this--except Margaret happened to be writing for the church newsletter. After making the church picnic read like a Grisham novel, her former pastor took her aside and said, "Maybe God's calling you to write fiction."
So that's what Margaret did. She now has more than 20 novels to her credit and has been published in 15 languages. In addition, she's written a non-fiction book and sold a two year story line to a CBS daytime soap (with her partner-in-crime Lee Duran).
Happily married to her real life hero, Margaret and her husband live in Southern California and have three grown children.
I love that bit about the church newsletter, Margaret!
Please tell us five random things we might not know about you.
-- Failed 8th grade English (Diagram a sentence? Not on your life!)
-- Hated history (All those dates and battles. I'm just saying . . .)
-- Wrote my first novel in 5th grade
-- Geographically dyslexic (can't find my way out of a paper bag. I think my problem will be solved once the magnetic poles shift)
-- Directionally challenged (which means if you give me directions to your house, you better reverse them so I can find my way home again).
Oh, that last one is sad. And so me too! You think it's a gal thing?
Please tell us a bit more about the plot of
A Lady Like Sarah.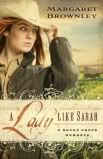 Preacher Justin Wells leaves Boston in disgrace, heading out alone on the dusty trail to Texas. But when the once-respected clergyman encounters a feisty redhead in handcuffs with a dying U.S. Marshal at her side, his journey takes a dramatic turn. When he promises the injured lawman to take his prisoner to Texas, Justin has no idea the trouble that lies ahead. The slightly-built prisoner turns out to be Sarah Prescott--sister of the notorious Prescott brothers--and she's determined to miss the hanging party waiting for her in Texas.
A Lady Like Sarah
is the first book in my Rocky Creek series. I'm happy to say it's a Romance Writers of America RITA finalist. It's also a Women of Faith selection. The next book in the series,
A Suitor for Jenny
, is scheduled for a September 2010 release.
What is it about your lead characters that will make your readers care about them?
Preacher Justin Wells' work ministering to Boston's upper class ill-prepared him for the challenges he now faces in the untamed west.
Though Sarah has no formal church training--and has had nothing but a hardscrabble life--it's ultimately her faith that sustains them as they battle Indians, gunmen, nature, an uncertain future--and their growing feelings for each other.
Why will readers enjoy your novel?
I hope the novel will touch readers' hearts--and maybe even make them laugh a time or two.
If you were the casting director for the film version of your novel, who would play your lead roles?
For Justin, it's Hugh Jackman--yum, yum. Jackman's all man but he has the sensitivity to play a conflicted preacher.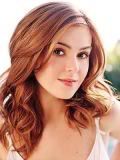 Sarah would be a challenging role. Isla Fisher's got the look and the energy to play Sarah and can deliver a humorous line. It would be interesting to see how she plays tough and vulnerable
Most writers struggle with the whole "show, don't tell" rule. For some, it can be difficult to even recognize when "telling" is happening. Please give us a brief example from your novel where you "show," and then write how that passage would have looked, had you "told."
From
A Lady Like Sarah,
showing:
She settled back on the canvas roll that served as a pillow, aware that her hat had been removed and her hair had come loose. "Who . . . who are you?"
"Name's Justin Wells. Reverend Justin Wells."
Surprised, she stared at him. She pictured preachers old and stooped-shouldered, lacking in humor. This one stood straight and tall, his broad shoulders straining against his white shirt, rolled up at the sleeves.
"A preacher, eh?"
"That I am." Her surprise seemed to amuse him, and a glint of humor danced in his eyes. His mouth turned up in a grin.
"Talk about dumb luck."
The grin left his face and his dark eyebrows arched upward. "Is there a problem?"
"No," she muttered. "No problem." She lowered her lashes. Of all things, a preacher.
Telling:
She settled back on the canvas roll that served as a pillow and asked him who he was. He said he was a preacher. She couldn't believe it. He didn't look like no preacher she ever saw. She asked him again to be certain and he assured her there was no mistake. He asked her if there was a problem and she told him no. But of course there was.
LOL, that is the best example of telling I've seen all month, Margaret. Just about as dry as beef jerky! Excellent.
What facet of the writing craft comes easiest to you? What do you struggle with?
I enjoy developing characters and writing dialogue. I struggle with writing synopses--oh, boy, do I ever! I much prefer to write by the seat of my pants but editors get nervous about that kind of stuff and every once in awhile I'm asked to write a synopsis. At such times, I grin and bear it--and complain a lot.
Choose an inanimate object to represent you. Explain what you have in common with that object.
I had to ask my family this question and they immediately yelled out Eveready battery and a high voltage wire. I do have a lot of energy and hardly ever get tired. I know, I know, it's a pain for those who have to live with me, but what can I say?
What is the last book you read that moved you?
The most recent book I read that moved me was
The Help
by Kathryn Stockett. This book takes place in the south during the 1960s. I think the reason it affected me so much is because, even though I was young at the time, Martin Luther King and the fight for civil rights is still deeply ingrained in my memory.
I can't tell you how many times that book has been recommended on my site, Margaret! I loved it, too. Very moving.

What are you working on now?
I just finished the 3rd book in my Rocky Creek Romance series. I'm getting ready to work on a new series.
Where else can readers find you or your writing online?
My website is
www.margaretbrownley.com
I also blog frequently on
www.petticoatsandpistols.com
Margaret's book can be purchased online via the following buttons:
CBD.com
Thanks, Margaret, for visiting with us and telling us about your novel.
Readers, Margaret has offered to give a copy of her book to the winner of our drawing on Saturday, July 3.
To enter, leave a comment for Margaret, below.
Leave your email address, in case you win, like so: trish[at]trishperry[dot]com.
Check out my interviews with

Carla Stewart

and

Kim Sawyer

, below, and leave a comment under their interviews to be entered in drawings for signed copies of their books.
Annoying legal disclaimer: drawings void where prohibited; open only to U.S. residents; the odds of winning depend upon the number of participants. See full disclaimer
HERE
.