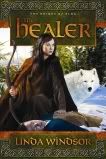 A mother's dying prophecy becomes a daughter's living hope in the clan wars of the Dark Age Scotland of the historical King Arthur.
Before we meet today's author, I want to announce that the winner of the drawing for
Bride in Training
, by Gail Gaymer Martin, is:
countrybear52@ . . .
Congratulations! I'll contact you today for your snail mail address, and we'll get your book to you right away.
I encourage readers to keep commenting and/or subscribe at right in order to participate in future book give-aways!
Now let's meet novelist
Linda Windsor,
author of
Healer
(#1 of Brides of Alba, David C. Cook, June 2010).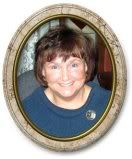 Maryland Eastern Shore author Linda Windsor has written twenty-nine award-winning historical and contemporary novels. A mother of two and grandmother of two, she lives in an 18th century home called Forest Necke that she and her late husband painfully restored back in 1985. In addition to being handy with paint and wallpaper, Linda sang and played guitar and keyboard along with her husband in a professional country/Old R&R band called Homespun. She still sings and plays music at her church as well as speaks nationally for writer's conferences, churches and private venues.
Please tell us five random things we might not know about you.
Well, fiddle! I put those in my bio.
LOL! We want more!
-- I love refinishing antique furniture, interior decorating (in moderation), singing and playing guitar, cooking when I'm in the humor . . .
-- I have a black thumb, therefore I hate yard work, but appreciate anything that lives in my yard. Okay, I stopped counting. Math is not my thing. Is this enough?
Yes, you gave us bunches in those two listings.

Please tell us a bit more about the plot of Healer.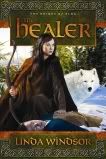 HEALER is book one of the Brides of Alba trilogy, Alba being an early name for Scotland. And this is Arthurian Scotland--and King Arthur, for that matter--as never seen before. The series focuses on three brothers, their respective brides, and how love and faith grow to enable them to survive those trying times.
Forced to live most of her twenty years in hiding from both her clan and the clan who murdered her family, Brenna of Gowys wonders how she can possibly fulfill her mother's prophecy that the Gowys seed will divide the enemy O'Byrne's house and bring about a peace beyond his wicked ken. Brenna's clan remnant would have her lead them to certain death against the stronger O'Byrnes. But Brenna is a healer, not a warrior. Nor is she the shape-changing wolf-woman of the hills as she's rumored to be by the superstitious clans; although she does have a gift with wild animals, including a pet wolf.
So when Brenna witnesses the ambush and attempted murder of a warrior during the annual O'Byrne hunt to find the wolf-woman, she does what she's called to do. She brings him into her mountain hideaway to heal him, even if he could be her enemy. All she knows is that he is not just wounded in body, but in spirit; that he'd been there as a frightened child when her family had been slain; and that she has seen a future with him. But is her faith strong enough to follow God's vision, no matter where it leads?
What is it about your lead characters that will make your readers care about them?
Brenna has a gentle spirit, but a strong heart. It takes a lot of faith and heart to step out of her comfort zone to do what is right, so one can't help but cheer for her.
As for Ronan, he realizes how he has wasted much of his life and taken for granted what he had. His spiritual arc shows a slow and steady growth from bitterness to wonder at Brenna and eventually trust in her God.
Why will readers enjoy your novel?
It is filled with romance, suspense and adventure to keep the pages turning into the wee hours. At least according to my publisher and agent, both of whom are male. I was thrilled when I was accused of robbing two guys of sleep with a romance.
Yes, that's quite a feat!

If you were the casting director for the film version of your novel, who would play your lead roles?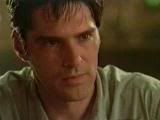 Thomas Gibson of Criminal Minds would play Ronan, with his handsome, yet worry-drawn face. I could see the scar on his cheek, marking a nightmarish past and present with a demented and tormented father.
Brenna is so much harder to cast. Demi Moore in her younger days and not quite as ripe, perhaps, although Demi doesn't look bad now. I was amazed when I received the cover the day of my son's wedding rehearsal dinner and Brenna looked so much like my new daughter-in-law.
Most writers struggle with the whole "show, don't tell" rule. For some, it can be difficult to even recognize when "telling" is happening. Please give us a brief example from your novel where you "show," and then write how that passage would have looked, had you "told."
Showing:
A flash of white amidst the trees below drew Brenna's attention from the stranger with a start. Faol! The silver-white wolf had circled round and was stalking the man again. She bit her lip, subduing the urge to whistle for the animal to come to her. That would draw the stranger's attention as well. Though his horse nervously pranced along the bank, the man was thankfully oblivious to her pet's proximity. Aye, the animal would know what the man would not. Thanks be to God, the horse could not speak. The increasing wind wrapped the man's cloak about an able and muscular build, piquing her curiosity all the more. Had he a face as fine?
Telling:
Brenna was startled from her observation of the stranger by a flash of white. It was her silver-white wolf. It had circled around and was now stalking the man again. She wanted to whistle a warning to the beast, but that would draw the stranger's attention to her as well. It seemed like the man was oblivious to her pet's proximity, though his horse was prancing nervously, very aware of it. The wind wrapped the stranger's cloak around an abel and muscular build that made Brenna wonder if his face was as fine.
What facet of the writing craft comes easiest to you? What do you struggle with?
The research is easiest because I can never read enough about this period when Christianity struggled to survive and spread in a pagan world. And I've always been intrigued with the history and tradition behind the Arthurian romances. I chose the documented historical Arthur, Prince of Dalraida (Scotland) who was high king of the kings of Britain, not technically a king himself. He was a duke of war. And then there are the customs of this era and the fascinating metaphors in Arthurian romance tales that make sense if one is familiar with the culture and faith of the time. If one researches a book well enough, the research will write it. No fiction is stranger than the truth.
My most difficult task is dealing effectively with word count. I always overwrite, find that I've written 2/3 of the allocated count and have ½ the story left to do. I've just been through it again with
Thief
, book two of the Brides of Alba (ancient Scotland). The truly neat thing is that after God lets me stew for a day or so, He gives me the greatest solutions, usually around 4 to 6 AM, hours I never see unless I'm plot-befuddled. And I know this change will surprise the reader because this new ending is one to me. I love God as a writing partner.
Choose an inanimate object to represent you. Explain what you have in common with that object.
My first thought was a corpse. But then I don't have much in common with that. (I've been watching too many crime shows!) A book is probably chosen often, but I can relate to a book. Books are meant to be held. I like that. There is so much more to the book than its cover and it can give again and again.
I would have loved to hear you relate yourself to the corpse . . .
What is the last book you read that moved you?
Yeshua: A Guide to the Real Jesus
by Dr. Ron Moseley. It was illuminating, deepening my understanding of my faith and the faith and methods of teaching in the original church. The more I understand, the more I am able to witness. That is why the Dark Age research is so important, especially as it concerns the Christian witness to a pagan world. Holy Cow, the same principles can be applied to New Age today.
Many know how this same kind of research helped me reach my daughter after she'd been stalked and assaulted in college, turned against God, and got involved in Wicca-white witchcraft. I could take her step by step through the same rationale used by the early Christians. It was enough to make her think. God did the rest. She came back to Christ on Mother's Day 2004. What a gift from God and her!
What a fantastic story, Linda! I love that!

What are you working on now?
I'm working on the second Brides of Alba book,
Thief
. This is a challenge because the hero in this book was the villain in
Healer
. He is Caden, the middle brother. And as different as Caden is from Ronan, Sorcha is ever so different from the faithful, stalwart Brenna. She's a thief. But her journey to faith, given hope by the forgiveness of the thief on the cross, and Caden's struggle to accept God's forgiveness and live a life for God make for an exciting story and tempestuous romance with God at the center. He's the only One who can pull this one off.
Where else can readers find you or your writing online?
I hope they'll stop by my website at
www.LindaWindsor.com
and check out my book excerpts, enter contests and maybe sign up for my Umpthly Newsletter. (Umpthly is a Windsorism meaning it comes out only when I have something to say.)
Very A. A. Milne sounding!
The book is available for purchase online via the buttons below:
CBD.com
Thanks so much, Trish, for inviting me by.
Thanks, Linda, for visiting with us and telling us about your novel.
Readers, Linda has offered to give a copy of her book to the winner of our drawing on Saturday, June 26.
To enter, leave a comment for Linda, below.
Leave your email address, in case you win, like so: trish[at]trishperry[dot]com.
Check out my interviews with Maggie Brendan and

Vanessa Miller

, below, and leave a comment under their interviews to be entered in drawings for signed copies of their books.
Annoying legal disclaimer: drawings void where prohibited; open only to U.S. residents; the odds of winning depend upon the number of participants. See full disclaimer
HERE
.