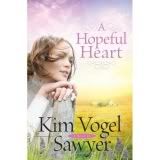 Can she turn her second-best chance into a golden opportunity?
Before we meet today's author, I want to announce that the winner of the drawing for
Forgiven
, by Vanessa Miller, is:
kmkuka@ . . .
Congratulations! I'll contact you today for your snail mail address, and we'll get your book to you right away.
I encourage readers to keep commenting and/or subscribe at right in order to participate in future book give-aways!
Now let's revisit with novelist
Kim Sawyer
, author of
A Hopeful Heart
(Bethany House, June 2010).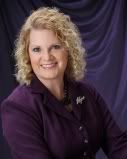 Kim Vogel Sawyer is the author of fifteen novels, including several CBA and ECPA bestsellers. Her books have won the ACFW Book of the Year Award, the Gayle Wilson Award of Excellence, and the Inspirational Readers Choice Award. Kim is active in her church, where she leads women's fellowship and participates in both voice and bell choirs. In her spare time, she enjoys drama, quilting, and calligraphy. Kim and her husband, Don, reside in central Kansas, and have three daughters and six grandchildren.
Please tell us five random things we might not know about you.
-- When I taught, I was prone to break into spontaneous poetry.
-- I've leaped from an airplane at 10,000 feet (I was wearing a parachute at the time...lol).
-- Years ago (*ahem*) I was a contender for the title of "Miss Kansas."
-- I have never, in all my years of life, been without a cat for a pet.
-- In seventh grade I won two state awards for conservation poster and limerick contests.
Please tell us a bit more about the plot of A Hopeful Heart.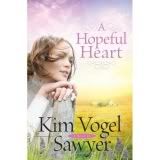 Dowryless and desperate, Tressa Neill applies to the inaugural class of Wyatt Herdsman School in Barnett, Kansas. The school's one-of-a-kind program teaches young women from the East the skills needed to become a rancher--or the wife of one. But will Tressa have what it takes to survive Hattie Wyatt's hands-on instruction in skills such as milking a cow, branding a calf, and cooking up a mess of grub for hungry ranch hands?
Abel Samms wants nothing to do with the passel of potential brides his neighbor brought to town. He was smitten with an eastern girl once--and he got his heart broken. But there's something about quiet Tressa and her bumbling ways that makes him take notice. When trouble strikes, will Abel risk his life--and his heart--to help this eastern girl?
Most writers struggle with the whole "show, don't tell" rule. For some, it can be difficult to even recognize when "telling" is happening. Please give us a brief example from your novel where you "show," and then write how that passage would have looked, had you "told."
SHOWING:
Libby careened out the door and nearly collided with two girls in the hallway. Isabelle Rowley's lessons on etiquette rose in her memory, and she automatically excused herself.

The pair looked Libby up and down before they exchanged a quick, haughty look. The taller of the two said, "You need to slow down."

"Or at the very least, look before you leave your room," the second one added.

Libby folded her arms over her chest. "I said 'excuse me.' And it isn't as if I tried to run you down. It was just bad timing."
TELLING:
Libby careened out the door. Two girls were in the hallway, and she nearly collided with them. When she'd lived at the orphans' school, the teacher had always told the children to use their best manners. So Libby said, "Excuse me."

Libby didn't like the way the girls looked at her with haughty expressions. The taller of the two said, "You need to slow down" and the second one said, "Or at the very least, look before you leave your room."

Libby bristled at their scolding tones. She hadn't meant to run into anyone, and she didn't care to be reprimanded by fellow students. She reminded them in a tart tone, "I said 'excuse me.' And it isn't as if I tried to run you down. It was just bad timing."
(Wow, this was harder than I thought it would be! I hope the examples make sense.)
Yes, I think they do. When you've gotten into the swing of showing, it can be difficult to deconstruct it to demonstrate how it would only be telling. But I think you did a good job, Kim!

What facet of the writing craft comes easiest to you? What do you struggle with?
Creating characters is pure joy. The people in my stories come to life before my eyes and begin sharing their dreams, why they want that particular dream, and what stands in the way. So it's very easy for me to build a character-driven story. The hard part for me is the conflict. I don't like conflict in my own life (lol), so it's tough to inflict difficulties on my characters. But no conflict, no story, so I'm learning.
What is the last book you read that moved you?
I'm a very avid reader, so it's kind of hard to choose just one. But I will settle on Jamie Langston Turner's
Winter Birds
. I was so drawn into this story, I didn't want to leave it. Told through a single viewpoint, I was still able to connect with every character because of the main character's wonderful observations. When I grow up, I hope I can weave a tale as deeply layered as Ms. Turner's story.
What are you working on now?
At the moment, I am "in" an Athabascan Indian village near Fort Yukon, Alaska. It is 1898, and Clay Selby is trying to establish a mission school while facing the fierce opposition of one Athabascan woman named Lizzie. And boy, am I having fun.
Where else can readers find you or your writing online?
I'd like to invite readers to come by
www.KimVogelSawyer.com
for information on my writing and speaking ministries. Younger readers can pop by
www.KatyLambrightSeries.com
to learn more about Katy, an Old Order Mennonite girl facing the challenge of attending public high school and maintaining her religious convictions. I also blog once a week at
www.writespassage.blogspot.com
, sharing with five other historical writers (Robin Lee Hatcher, Tamera Alexander, Judith McCoy Miller, Tracie Peterson, and Cathy Marie Hake).
Kim's book can be purchased online via the buttons below:
CBD.com
Thanks, Kim, for visiting with us and telling us about your novel.
Readers, Kim has offered to give a copy of her book to the winner of our drawing on Monday, June 28.
To enter, leave a comment for Kim, below.
Leave your email address, in case you win, like so: trish[at]trishperry[dot]com.
Check out my interviews with Linda Windsor and

Vanessa Miller

, below, and leave a comment under their interviews to be entered in drawings for signed copies of their books.
Annoying legal disclaimer: drawings void where prohibited; open only to U.S. residents; the odds of winning depend upon the number of participants. See full disclaimer
HERE
.