Are you debating about whether or not to attend the ACFW Conference September 17-20?
Yes, you're looking at a significant financial investment to attend.
But "investment" is definitely the key word here.
Not only is a trip to ACFW an investment in your writing career, it's an investment in the
camaraderie
we writers need to stay motivated, encouraged, driven, and inspired.
I encourage you to attend! I have local writer friends, but there's nothing like ACFW to put you in touch with FICTION writers--
Christian
fiction writers--with whom you'll build stronger and stronger
friendships
throughout the years.
The bulk of my writer
family
is composed of people I've met over the past four years at ACFW.
There's nothing like those
in-person
conversations, meals together, shared classes, prayer-and-praise experiences, laughs, celebrations, brainstorms, and support sessions to help you feel God's hand in your writing efforts.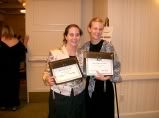 If you're on the fence at all, I encourage you to get off of it!
Come and see whom God has in mind to cheer you on in your writing and to receive the same encouragement from you.
I hope to see you there!
See
ACFW CONFERENCE
for info and registration.