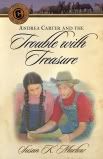 Andi's dreams of treasure turn into a life-or-death struggle when she and her friends seek gold in the Sierra Nevada range.
Before we meet today's author, I want to announce that the winner of the drawing for
They Almost Always Come Home
, by Cynthia Ruchti, is:
suttondenise@ . . .
Congratulations! I'll contact you today for your snail mail address, and we'll get your book to you right away. I encourage readers to
keep commenting and/or subscribe at right in order to participate in future book give-aways!
Now let's meet novelist
Susan Marlow
, author of
Andrea Carter and the Trouble with Treasure
(Kregel Publications, February 2010).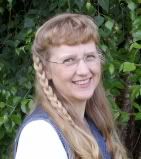 Susan K. Marlow is a twenty-year homeschooling veteran of four and the author of the Circle C Adventures series for "tweens." She combines her love of teaching and her passion for writing by teaching writing workshops for kids.
Please tell us a bit more about the plot of Andrea Carter and the Trouble with Treasure.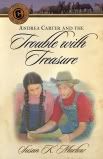 When innocent horseplay temporarily lands Andi and her friends in jail, they decide that a trip into the mountains will leave their troubles far behind. Accompanied by big brother Mitch and armed with a map showing old gold diggings, they can't wait to strike it rich. What could be better than two weeks of camping and horseback riding?
But instead of gold they find heaps of trouble--trouble that leaves Mitch gravely wounded. Andi needs help fast. But who can she trust? And what good is a bag of gold when her beloved brother lies near death in the middle of nowhere?
What is it about your lead character that will make your readers care about her?
Andi is a spunky, high-spirited ranch kid who--although she wants to do right--just can't seem to get away from the trouble that follows her around like flies around the barnyard. The good thing is, she finally does overcome the challenges she faces and is always ready for a new adventure.
Why will readers enjoy your novel?
Three words: Horses, Adventure, and the Old West. Along with that, a clear biblical worldview and strong family values.
One of the advantages of traditional publishing is the amount of editing one's manuscript receives before the publisher releases it as a novel. How much editing do your manuscripts typically get before you release them to your publisher?
My manuscripts never leave my Outbox without at least a dozen looks by myself, my special "critique pals (one especially is a Hatchet Woman), and then printed out and read again. It is well worth the effort because I'd rather have a critique partner find editing bloopers than my publisher. So far it's paid off because I am hardly ever asked to do revisions beyond a sentence here and there.
What facet of the writing craft comes easiest to you?
Revisions and editing--the best part! Each time I edit, it's like reading a brand-new story.
What do you struggle with?
The initial idea (as in . . . thinking of one!) and the first draft. Agony. Pure agony. But once it's finally on the screen, I can reward myself with the revisions.
Choose an inanimate object to represent you. Explain what you have in common with that object.
The trampoline out in the backyard. You bounce on it all day but never get anywhere. I'm bouncing around all the time trying to keep up with everything that revolves around writing, but sometimes I don't get very far with the actual writing. The trampoline has a safety net. I have a safety net as well: I keep my computer off on Sundays.
Now that's discipline! I think turning the computer on in the morning is as natural as brushing your teeth!

What is the last book you read that moved you?
Ice Station Zebra
by Alistair MacLean. Nearly froze my toes off reading it in the truck on the way home from a homeschool convention, drinking a freezing-cold milkshake while going over Snoqualmie Pass of the Cascade Mountains as snow is falling. I was shivering nearly the entire time because I was so caught up in the frozen Arctic polar cap (and loving every minute of it).
Wow, that's an oldie but goodie, isn't it? I remember, as a teen, being drawn back into reading novels by authors like MacLean, Ludlum, Grady, and Follet. Good stuff!

What are you working on now?
I'm working on a series of early chapter books Kregel just contracted me to write: books for young readers (ages 6-9) that portray Andi (my main character from the Circle C Adventures) as a six-year-old and her horse, Taffy, as a new foal. The series is called "Circle C Beginnings," and the first book is
Andi's Pony Trouble
.
Where else can readers find you or your writing online?
On my website,
www.circlecadventures.com
or on Facebook (I have a Fan page):
www.facebook.com/CircleCAdventures
And sometimes I even blog:
www.circlecadventures.blogspot.com
Stop by for a visit!
Thanks, Susan, for visiting with us and telling us about your novel.
Readers, Susan has offered to give a copy of her book to the winner of our drawing on Saturday, May 22.
To enter, leave a comment for Susan, below.
Leave your email address, in case you win, like so: trish[at]trishperry[dot]com.
Check out my interviews with Lisa Lickell and

Deborah Vogts

, below, and leave a comment under their interviews to be entered in drawings for signed copies of their books.
Annoying legal disclaimer: drawings void where prohibited; open only to U.S. residents; the odds of winning depend upon the number of participants. See full disclaimer
HERE
.