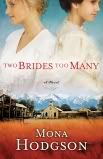 Two sisters arrive in an 1896 mining camp expecting marriage, but finding love.
Before we meet today's author, I want to announce that the winner of the drawing for
Andrea Carter and the Trouble with Treasure
, by Susan Marlow, is:
seizethebookblog@ . . .
Congratulations! I'll contact you today for your snail mail address, and we'll get your book to you right away. I encourage readers to
keep commenting and/or subscribe at right in order to participate in future book give-aways!
Now let's meet novelist
Mona Hodgson
, author of
Two Brides Too Many
(WaterBrook Press/Random House, May 2010).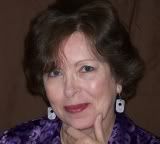 Mona Hodgson is the author of
Two Brides Too Many
and
Too Rich for a Bride
(October 2010, available exclusively at Walmart), the first two books in the Sinclair Sisters of Cripple Creek Series. Her writing credits also include 28 children's books,
Real Girls of the Bible: A Devotional, Bedtime in the Southwest
, and four
Princess Twins Zonderkidz I Can Read
books. She speaks regularly at women's retreats, schools, and conferences throughout the United States and Canada. Mona lives in Arizona with her husband, Bob.
Please tell us a bit more about the plot of Two Brides Too Many.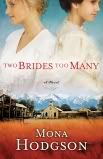 Two sisters.
Two missing misters.
Two Brides Too Many
is the first in the Sinclair Sisters of Cripple Creek Series. The books will chronicle the journeys of four sisters and their father to Colorado.
Kat and Nell Sinclair, the two middle sisters, are headed west--away from the manicured lawns of Maine to the boisterous, booming mining town of Cripple Creek, Colorado, to start new lives for themselves as mail-order brides. But when the ladies disembark at the train depot, neither fiance' awaits them with open arms. The well-bred Sinclair sisters find themselves alone in the wild, frontier town--a place where fire threatens to reduce the buildings to rubble, the working women strut the streets, rogues will gamble for the shoes on one's feet, and God's grace is found among the most unlikely of folks.
What is it about your lead character that will make your readers care about her?
Kat Sinclair faces hardship with determination. She's flawed, but endearing.
Why will readers enjoy your novel?
Two Brides Too Many
is a sister story full of adventure, humor, and heart. The eclectic cast of characters features a "real life" woman (Sister Mary Claver Coleman) from the time and place. And an actual event (a devastating fire) from the time and place serves as a chilling plot point.
If you were the casting director for the film version of your novel, who would play your lead roles?
Kat: Alexis Bledel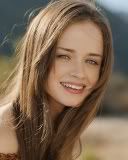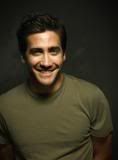 Morgan: Jake Gyllenhaal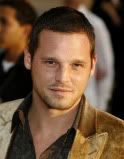 Patrick: Justin Chambers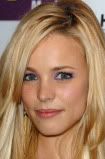 Nell: Rachel McAdams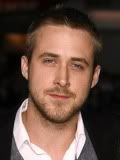 Judson: Ryan Gosling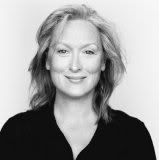 Miss Hattie: Meryl Streep
One of the advantages of traditional publishing is the amount of editing one's manuscript receives before the publisher releases it as a novel. How much editing do your manuscripts typically get before you release them to your publisher?
My hubby, Bob, is my first reader. Next, my critique partner takes a hard look at my chapters. And by the time I send the manuscript in to my editor, I've gone over it at least six or seven times.
What facet of the writing craft comes easiest to you? What do you struggle with?
Characters and point of view seem to come most easily these days. Beats aren't as much of a chore, although I still have to concentrate on them. But I struggle with pacing the romance. I tend to pattern them after my own and speed them up.
Choose an inanimate object to represent you. Explain what you have in common with that object.
I think a table might best represent me because there's a lot of surface. Wait, that didn't come out right.
LOL! We could interpret that in a number of ways.
Because there's an edge to me and people stack a lot of stuff on my shoulders.
Oh, yes. I imagine many women will identify with that one.
What is the last book you read that moved you? How did it affect you?
The Bridegrooms
by Allison Pittman. I love books about sisters. And this one's twists and turns revealed that the choices we make issue out of the condition of our heart. Heart matters.
Amen! My novel, Sunset Beach, is about sisters, as well. I love sister stories.
What are you working on now?
I've just started writing
Beyond a Bride
, Book Three in the Sinclair Sisters of Cripple Creek Series.
Where else can readers find you or your writing online?
To read the first chapter of
Two Brides Too Many
, go to
www.monahodgson.com
, click on Mona's Novels then on Sneak Peek. If you're part of a book club, please check out the For Book Clubs page.
www.twitter.com
www.facebook.com
Mona Hodgson Fan Page
Email me at mona@monahodgson.com with Quarterly E-newsletter in the subject line to receive quarterly updates and behind-the-scenes news.
The novel can be found online via the buttons below:
CBD.com
Thanks, Mona, for visiting with us and telling us about your novel.
Readers, Mona has offered to give a copy of her book to the winner of our drawing on Saturday, May 29.
To enter, leave a comment for Mona, below.
Leave your email address, in case you win, like so: trish[at]trishperry[dot]com.
Check out my interviews with Gail Sattler and

Marta Perry

, below, and leave a comment under their interviews to be entered in drawings for signed copies of their books.
Annoying legal disclaimer: drawings void where prohibited; open only to U.S. residents; the odds of winning depend upon the number of participants. See full disclaimer
HERE
.