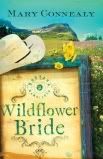 A white woman, raised by Indians, has never met a man she didn't pull a knife on, including the man who's determined to marry her.
Before we meet today's author, I want to announce that the winner of the drawing for
Anna's Return
, by Marta Perry, is:
slking1@ . . .
Congratulations! I'll contact you today for your snail mail address, and we'll get your book to you right away. I encourage readers to keep commenting and/or subscribe at right in order to participate in future book give-aways!
Now let's revisit with novelist
Mary Connealy
, author of
Wildflower Bride (
Barbour Publishing, May 2010).
Mary Connealy writes romantic comedy with cowboys. She is the author of the Lassoed in Texas series,
Petticoat Ranch
, the Christy Award nominated
Calico Canyon
and
Gingham Mountain
. A new series begins now. Montana Marriages, Book #1
Montana Rose
, Book #2
The Husband Tree
and Book #3
Wildflower Bride
. A stand-alone romantic comedy with cowboys,
Cowboy Christmas
released in September.
Black Hills Blessing
a 3-in-1 collection of sweet contemporary romances is in bookstores now.
Please tell us a bit more about the plot of Wildflower Bride.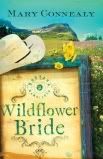 Glowing Sun, a white woman raised by the Flathead tribe, has never met a man she didn't want to pull a knife on, including Wade Sawyer, the man who's determined to marry her.
Glowing Sun has vague memories of her former life, including a name--Abby Lind. When she's forced to sever all links with her adopted Indian family, Abby wonders if she'll ever find a home again.
Tenderhearted Wade, responsible for Abby's survival during the village massacre, convinces the knife-wielding woman to return with him to the Sawyer Ranch, never realizing danger lurks behind every corner. Can they survive long enough to fall in love?
What is it about your lead character that will make your readers care about him?
Wade Sawyer is at the heart of Wildflower Bride, although Abby supplies most of the comedy with her disrespectful ways. But Wade had gone from a villain in
Montana Rose
to a hero in
Wildflower Bride
. I hope I was able to really bring his character along in a way that is honest, in the way a person who has been broke by life, and redeemed by God, would actually be.
I love it when things work out that way with a series. I've had "bad guys" become "good guys," even when I hadn't originally anticipated it.
Why will readers enjoy your novel?
Abby's mouth. Wade's sweetness. Murderous villains. Gunfire and chaps. Comedy and so much trouble that only True Love can win out over it all. What's not to love?
One of the advantages of traditional publishing is the amount of editing one's manuscript receives before the publisher releases it as a novel. How much editing do your manuscripts typically get before you release them to your publisher?
I have two chances to get it right. Barbour does one round of edits, done by a guy who's been so terrific to work with, Aaron Carver, who is an author himself. Then I get the galleys and that's my last chance. I don't run my book through critique partners anymore. I used to and I miss that. But there's just not time. As for readers. That seems like a good idea.
What subject matter or era have you not yet published about (but would love to)?
I really love to write almost anything, Trish. I've tried my hand at lighthearted cosy mysteries, like
Nosy in Nebraska
, sweet romances like
Black Hills Blessing
and I've got a contemporary suspense coming out in summer 2011.
I've written more than that, too. I've got about ten or eleven finished books on my computer that have never sold. And they're all romances, but widely different. A gothic, more suspense, cop drama's, spy thrillers. All the many years I wrote without getting published, I just developed this attitude of writing whatever interested me. I have more fun writing that gothic romance than a human being should be allowed to have.
I've always wanted to try my hand at a regency and I've got a yen to try a Noel Coward-ish romance with all the upper crust dialogue. For now though, I'm really having fun with my romantic comedy with cowboys
It's important for struggling authors to note your comment above about all of the unpublished books you have on your computer.
I think we've all seen situations when an author gets that first book published and then suddenly seems more prolific than is humanly possible. Sometimes that's simply the result of several books having been written well before the one that broke through.
That awareness should spur on authors who wonder what the point is in continuing to write additional books, even without that first contract. Those hidden gems may be unearthed at some point in the future!
What is the last book you read that moved you?
I've just finished Cara Lynn James'
Love on a Dime
. It is really a special book. Cara just captured this time. This era. Rhode Island 1899, wealthy, the coast. I could hear the surf pounding and the gulls screaming. And such a great love story.
I just finished endorsing a book I loved, too: Lorna Seilstad's
Making Waves
. It's got a similar feel to Cara's. It's on a lake not the ocean, but the wealthy heroine falls for the 'regular guy' against her parent's wishes. Lorna's involved in sailing and it was fantastic. I swear I could feel the wind on my face.
Both of these books really took me away to these places.
What are you working on now?
A new series starts in July. The Sophie's Daughters series.
Doctor in Petticoats, Wrangler in Petticoats, Sharpshooter in Petticoats.
Sophie McClellen from
Petticoat Ranch
has her daughters all grown up now. You didn't think they'd be quiet little things did you?
Oh, I'm sure your readers will be glad to hear that!
Where else can readers find you or your writing online?
Find Mary online at:
Seekerville
Petticoats and Pistols
My Blog
My Website
Mary's book can be purchased through the buttons below:
CBD.com
Thanks, Mary, for visiting with us and telling us about your novel.
Readers, Mary has offered to give a copy of her book to the winner of our drawing on Thursday, June 3.
To enter, leave a comment for Mary, below.
Leave your email address, in case you win, like so: trish[at]trishperry[dot]com.
Check out my interviews with Mona Hodgson and

Marlo Schalesky

, below, and leave a comment under their interviews to be entered in drawings for signed copies of their books.
Annoying legal disclaimer: drawings void where prohibited; open only to U.S. residents; the odds of winning depend upon the number of participants. See full disclaimer
HERE
.