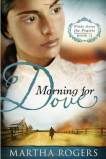 Although Luke and Dove are in love, they are not prepared to fight the prejudice that comes from Luke's mother. Forgiveness, a prairie fire, and a near tragedy threaten everything they hope to attain.
Before we meet today's author, I want to announce that the winner of the drawing for
Two Brides Too Many
, by Mona Hodgson, is:
nancyecdavis@ . . .
Congratulations! I'll contact you today for your snail mail address, and we'll get your book to you right away. I encourage readers to keep commenting and/or subscribe at right in order to participate in future book give-aways!
Now let's meet novelist
Martha Rogers
, author of
Morning for Dove
(Realms, Strang Book Groups, May 2010).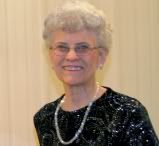 Martha's book credits include the novella
Sugar and Grits, Becoming Lucy
, and
Morning for Dove
. Also coming in 2010 are
Finding Becky
and
Key to Her Heart
in River Walk Christmas anthology and
Blissfully Blended
, a devotional book for step-moms.
Martha served as editor of an eight page monthly newsletter for the writer's organization, Inspirational Writers Alive! for six years and is the state President. She is also the director for the annual Texas Christian Writer's Conference and a member of ACFW.
Martha and her husband have been married for fifty years and have three sons and daughters-in-law, ten grandchildren, and one great grandson. They live in Houston. Texas and are active members in their church.
You've had a busy publishing year, haven't you, Martha? Please tell us a bit more about the plot of Morning for Dove.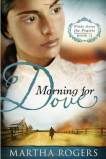 Dove is half-Cherokee Indian and that incites the prejudices in Luke's mother because of a childhood experience with a massacre of her family. Until Mrs. Anderson can reconcile her past and forgive, there is little hope for Luke and Dove to marry. An unexpected visitor, a prairie fire, and Dove's injuries lead to forgiveness and understanding.
What is it about your lead character that will make your readers care about her?
Dove has faced prejudice and rejection for most of her life, but she doesn't hold resentment. Instead she relies on her faith to see her through believing God will answer her prayers.
Why will readers enjoy your novel?
I think they will see the power of God's love and how He can change the most bitter of hearts to one that can love and forgive.
One of the advantages of traditional publishing is the amount of editing one's manuscript receives before the publisher releases it as a novel. How much editing do your manuscripts typically get before you release them to your publisher?
My main critique partners are a great help. With this series there was no time for extra readers.
Yet another reason our publishers' in-house editors are so valuable!

What facet of the writing craft comes easiest to you? What do you struggle with?
Dialogue is fairly easy as I like to write conversations. I struggle with narrative. I'm never sure of a happy medium. I feel like I either have too much or not enough.
Choose an inanimate object to represent you. Explain what you have in common with that object.
Possibly a piano because I love to make music and took piano lessons as child. I wish I could play today, but I can read music and sing in our choir.
What is the last book you read that moved you?
My Heart Remembers
by Kim Vogel Sawyer. That book made me think about the importance of family and how siblings are always close to our hearts. I just can't forget the beauty of that book.
Kim truly is a gem to the Christian publishing world! And a sweet woman, too.

What are you working on now?
Book 4 of Winds Across the Prairie:
Caroline's Choice.
Where else can readers find you or your writing online?
My website
.
And Martha's latest release is available online via the following buttons:

CBD.com
Thanks, Martha, for visiting with us and telling us about your novel.
Readers, Martha has offered to give a copy of her book to the winner of our drawing on Saturday, June 5.
To enter, leave a comment for Martha, below.
Leave your email address, in case you win, like so: trish[at]trishperry[dot]com.
Check out my interviews with Mary Connealy and

Marlo Schalesky

, below, and leave a comment under their interviews to be entered in drawings for signed copies of their books.
Annoying legal disclaimer: drawings void where prohibited; open only to U.S. residents; the odds of winning depend upon the number of participants. See full disclaimer
HERE
.