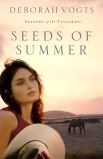 When a former rodeo queen abandons her dreams in order to care for her deceased father's ranch and her two half-siblings, she realizes with the help of a young new pastor that God can turn even the most dire circumstances into seeds of hope.
Before we meet today's author, I want to announce that the winner of the drawing for
Love Finds You in Golden, New Mexico
, by Lena Nelson Dooley, is:
randenlee2000@ . . .
Congratulations! I'll contact you today for your snail mail address, and we'll get your book to you right away. I encourage readers to
keep commenting and/or subscribe at right in order to participate in future book give-aways!
Now let's revisit with novelist
Deborah Vogts,
author of
Seeds of Summer
(Zondervan, May 24, 2010).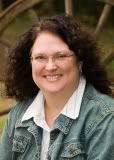 Deborah Vogts and her husband have three daughters and make their home in Southeast Kansas where they raise and train American Quarter Horses. As a student at Emporia State University studying English and journalism, Deborah developed a love for the Flint Hills that has never faded. In writing this series, she hopes to share her passion for one of the last tallgrass prairie regions in the world, showing that God's great beauty rests on the prairie and in the hearts of those who live there.
Please tell us a bit more about the plot of
Seeds of Summer.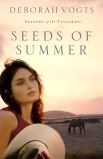 SHE MUST ABANDON HER DREAMS. Former rodeo queen Natalie Adams has big troubles. When her father dies unexpectedly, she's saddled with the family ranch and two half-siblings, whose mother abandoned them years ago and is long believed dead. A handsome young pastor, Jared Logan, repeatedly comes to her rescue. But Natalie's strong independent nature wants nothing to do with his help.
HE MUST FULFILL HIS. Jared, a city boy do-gooder, has dreams of his own. He's ready to solve Natalie's problems, as well as any problems in his church. But his congregation resists change, and the more deeply involved he becomes with Natalie's family, the more he questions his life as a clergyman. Jared's enthusiasm turns to fear as he contemplates failure.
WILL THEY FACE THEIR FEARS . . . AND FIND UNCONDITIONAL LOVE? When Natalie's stepmother unexpectedly shows up with plans of her own, Natalie must choose between the responsibilities of caring for a family or following her own desires. Love, forgiveness, and faith mingle together in the breathtaking world of the Kansas Flint Hills prairie.
What is it about your lead character that will make your readers care about her?
For each of the seasonal books, I wanted to portray one aspect found in the Flint Hills--and I knew I had to include a story about a female rancher. Also because I have three daughters who are spread out in age, I started wondering what it would be like if something happened to my husband and I, and our oldest daughter was left to care for her sisters. It helped make the plot for
Seeds of Summer
real for me.
I really enjoyed writing Natalie's story and trying to get her through the difficult family problems she must face. She is a very strong character with an interesting twist in her story--she's a former Miss Rodeo Kansas
and
the first runner up Miss Rodeo America. I don't want to give away any of the plot line, but I can say that much of my research involved studying the rodeo queen pageants.
Why will readers enjoy your novel?
I hope readers will enjoy the plot twists I've created for Natalie's family members, and that they will realize how important family relations are and that we can get through our difficulties if we remember to love and forgive each other. I also hope to give my readers a taste of the Flint Hills and of how God's beauty rests on the prairie and in the hearts of those who live there.
If you were the casting director for the film version of your novel, who would play your lead roles?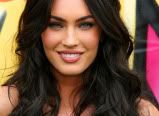 Natalie Adams: Megan Fox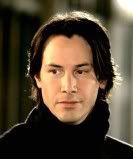 Jared Logan: Keanu Reeves
One of the advantages of traditional publishing is the amount of editing one's manuscript receives before the publisher releases it as a novel. How much editing do your manuscripts typically get before you release them to your publisher?
Yikes, don't ask. When I wrote
Snow Melts in Spring
, I belonged to two critique groups, so it had several passes by different readers. For the second book, not so much. I now have two critique partners that help me with my manuscripts, but
Seeds of Summer
went to the publisher after the first round. (In other words, I didn't do much editing to it before my editor saw it.) After that, the manuscript went through a macro edit and then a line edit by another editor, and then the final galley edit.
What subject matter or era have you not yet published about (but would love to)?
I started reading Christian fiction with Janette Oke and always thought I might like to try writing historical prairie romance. I'm not sure if that will ever happen, but I think it would be fun to try some day. The Seasons of the Tallgrass series is actually marketed as Contemporary Prairie Romance, so I don't think it would be that great of a leap for me.
What is the last book you read that moved you?
Peace Like a River
, by Leif Enger. I like books that captivate me, have a lyrical voice, and that have strong characterization--books that leave you thinking about the characters for many days after you've read it. This book did that for me, and I'll gladly read it again.
Loved that book!

What are you working on now?
I'm currently finishing up the third book in the series,
Blades of Autumn,
which is the story about Clara, the owner of Clara's Café: With a café to run and three children to raise, Clara Lambert doesn't have time for men or loneliness, despite what her heart might tell her. When two handsome cowboys vie for her attention, one of the brothers proves to be her soul mate, but at what cost? Will it tear the brothers' relationship apart or is blood really thicker than water?
Where else can readers find you or your writing online?
Country
magazine (Reiman Publications) interviewed me for their April/May issue, which was an incredible blessing and honor, as I've been a huge fan of their publications for years. If you go to their site, you can read a sample from the first chapter of
Seeds of Summer
as well as enter your chance to win one of my books. This drawing ends May 31. http://www.country-magazine.com/
Readers may learn more about me at
www.deborahvogts.com
or at my blog:
www.deborahvogts.blogspot.com
Seeds of Summer
will be released late May. You may find my books at all fine bookstores or online via the buttons below:
CBD.com
Thanks, Deborah, for visiting with us and telling us about your novel.
Readers, Deborah has offered to give a copy of her book to the winner of our drawing on Monday, May 17.
To enter, leave a comment for Deborah, below.
Leave your email address, in case you win, like so: trish[at]trishperry[dot]com.
Check out my interviews with Cynthia Ruchti and

Deborah Raney

, below, and leave a comment under their interviews to be entered in drawings for signed copies of their books.
Annoying legal disclaimer: drawings void where prohibited; open only to U.S. residents; the odds of winning depend upon the number of participants. See full disclaimer
HERE
.