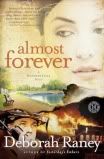 How can you discover the truth when the person you're keeping secrets from is yourself?
Before we revisit with today's author, I want to announce that the winner of the drawing for
Cowboy Protector
, by Margaret Daley, is:
gahome2mom@ . . .
Congratulations! I'll contact you today for your snail mail address, and we'll get your book to you right away. I encourage readers to
keep commenting and/or subscribe at right in order to participate in future book give-aways!
Now let's revisit novelist
Deborah Raney,
author of
Almost Forever
, the first book in the Hanover Falls Novels (Howard/Simon & Schuster, May 2010).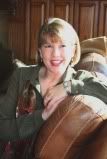 Deborah Raney is at work on her 20th novel. Her books have won the RITA Award, HOLT Medallion, National Readers' Choice Award, Silver Angel, and have twice been Christy Award finalists. Her first novel,
A Vow to Cherish
, inspired the World Wide Pictures film of the same title. Deb and her husband, Ken Raney, enjoy small-town life in Kansas. They are new empty nesters with four grown children and two precious grandsons, all of whom live much too far away.
Please tell us a bit more about the plot of Almost Forever.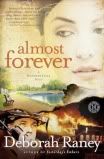 Unearthing a lost memory may cause her to lose everything she holds dear . . . but could it also set her free? Volunteer Bryn Hennesey was there at the Grove Street Homeless Shelter the night five heroic firefighters died at the scene. Among them was her husband, Adam. But a terrifying absence of memory has her wondering if she might, in some way, be responsible. Garrett Edmonds' wife, Molly, was the only female firefighter to perish in the blaze. He was supposed to protect the woman he loved. Now she's the one who's died a hero. How can he go on in the face of such unbearable loss? And what started the fire that destroyed the dreams and futures of so many? Investigators are stumped. But someone knows the answer.
What is it about your lead character that will make your readers care about her?
Like many of us, Bryn is unable to admit the truth about herself, about her motives and her fragile human nature. She is willing to believe a lie that's comfortable rather than face a truth that will change her life. But her strength, eventually, is a complete turnaround of her weakness: realizing the importance of honesty and being willing to place her life on the line so that the truth may be revealed.
Why will readers enjoy your novel?
I think readers will see a lot of themselves in my characters and be able to identify with the emotions and struggles they overcome. Almost Forever also has a stronger romantic element than some of my books, and that's always fun.
If you were the casting director for the film version of your novel, who would play your lead roles?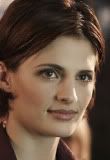 Bryn would be played by Stana Katic, from the
Castle
TV series:
And Michael Weatherly from
NCIS
would make a great Garrett:
One of the advantages of traditional publishing is the amount of editing one's manuscript receives before the publisher releases it as a novel. How much editing do your manuscripts typically get before you release them to your publisher?
In addition to my critique partner reading each chapter, and several readers reading the manuscript, I probably make at least 10 passes over each novel before it goes to my editor. After that, I rewrite from the substantive edit, then read through the suggested changes for the line edit stage, again for the copyedit, and finally I read the entire manuscript again in galley form (exactly as the book will appear in print.) Frankly, by the time a book hits the bookstores, I'm just about sick of it!
LOL! I'm with you there. But that shows why a traditionally published book reads so much better than your typical self-published novel.
What subject matter or era have you not yet published about (but would love to)?
I've really been able to write just about every type of book I wanted. Women's fiction is my first love, but I wrote a romantic comedy (
Playing by Heart
) that was a blast to write, and a historical that I'm very proud of (but that took
way
too much research!)
What is the last book you read that moved you?
I really enjoyed
They Almost Always Come Home
by Cynthia Ruchti. It moved me because it explored the question of how much you would be willing to sacrifice to save someone--especially someone you aren't sure you even like?
What are you working on now?
I'm writing the third book in the Hanover Falls Novels series,
After All
. It's very satisfying to be tying up the threads of the series in this installment.
Where else can readers find you or your writing online?
www.deborahraney.com
novelgarden.blogspot.com
twitter.com
Facebook
The novel can be purchased via the online buttons below:
CBD.com
Thanks, Deb, for visiting with us and telling us about your novel.
Readers, Deborah has offered to give a copy of her book to the winner of our drawing on Thursday, May 13.
To enter, leave a comment for Deborah, below.
Leave your email address, in case you win, like so: trish[at]trishperry[dot]com.
Check out my interviews with

Lena Nelson Dooley

and

Beth Shriver

, below, and leave a comment under their interviews to be entered in drawings for signed copies of their books.
Annoying legal disclaimer: drawings void where prohibited; open only to U.S. residents; the odds of winning depend upon the number of participants. See full disclaimer
HERE
.