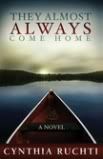 Libby would leave her husband . . . if she could find him.
Before we meet today's author, I want to announce that the winner of the drawing for
Peace for Parents of Teens
, by Beth Shriver, is:
desertros5173@ . . .
Congratulations! I'll contact you today for your snail mail address, and we'll get your book to you right away. I encourage readers to
keep commenting and/or subscribe at right in order to participate in future book give-aways!
Now let's meet novelist
Cynthia Ruchti
, author of
They Almost Always Come Home
(Abingdon Press Fiction, May 2010.
Tell us about yourself, Cynthia.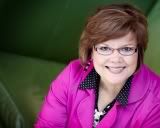 I write and produce a daily 15-minute radio broadcast, The Heartbeat of the Home, and am editor of the broadcast's
Backyard Friends
magazine. It's my honor to serve as the current president of American Christian Fiction Writers (acfw.com) and speak for both women's events and writers' conferences. I live with my plot-tweaking husband in the heart of Wisconsin--not far from my three kids and five outrageously wonderful grandchildren--where I create stories of Hope-that-glows-in-the-dark.
Please tell us a bit more about the plot of They Almost Always Come Home.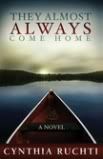 Libby's husband Greg was supposed to go fishing, not missing. When he fails to return from a solo canoe trip to the Canadian wilderness, the investigation into his disappearance turns colder than their marriage had grown. He found the escape hatch before she did. But that doesn't sound like Greg Holden. She can't leave him if she can't find him. With the help of her father-in-law Frank and her best friend Jenika, Libby plunges into the wilderness to retrace the path he took away from her. Will the search reveal what happened to her husband, her marriage, and her faith?
I really love the premise of your novel.
What is it about your lead character that will make your readers care about her?
The Missing Person report has her husband's name on it, but Libby's the one who's lost. She can worry with the best of us, find offense in a piece of furniture, and has her porcupine moments. But they're interlaced with snatches of humor and glimpses into a heart of pain that make readers want to hug the prickles out of her. Deep-down she knows God cares about what she's facing and what Greg's disappearance might mean for her future. Sometimes hope hides. She has to discover where.
Why will readers enjoy your novel?
Readers will either empathize or sympathize with Libby's concerns and the sometimes misguided/sometimes creative ways she deals or refuses to deal with them. Hers is as much a journey of the heart as it is a journey of miles in a canoe. Even if a reader has only one crisis--discovering seasons when it's hard to like the man she loves--she'll find a listening ear in Libby. Men who pick up
They Almost Always Come Home
will find enough adventure to keep them reading, enough reality to make them think.
If you were the casting director for the film version of your novel, who would play your lead roles?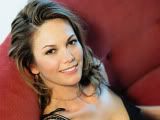 I picture Diane Lane and Russell Crowe in Libby's and Greg's roles.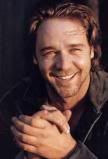 Jenika seems Meg Ryan-cute but Linda Hunt-wise.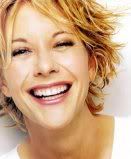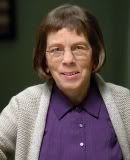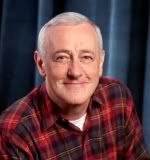 And Frank is, well, Frank. Maybe the dad from
Frasier
, without the grumpy.
Right--that's John Mahoney, in case anyone cares.
One of the advantages of traditional publishing is the amount of editing one's manuscript receives before the publisher releases it as a novel. How much editing do your manuscripts typically get before you release them to your publisher?
I'm an intuitive writer and mega-efficient. Have to be with my schedule. I write and rewrite but try to send it to my critique partners as clean as I can make it. My husband is a great first reader and an avid fan of a good novel, but he comes at the story less from a grammatical or editorial direction than he does from "What works?" or "What's muddy?" My mother read every word before it went to the publishing house, but she lived two months short of holding the finished product in her hands.
Oh, I'm so sorry, Cynthia! But there's some of her in the book now, isn't there? That's wonderful.
What subject matter or era have you not yet published about (but would love to)?
Five stories have tattooed themselves on my heart and are in various stages of development. They're waiting for a publisher's nod before I devote myself to one above another. Not surprisingly, they all deal with an intense version of the kind of challenges women face but are hesitant to fully embrace except through story.
Mercy, yes! You know, I was fully aware when I got my Psych degree that most people believe psychologists enter the field simply to solve their own personal issues. I suppose what you're saying is that novelists (and readers) kind of do the same thing.
What is the last book you read that moved you?
I recently finished
The Help
by Kathryn Stockett. I don't know how the author managed it, but she captured me with the storyworld and her skill as an author simultaneously. Normally, one wins out over the other.
I loved that novel as well. The audio version is a real treasure.
What are you working on now?
I'm finishing edits on my fall release--
The Heart's Harbor
in A Door County Christmas novella collection by Barbour Publishing. In many ways a departure from the churning angst and adventure of
They Almost Always Come Home
,
The Heart's Harbor
is a romantic comedy. But this story, too, tugs at the core of a woman's being and holds a shard of mirror to help readers see themselves and the God looking over their shoulders.
Where else can readers find you or your writing online?
They can find me at
www.cynthiaruchti.com
or
www.hopethatglowsinthedark.com
. I write devotionals for
The Christian Pulse
and a monthly column for
Wisconsin Christian News
. The radio ministry's website is
www.heartbeatofthehome.org
and readers can connect with me through an email link there.
Facebook
and
Twitter
are like the corner café where I often pop in to reconnect with readers and friends.
The book is available via the buttons below:
CBD.com
Thanks, Cynthia, for visiting with us and telling us about your novel.
Readers, Cynthia has offered to give a copy of her book to the winner of our drawing on Saturday, May 15.
To enter, leave a comment for Cynthia, below.
Leave your email address, in case you win, like so: trish[at]trishperry[dot]com.
Check out my interviews with

Lena Nelson Dooley

and

Deborah Raney

, below, and leave a comment under their interviews to be entered in drawings for signed copies of their books.
Annoying legal disclaimer: drawings void where prohibited; open only to U.S. residents; the odds of winning depend upon the number of participants. See full disclaimer
HERE
.