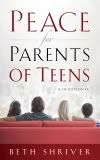 This grace-filled devotional offers parents the assurance that God is in the midst of their family and will guide them and their children through the difficulties of the teenage years.
Before we revisit with today's author, I want to announce that the winner of the drawing for
To Darkness Fled
, by Jill Williamson, is:
lorizimbardi@ . . .
Congratulations! I'll contact you today for your snail mail address, and we'll get your book to you right away. I encourage readers to
keep commenting and/or subscribe at right in order to participate in future book give-aways!
And now let's meet today's guest,
Beth Shriver,
author of the devotional,
Peace for Parents of Teens
(Sheaf House, May 2010).
Beth Shriver received a Bachelors Degree in Social Work from the University of Nebraska. She worked as a case worker for Boulder County Department of Social Services before starting a family. Beth freelanced for local papers in her area and wrote columns and devotionals for magazines. She has been married for over 20 years and has two children. Beth currently lives in Texas after a career move from Colorado. She writes in a variety of genres in both fiction and non-fiction.
Please tell us a bit more about your book. How is it structured?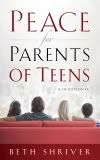 Each week of this devotional has a topic. Each day of the week there is a verse of encouragement, a question, and a prayer that you can pour over your child. That nugget of peace will help get you through the night knowing you've called on God and covered your teen with hope. A tie-in paragraph addresses some of the struggles teens are dealing with today.
Peace for Parents of Teens
can also be used as a parent-teen meditation if and when the teen is willing. Parents can choose whether to answer the questions themselves or to think about how their teen might answer. The questions are designed to personalize the verse and prayer, so use these tools to best fit your approach.
Why will readers enjoy your book?
I hope this book will help lead parents to God for assurance and that their teen is drawn in as well. If their year was spent strengthening their bond with their teen, I hope the issues addressed in this book prepares them for some things they might be dealing with.
What has been the most effective marketing move for your books?
Unlike my fiction books this one sells itself. There is such a need for parents to have this kind of resource; people are already readily searching for this type of comfort.
How much of your book is based on real-life situations you encountered, either as a parent or as a social worker/psychologist?
When my daughter was going through hardships, I wanted desperately to find encouragement to give me peace of mind before I laid my head down each night; something to help me feel that I wasn't a bad mother and that my daughter wasn't a bad child; comfort that let me know God was there in our midst and that He was seeing us through this storm. These devotionals provided just that--unconditional peace of mind.
What facet of the writing craft comes easiest to you? What do you struggle with?
I love the idea of a new project, creating the set-up and seeing it evolve into a full fledge story or in this case a devotional.
This isn't a fiction book where you can hide yourself in what you write into the story. For this book the struggle was exposing me and my daughter to the struggles we went through.
Choose an inanimate object to represent you. Explain what you have in common with that object.
My computer . . . whether I like it or not that machine is the object I spend the most time with. Our commonality is storing information for my stories. The computer does it better than I do.
I hear you there, Beth. A real love-hate relationship with those things, right?

What is the last book you read that moved you? How did it affect you?
I recently read
Blue Like Jazz: Nonreligious Thoughts on Christian Spirituality
by Don Miller. I loved his journey and relationship with the Lord. It was refreshing to hear such honesty and realism.
What are you working on now?
I just completed a quirky women's fiction titled
Funeral Hopper
: Kate Malcum is a hopper, a funeral hopper to be exact. Why she's not sure, but a mysterious man is leading her to a spree of funerals that is teaching her more than she could ever have imagined.
Where else can readers find you or your writing online?
My website:
www.bethshriverwriter.com
The devotional is available via the Amazon, Barnes and Noble, or Christianbook.com buttons below:
Thanks, Beth, for visiting with us and telling us about your devotional.
Readers, Beth has offered to give a copy of her devotional to the winner of our drawing on Saturday, May 8.
To enter, leave a comment for Beth, below.
Leave your email address, in case you win, like so: trish[at]trishperry[dot]com.
Check out my interviews with

Margaret Daley

and

Sandra Byrd

, below, and leave a comment under their interviews to be entered in drawings for signed copies of their novels. And check out the information about

Jill Elizabeth Nelson's

latest release, Calculated Revenge.
Annoying legal disclaimer: drawings void where prohibited; open only to U.S. residents; the odds of winning depend upon the number of participants. See full disclaimer
HERE
.